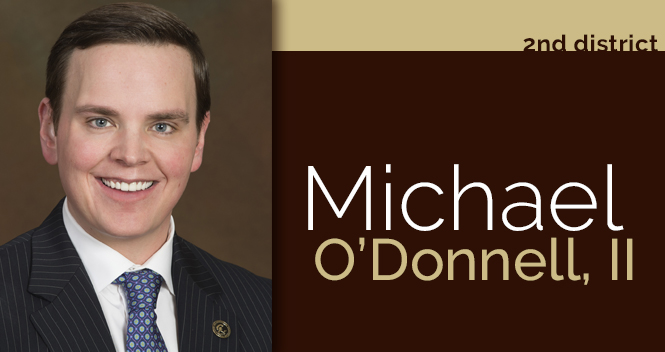 2nd District - Michael O'Donnell
Newsletters:
Biography
Michael O'Donnell is a 4th generation resident of Wichita. Michael and his family have been dedicated to our community for over 50 years attending schools and Grace Baptist Church where his father has been the Senior Pastor since 1984. Michael was elected to the Wichita City Council in April 2011 and served through 2013 when he resigned his seat after being elected to the Kansas Senate. In 2016 Michael was elected to the Sedgwick County Commission for District 2, representing southwest Wichita, Haysville and Clearwater. Michael prides himself on being a voice of fiscal responsibility for all citizens of Sedgwick County.

Michael graduated with a bachelor's degree from Friends University and most recently served as the Chairman of the Sedgwick County Young Republicans. Michael is involved with many community organizations and serves on the board of the Wichita Area Technical College as well as other organizations.