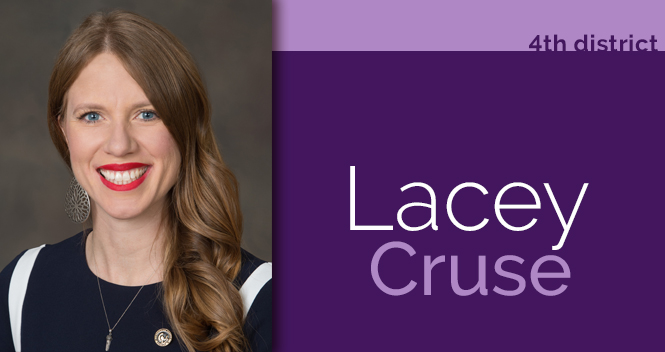 4th District - Lacey Cruse
District 4 Citizens Advisory Board Meeting Calendar 
Please join District 4 Commissioner Lacey Cruse, for a Citizens' Advisory Board meeting at 6 p.m., the second Monday of each month. Everyone is welcome to attend. If you have questions, please contact Commissioner Cruse at 316-660-9300 or lacey.cruse@sedgwick.gov. 
Time, dates, and locations are subject to change. 
Agenda and Minutes - 2nd Monday of each Month (unless rescheduled by CAB)
Ghana Presentation
- Commissioner Lacey Cruse accepted an invitation to attend the Paramount Queen Mother Nana Aplam II's appreciation dinner in Ghana, West Africa on January 31. She was in Ghana from January 27 through February 2, accompanied by African American Council of Elders representative, Dr. Wakeelah Martinez.
Newsletters:
Inspiring Sedgwick County - Videos
Environmental Resources

Sedgwick County Zoo

Emergency Communications
Biography
Lacey Cruse is a first-term County Commissioner for the 4th District of Sedgwick County, KS, which covers the northcentral part of Kansas' second largest county. Running as Democrat, Cruse was elected to the Sedgwick County Commission in November 2018 and began serving in January 2019.
Before entering politics, her professional career spanned more than a decade and included work as an accomplished singer/songwriter and senior living management experience in marketing, advertising, branding and consulting. Performing remains a passion for Cruse as she pursues her career in public service.
"For many years, I used my voice as a singer, songwriter to captivate audiences and share my passion across the United States," Cruse said. "Most recently, my voice has given me a platform and opportunity to stand up, speak out, unite and motivate around important local issues."
As a County Commissioner, Cruse focuses on various community issues including improving behavioral health, strengthening community partnerships, including diverse and marginalized voices, serving vulnerable residents, expanding economic development efforts, and building civility on the five-member County Commission.
Cruse was raised in Parsons, Kansas, where as a youth she learned how to play the cello and became a classically trained musician. Her music interest and talents allowed her to tour and travel.
During the summer of 2006, Cruse moved to Sedgwick County as a married mother of a four-year-old daughter. She returned to college to complete her bachelor's degree, enrolling in Wichita State University's Elliott School and graduating with a Bachelor of Arts in Communication with an emphasis in Electronic Media. Soon after graduating, Cruse launched her professional communications career, welcomed her second daughter and bought a home in the Sherwood Glen neighborhood of north Wichita.
At 32, she had an opportunity to hire a team of people and under Cruse's leadership, together, they branded a healthcare company with 72 long-term care facilities across 17 states. She also produced her first solo album.
As a mother of two young daughters, Cruse was inspired to run for elective office as a way to help restore civility to local politics, improve her community's quality of life, retain young people and fulfill other community goals.
"I realize that electing county officials directly affects our quality of life, not only for my daughters, but the entire county," she said. "It is time our local officials act with compassion and empathy. It is time our elected officials work together to accomplish goals and put people back into the heart of decision-making."
Cruse serves on multiple volunteer boards including the Mental Health and Substance Abuse Coalition; The Kansas African-American Museum; HumanKind Ministries; Arts Council; Criminal Justice Coordinating Council; and Downtown Wichita.
Her District 4 Citizens Advisory Board meets once a month and she regularly holds a coffee to engage District 4 constituents and others.