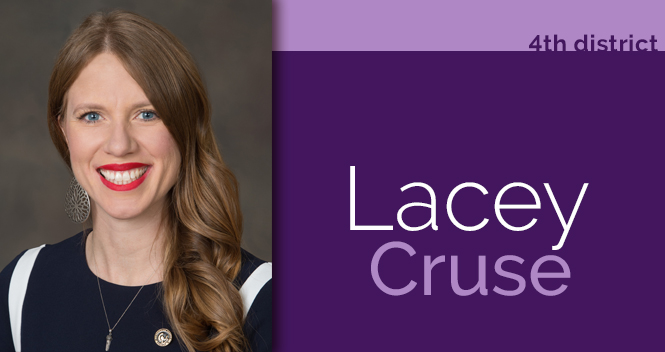 4th District - Lacey Cruse
District 4 Citizens Advisory Board Meeting Calendar 
Please join District 4 Commissioner Lacey Cruse, for a Citizens' Advisory Board meeting at 6 p.m., the second Monday of each month. Everyone is welcome to attend. If you have questions, please contact Commissioner Cruse at 316-660-9300 or lacey.cruse@sedgwick.gov. 
Time, dates, and locations are subject to change. 
Agenda and Minutes
April 8, 2019 - Agenda 
July 8, 2019 - No meeting
 November 12, 2019 - No meeting
January 13, 2020 - In place of the meeting, members are encouraged to attend the swearing-in ceremony for City of Wichita elected officials. 
February 10, 2020 - Agenda | Minutes will be uploaded once approved. 
March 9, 2020 - Agenda | Minutes will be uploaded once approved. 
Ghana Presentation
- Commissioner Lacey Cruse accepted an invitation to attend the Paramount Queen Mother Nana Aplam II's appreciation dinner in Ghana, West Africa on January 31. She was in Ghana from January 27 through February 2, accompanied by African American Council of Elders representative, Dr. Wakeelah Martinez.
Newsletters:
Inspiring Sedgwick County - Videos
Environmental Resources

Sedgwick County Zoo

Emergency Communications
Biography
For many years, I used my voice as a singer/songwriter to captivate audiences and share my passion across the United States. Most recently, my voice has been used to enhance the lives of local seniors through song and music therapy. 
Through the years, my voice has given me a platform and opportunity to stand up, speak out, unite and motivate around important issues. Now, in this political climate, it is paramount I use my voice, business acumen and entrepreneurial spirit to affect change on a local governmental level. 
As a young child from Parsons, Kansas, I wanted nothing more than to learn how to play the cello. Growing up, we didn't have a lot of money, but my mom did her best to scrounge up enough to buy me an instrument. It wasn't a nice one but it allowed me to become a classically trained musician. Lesson after lesson, I learned that discipline and dedication was the only way to master my craft. 
I moved to Sedgwick County during the summer of 2006. With only four hundred dollars to my name, a four year old child and without secured employment, I was determined to finish my bachelor's degree. I attended Wichita State University and graduated with a Bachelor of Arts in Communication with an emphasis in Electronic Media from the Elliott School. As a non-traditional student, balancing motherhood, marriage, studies and work was challenging. But through hard work and perseverance, I completed my degree and secured a start to a career. Shortly after college we welcomed our second child at Wesley Medical Center, enrolled our daughter in Horace Mann Dual Language Magnet and purchased a 1970s home in the North Wichita Neighborhood of Sherwood Glen. 
During my professional career, at the tender age of 32, I hired a team of people and together we branded a healthcare company with 72 long-term care facilities in 17 states. I also produced my first album before returning to freelance work that included marketing and graphic design. 
As the mother of two young daughters, I realize that electing local county officials directly affects the quality of life, for not only my daughters, but the entire county in which the officials serve. It is time our local officials act with compassion and empathy. It is time our elected officials work together to accomplish goals and put people back into the heart of decision-making. 
I am so very honored to have been elected as the 4th District Commissioner. One thing I want you to know is that my door is always open. If you have an idea, concern, comment … please call me at 316-660-9300 or send me an email at lacey.cruse@sedgwick.gov. I am here for you and will do my very best to represent all 100,000 people living in District 4.