South Central Kansas Residue Alliance (SCKRA)
The SCKRA aims to further the knowledge base of local producers in the art and science of residue management. The goal of the alliance is to increase the acreage of no-till, strip-till, mulch-till and any other form of residue management by 5 percent each year for the next 5 years. The project is sponsored by the 10 counties in the image below: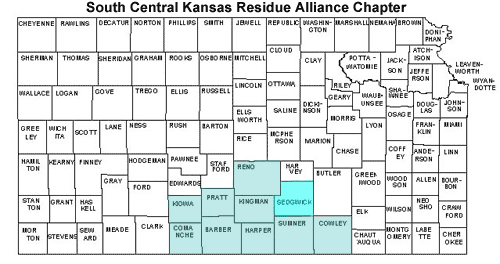 Residue management practices have been documented to significantly reduce various forms of erosion, improve water quality, and restore soil health. The SCKRA is supported by local producers who meet on a regular basis to share ideas, success stories, failures and to organize events that promote responsible change in cropping systems.
The desired outcomes of the alliance are to increase acreages of 1) crop residue management, 2) crop rotations, 3) pest management, and 4) nutrient management by 5 percent each year for the next 5 years across the 10-county area, which will result in improved soil health, erosion reduction, improved water quality and reduced non-point source pollution, thereby sustaining our natural resources for future generations.
The alliance will solicit speakers on specific topics for the quarterly meetings, send representatives to conferences to bring back information that will be shared with the group, set up and provide conferences, events and activities such as tours, booths, field days, etc. to draw others with like interests and goals to the area. Additionally, a brochure, web site, sponsorship, fliers and workshops will be created and coordinated. A long-term goal would be the establishment of a research farm dedicated to the promotion of residue management techniques.