Volunteer Nuisance Reporter Program
PILOT PROGRAM
Background
A component of the Metropolitan Area Business and Construction Department's (MABCD) revised mission is providing services that ensure public safety and health in regard to residential and commercial buildings – both new and existing structures. One of the ways MABCD accomplishes this mission is through code enforcement. The sheer volume of code violations, however, necessitates that the Department's dedicated staff prioritize those violations that most directly threaten public health and safety.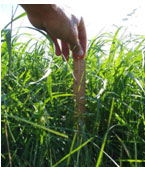 The natural consequence of this prioritization is that the more common nuisance cases, such as those involving weeds and tall grass, are not processed with the same urgency that staff and citizens desire.
In an effort to reduce the backlog of cases, make the current process more efficient, and better partner with the community, MABCD has established the Volunteer Nuisance Reporter Program.
Pilot Program Summary
Trained community volunteers will identify nuisance violations. Once identified, volunteers will document the suspected violations through the use of photographs. The photographs and accompanying information will then be submitted via the program's dedicated email address to the MABCD. Once submitted, code enforcement officers will review the evidence and determine if a violation has indeed occurred, whereupon the staff will process the case like any other code violation.
Pilot Program Area
The Volunteer Nuisance Reporter Program will initially begin as a pilot program and will be limited to the Matlock Heights neighborhood. The pilot program will be reviewed after twelve months to evaluate its success and determine whether expansion or modifications are appropriate.
Mission Statement/Purpose
To provide trained citizens the opportunity to assist professional staff to enforce the City of Wichita's municipal code and thereby protect the health, safety, and welfare of the community.
Essential Duties and Responsibilities
Identify potential nuisance violations.
Use the City's website to determine if there is a pending case against the property.
Take photographs of potential violations and record the necessary information.
Submit photographs and accompanying information via email to MABCD.
Volunteer Benefits
Volunteers will benefit from a sense of pride and accomplishment that comes from participating in a program that helps keeps Wichita neighborhoods clean and safe. Neighborhood preservation is a key factor in protecting home values and enhancing the quality of life in Wichita.
Volunteers will receive a badge indicating they are members of the Volunteer Nuisance Reporter Program.
Volunteer Requirements
Volunteer participants must complete the required training program.
Volunteer participants must pass a background check.
Volunteer participants must complete the required application and hold harmless forms.
Volunteer participants must follow all state laws, municipal ordinances, and program rules.
Volunteer participants must provide their own digital cameras.
Volunteer participants must provide and maintain valid contact information including a working email account.
Volunteer participants must be able to perform basic physical requirements during the course of their service, including, but not limited to: standing, walking, squatting, and bending.
Volunteer participants must be at least 18 years old.
Becoming a Volunteer
Potential volunteers that complete the necessary application and pass the mandatory background check will be invited to the Volunteer Nuisance Reporter Program training.
Once potential volunteers have successfully completed the training and signed the necessary paperwork, they will be issued a badge and may begin serving.
To apply, applicants should download and complete an application form. Once completed, email the form to Reportnuisance@wichita.gov.