Crime Prevention
We, at the Sedgwick County Sheriff's Office, are dedicated to helping citizens combat crime in their neighborhoods. But we need your help!
The National Institute of Justice states crime prevention is any activity, public or private, that reduces criminal behavior.
Every crime must have three elements: an offender, a victim, and an opportunity. Remove any one element and no crime can occur.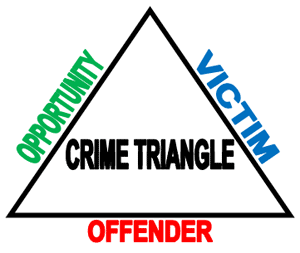 By utilizing crime prevention techniques around your home, work place, and vehicles, you can decrease your chances of becoming a victim!
The information found on this website is intended to assist in educating you on types of criminal activity within Sedgwick County. You will find articles that will provide helpful resources in protecting yourself and your loved ones.
If you have any questions about what you could do to help protect yourself and your property, please call either your Community Liaison Unit at (316) 660-3920 or your Community Policing Unit at (316) 660-0750.
Articles
Animal abuse and neglect is a commonplace occurrence in the state of Kansas. Often, the only way for animal abuse and neglect to be identified and combated is for concerned citizens to contact their local law enforcement agency or animal control department.
Animal fighting, in various forms, has been around for quite a while. Certain cultures have considered multiple forms of animal fighting to be entertaining and have celebrated this brutal sport by making it a spectator event. Animal fighting does occur in Sedgwick County in several forms and various county agencies are working together to help fight this.
This article is designed to educate citizens about auto theft in their area and what they can do to help prevent themselves from becoming victims.
Information and tips to assist in registering your bicycle through a national database and keeping your bike from being stolen.
Information and tips to assist you in preventing Burglaries in Sedgwick County.
The Sedgwick County Sheriff's Office Community Liaison Unit offers several programs that can be given to community groups, church groups and many other organizations at no charge.
The objective of this program is to efficiently get information regarding stolen farm equipment, construction equipment, livestock, and suspicious activities distributed across Sedgwick and the surrounding counties through an email or text distribution system. Currently there are over 200 participants across 32 counties in Kansas and it is actively growing.
Help reduce your chances of being a victim of crime by utilizing CPTED (Crime Prevention Through Environmental Design).
Domestic violence is a crime that occurs in every community in the world. Men, women, children, and animals have all become victims of this offense and many have not made it out of their households in time.
The Sedgwick County Sheriff's Office is committed to eliminating gang violence in our community. In order to achieve this goal a Gang Unit has been established which focuses on monitoring and suppressing gang activity within Sedgwick County.
This article is designed to define hoarding and to discuss some of the psychological aspects of the phenomenon. It will also give readers some suggestions on what can be done if they are seeking help for themselves or a hoarding that they know in their community.
The Neighborhood Watch program encourages cooperation between neighbors and helps them become familiar with each other and the law enforcement deputies in their area.
Information and tips to assist you in obtaining Protection from Abuse or Stalking Orders
A "runaway" is a child that is absent from the home without permission for any length of time. The common misconception is that you must wait at least 24 hours to report your child to local law enforcement.
A program that allows law enforcement the ability to better serve and protect elderly and disabled persons.
Sex crimes against children are particularly heinous and unfortunately, underreported. There are numerous Kansas statutes that outline these types of crimes.
1 out of every 6 American women and 1 out of every 33 American men have been the victim of an attempted or completed rape in their lifetime.
Information and tips to assist you in preventing and combating Stalking.