Animal Abuse and Neglect
Animal abuse and neglect is a commonplace occurrence in the state of Kansas. Often, the only way for animal abuse and neglect to be identified and combated is for concerned citizens to contact their local law enforcement agency or animal control department. These crimes often take place behind closed doors and/or in fenced yards which makes it difficult for law enforcement officers to detect these criminal activities. The Kansas animal cruelty statute states the following:
21-4310. Cruelty to animals. (a) Cruelty to animals is:
Intentionally and maliciously killing, injuring, maiming, torturing, burning or mutilating any animal;
intentionally abandoning or leaving any animal in any place without making provisions for its proper care;
having physical custody of any animal and intentionally failing to provide such food, potable water, protection from the elements, opportunity for exercise and other care as is needed for the health or well-being of such kind of animal;
intentionally using a wire, pole, stick, rope or any other object to cause an equine to lose its balance or fall, for the purpose of sport or entertainment; or
intentionally causing any physical injury other than the acts described in subsection (a)(1).
While most of this statute is relatively easy to understand, people often have a difficult time understanding that if a person abandons an animal in any fashion, that this act constitutes animal cruelty. This includes leaving animals behind when the owner moves or dropping off animals in the country. If you have an animal that you no longer want, you should take the animal to the Kansas Humane Society located at K-96 and Hillside in Wichita. They request a donation of $5 to $10 but will not turn an animal away if you are unable to pay. If you have questions, they may be contacted at (316) 524-9196 or please see their website at www.kshumane.org . Most violations of this statute are misdemeanors or arrestable offenses in the state of Kansas. A violation of the first subsection of this statute is a felony offense. There are also county resolutions that have to do with animal cruelty and neglect issues. County resolutions in this area closely mirror state statute and also include such things as rabies vaccinations, etc. A violation of a county resolution is punishable by a fine.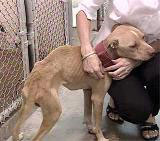 The statute does state that all animals are required to have food, potable water (potable is sometimes defined as water that you, as a person, would be willing to drink), some type of shelter that allows the animal to escape the elements, the opportunity for exercise and proper veterinary care. You are required to obtain rabies vaccinations for each of your dogs and cats over five months of age and must provide this documentation to Animal Control and/or law enforcement officials if asked. Failure to do so might result in you receiving a county citation.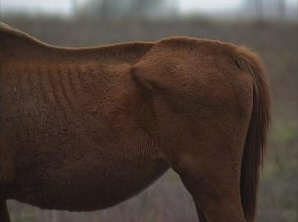 At this point in time, Sedgwick County does not have a leash law and also does not have the tethering law that the City of Wichita has. You are required, however, to keep your animals on your own property or in your direct control at all times. It is important to note, however, that extensive research has been done on the chaining of dogs for extended periods of time. Research has showed that tethering dogs for long periods of time often leads to increased aggressiveness. More information can be found at www.unchainyourdog.org.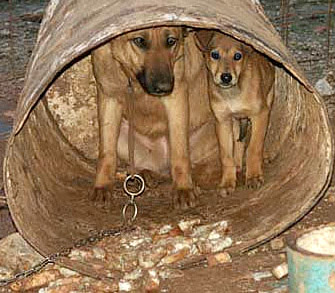 http://www.unchainyourdog.org/Facts.htm
One exception to this statute that deputies and animal control officers are often asked about is whether farmers can shoot dogs who are trying to hurt their livestock. It is not animal cruelty if an animal is killed humanely while actively attempting to injure or kill livestock (if you want more information you can look up statute 21- 4310 on www.kslegislature.org). It is also not animal cruelty when an animal is killed while it is acting aggressively towards people.
Did you know that Sedgwick County has an euthanasia rate that is three times higher than the national average? 1 One thing you can do to help change this is spay and neuter your animals. There are a variety of programs that offer low cost spaying and neutering in the Sedgwick County area, including the Kansas Humane Society and Spay-Neuter Kansas, Inc. Spaying and neutering prevents a number of health problems in your animals, including uterine and testicular cancer. It may also prevent wandering and makes them less likely to bite. Contrary to popular belief, it does NOT inhibit your dog's natural instinct to protect your family and/or property. 1
The Sedgwick County Sheriff's Office works closely with Sedgwick County Animal Control to try to enforce all animal-related statutes and county resolutions. Both departments encourage you to report suspected animal cruelty and abuse if you encounter a situation that you feel should be further investigated. The number for Sedgwick County Animal Control is (316) 660-7070. If you encounter an animal abuse or neglect situation that you feel is an emergency, please call 911 for sheriff's deputies.
We, at the Sedgwick County Sheriff's Office, are dedicated to helping citizens combat crime in their neighborhoods. But we need your help! By utilizing crime prevention techniques around your home, work place, and vehicles, you can decrease your chances of becoming a victim! If you have any questions about what you could do to help protect yourself and your property, please call either your Community Liaison Unit at (316) 660-3920 or your Community Policing Unit at (316) 660-0750.
Disclaimer: The information provided in this document is not intended to be legal advice, but is merely intended to convey general information commonly encountered when dealing with the Subjects discussed herein. Because laws can change very rapidly, we cannot guarantee that any
Information on this document (or references contained therein) is current or accurate. Additionally, laws differ from jurisdiction to jurisdiction, and are subject to interpretation of courts located in each county. Legal advice must be tailored to the specific circumstances of each case and the information provided herein may not be an appropriate fit for your particular situation. The Sedgwick County Sheriff's Office, its employees, agents, or others will not be liable or responsible for any claim, loss, injury, liability, or damages related to use of this document or any reference provided herein.
Related Articles
Related Links
The Humane Society Of the United States
The American Society for the Prevention of Cruelty to Animals
The American Humane Association
Sedgwick County Animal Control
---
References
1Neuter Kansas. Spay Neuter Kansas, Inc. Web. 25 Nov. 2009. <http://www.spayneuterkansas.com>.
2"Pet-Abuse.Com -Animal Cruelty." Pet-Abuse.Com - Home. Web. 19 Jan. 2010. 
3 "Did You Get Your Veterinary Degree From a Cracker Jack Box?" Web. 19 Jan. 2010. www.fuglyblog.com.
4 "Unchain Your Dog.org | Chaining a Dog is a Form of Animal Cruelty/Animal Abuse/Animal Neglect." Help Chained Dogs | A Common Form of Animal Cruelty. Web. 19 Jan. 2010. <http://www.unchainyourdog.org/Facts.htm>.
Date Written: 11/23/2009
Date Reviewed: 12/03/2013
Written by: Deputy C. Fischer D1639
Reviewed by: J. Page D1642