Domestic Violence
Domestic violence is unfortunately very prevalent in nearly every U.S. community. Domestic violence can encompass a large number of criminal acts including battery, assault, criminal threats, rape, sexual battery, etc.
Domestic violence is a crime that occurs in every community in the world. Men, women, children, and animals have all become victims of this offense and many have not made it out of their households in time. It is not discriminatory- victims come from all racial/ethnic backgrounds, socioeconomic backgrounds, all career fields and from both homosexual and heterosexual backgrounds. While the term "domestic violence" is commonly used to describe the physical aspect of an abusive relationship, the term can also incorporate other occurrences such as emotional abuse, psychological abuse, sexual abuse, etc.
Physical Abuse
Physical abuse is when unwanted physical contact is done to the victim in order to inflict pain, injury, or psychological damage. This may include hitting, punching, kicking, spitting, biting, pushing, etc. Batterers may even go as far as to inflict injury to a pet or child in order to force the victim to agree to his or her wishes. Physical abuse is a tool used by the batterer to attempt to gain control over his or her victims. There are several Kansas criminal statutes that may apply:
Domestic battery;
Assault;
Criminal threats;
Criminal restraint;
Child abuse;
Criminal damage to property; and/or
Animal abuse. This list is in no way exhaustive.
A detailed description of each statute is available at www.kslegislature.org.
Warning signs of physical violence
People who are being physically abused may:
Sexual Abuse
"Sexual abuse is common in abusive relationships: The National Coalition Against Domestic Violence reports that between one-third and one-half of all battered women are raped by their partners at least once during their relationship. Any situation in which force is used to obtain participation in unwanted, unsafe, or degrading sexual activity constitutes sexual abuse. Forced sex, even by a spouse or intimate partner with whom consensual sex has occurred, is an act of aggression and violence. Furthermore, women whose partners abuse them physically and sexually are at a higher risk of being seriously injured or killed." 1 In the state of Kansas, it is illegal for one spouse to force another spouse into any type of sexual activity. If this occurs, your local law enforcement agency should be notified immediately. There are a number of statutes that could possibly apply depending on the situation at hand including:
Rape;
Sexual battery;
Sodomy; etc.
Victims will then be transported to an area hospital where they will be examined and treated by specially trained hospital staff both for health purposes and evidentiary purposes. Sedgwick County Sheriff's Deputies can assist the victim with finding somewhere safe to go, whether this is a friend or family member's house or a domestic violence shelter. Sexual assault victims in Sedgwick County can obtain assistance and access resources at the Wichita Area Sexual Assault Center in Wichita, KS. They also offer a 24 hour crisis hotline at (316) 263-3002 or 1-877-WASAC-4U.
Emotional and Psychological Abuse
When most people think of domestic violence, they immediately think of physical violence of some type but emotional/psychological abuse is very real. It can cause permanent damage to a person's self esteem and can leave lasting psychological scars. Yelling, blaming, and name calling are all examples of tactics used by the emotional abuser. Other coercions including intimidation, controlling behavior, and isolation are also common. Most of these actions are not, per se, illegal in the state of Kansas; however, sometimes the abuser will resort to using threats as a way to control their victim. These threats can be illegal if they meet the statutory requirements outlined in K.S.A 21-5415. This however; does not negate the fact that this type of abuse is real and that victims should attempt to get assistance as soon as possible when this type of behavior begins to occur. Many times, physical abuse is precluded by emotional/psychological abuse so victims should be very vigilant if emotional abuse begins to take place. If someone is the victim of this type of abuse and wants to seek help, he or she should contact the Catholic Charities Harbor House in Wichita at (316) 263-6000 or (866) 899-5522.
The psychological warning signs of abuse
People who are being abused may:
Warning signs of isolation
People who are being isolated by their abuser may:
The Cycle of Violence
The following table and description was adopted from Helpguide.org. It explains the complex cycle that most domestic violence relationships partake in. This pattern of events will continue to occur over and over until the victim manages to seek help or until the abuser murders the victim.
Domestic abuse falls into a common pattern, or cycle of violence: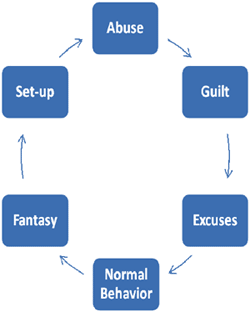 What to do if you feel that someone you know is being abused
If you are the friend of family member of someone who you feel might be the victim of domestic violence, there are things that you can do. Pull the person aside and speak to him or her privately. Tell them that you are willing to help and ask if there's anything that you can do. Express your concerns to them and let them know that you are there to listen if needed. Do not pressure them into making any immediate decisions and do not judge or blame them in any way. You can call the National Domestic Violence Hotline at 1-800-799-SAFE in order to obtain more information. There are also a number of different local and state resources that you can access if needed. If there is ever a situation where you believe that the abuser is actively physically or sexually abusing the victim, call 911 immediately and law enforcement officers will go over to their house and investigate the situation.
Safety Plans
Those still living in domestic violence situations need to have a current Safety Plan. A safety plan would include the following (and much more): a list of places where the victim and/or children can stay in the event that they must leave quickly; a code phrase that can be used when speaking to family and friends that would let them know that immediate help is needed without alerting the abuser; a list of important financial information; a location where the victim has managed to put aside some money; a location where the victim has hidden an extra vehicle key and/or a TracPhone or calling card.; family and friend's contact information; an envelope containing important documents that the victim should take with them (SSN cards, ID, insurance cards, children's birth certificates, etc.). A very good example of a Safety Plan can be found at aardvarc.org. Those who are considering getting out of an abusive relationship should strongly consider putting together a safety plan.
Restraining Orders
In Sedgwick County, a PFA (Protection from Abuse order) can be obtained at the Sedgwick County Courthouse located in downtown Wichita. For more information about this or about Protection from Stalking orders, please see the corresponding article Protection from Abuse/Protection from Stalking.
Conclusion
Living in fear is something that no one should ever have to live through. There are a number of resources available both locally and statewide that can assist victims and their families. All citizens should be aware of the prevalence of domestic violence in their neighborhoods and communities and be willing to contact law enforcement if they believe that someone needs assistance.