Gang Awareness
The National Gang Intelligence Center has reported that on average, nationwide, 48 percent of violent crime has a gang connection. The Sedgwick County Sheriff's Office is committed to eliminating gang violence in our community. This is achieved by attempting to keep youth from joining gangs and by educating the community on ways to identify and report gang activity. In 2012, Kansas Attorney General Derek Schmidt announced a new initiative to combat gang activity, Gang Free Kansas, which assists in this process. This is also assisted by the Wichita Crime Commission's Gang Free Wichita.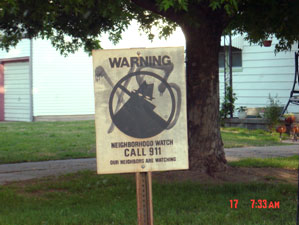 What is a Street Gang?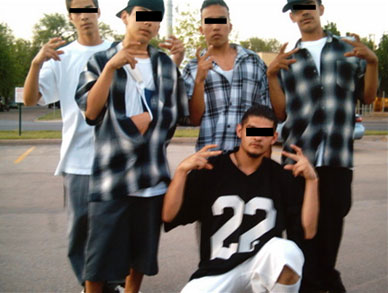 A criminal street gang is an ongoing organization, association, or group of three or more persons, whether formal or informal, having as one of its primary activities the commission of one or more criminal acts and that has a common name or common identifying sign, symbol, or specific color of apparel displayed, and whose members individually or collectively engage in or have engaged in a pattern of criminal activity. (K.S.A. 21-6313)
Question: If the police know who the gang members are, why don't they arrest them?
Answer: The answer is very simple. It is not against the law to belong to a gang. It is the criminal activity in conjunction with gang membership that is illegal.

Characteristics of Gangs
Gang members are often stereotyped as inner-city minority males; in reality, gangs cross all boundaries of age, race, sex, academic achievement, and economic status.
Gangs exist in large cities, suburbs, and rural areas all over the country.
Gangs usually form along racial or ethnic lines, but may contain a mixture of people, especially in suburbs.
Gang members often come from dysfunctional or abusive families, or have family members who are involved in gangs.
Gang members may be uneducated but intelligent. They are street-wise and are accomplished in the art of manipulation.
Gangs may have identifiable leadership and internal organization, or be a loosely knit.
Gangs follow a strict code of conduct and ethics as defined by the gang leadership.
Gangs are mainly concerned about being recognized for their criminal activity so as to establish a reputation.
Gangs from the suburbs often copy the Chicago and/or Los Angeles based gangs, but no identifiable ties may exist to the original gang.
Gang members are involved in criminal activity. (Ex. - Vandalism, Robbery, Assaults, Battery, Theft, Narcotics Trafficking, etc.)

Reasons for Membership
Young people join gangs for many reasons. The most popular reasons are as follows:
Identity or Recognition - Allows a gang member to achieve a level or status not impossible outside the gang culture. They visualize themselves as warriors protecting their neighborhood.
Protection - Kids join because they live in a gang area and are subject to violence by rival gangs. Membership guarantees support and retaliation.
Brotherhood - The gang is a substitute for family cohesiveness. Many older brothers and relatives belong to the gang.
Intimidation - Kids may be forced to join through intimidation, such as extorting lunch money and/or beatings.
Often young people are unaware of the risks involved when they join. The majority of these reasons derive from sense of ALIENATION from family and friends. FAMILY is the greatest single factor that can determine if a child joins a gang.

Recruiting Locations
Schools – #1 location for recruiting
Neighborhoods
Churches
Teen night clubs
Athletic events
Hang out spots
The Internet
Prisons / Detention Facilities
Pre-Gang Behavior
The following are clues to potential gang involvement:
Poor academic progress
Truancy
Lack of interest in extracurricular activities
Lack of interest in recreational activities
Poor self-esteem
Poor self-image
Inability to handle peer-pressure
Radical change in friends
Imitation of gang members (dress and behavior)
Signs of drug abuse
Resentful of authority
Negative law enforcement contacts

Signs of Affiliation - "Representing"
Graffiti – displaying the name, sign, logo, slogan, colors of gang
Hand Signs – using the hands and fingers to form letters, words, or symbols
Tattoos - displaying the name, sign, logo, slogan, colors of gang on the body
Attire - displaying the name, sign, logo, slogan, colors of gang in the clothes worn (sportswear, hats, shoes, shoe laces, bandanas, rolled up pant legs, etc)
Hair – style or cut displayed, or color of beads/ties used to show affiliation
Jewelry – earrings, necklaces, rings or buttons can all display the gangs symbol
Colors – all gangs have colors to represent themselves
Symbolism – artwork present on personal belongings depicting crosses, devil's horns, hearts, wings, top hats, gloves, pitchforks, dice, or martini glass.
Prevention
Talk to your children about gangs and ways to avoid them.
ADVISE YOUR CHILDREN THEY THAT SHOULD NOT:
Associate with gang members or "wannabe/gonnabe" gang members;
Identify or communicate with gangs;
Hang out near or where gangs congregate;
Approach strangers in cars who appear to want information or directions;
Wear gang-related clothing where gangs are known to gather or traverse;
Wear initialed clothing such as BK - British Knights - a/k/a "Blood Killer" in high crime areas;
Use words like "Crab" or "Slob" (localized lingo may develop) anywhere gangs may be; i.e., malls, sporting events, etc.;
Attend any party or social event sponsored by gangs or their associates;
Take part in any graffiti activity or hang around where graffiti is present; or
Use any kind of finger or sign language in a public place.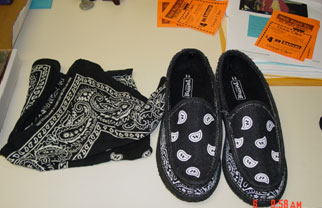 TIPS FOR PARENTS
Impress upon your child the importance of school and good grades.
Spend quality time with your children.
Get involved in your child's school activities.
Establish rules, set limits and be consistent, firm and fair in punishment.
Encourage good study habits.
Respect your child's feelings and attitudes and help them develop self-esteem.
Watch closely for negative influences.
Improve your own self-esteem so your children can model themselves after the most important "role model"... YOU.
TIPS FOR PARENTS/EDUCATORS
Help children develop self-control.
Help children deal appropriately with problems.
Get involved in community oriented prevention and intervention programs. Urge others to become involved. Volunteer at your child's school. Gangs are a community problem and their influence does not stop at any particular boundary.
Listen to your children. Communicate with them about their concerns and fears.
We, at the Sedgwick County Sheriff's Office, are dedicated to helping citizens combat crime in their neighborhoods. But we need your help! By utilizing crime prevention techniques around your home, work place, and vehicles, you can decrease your chances of becoming a victim! If you have any questions about what you could do to help protect yourself and your property, please call either your Community Liaison Unit at (316) 660-3920 or your Community Policing Unit at (316) 660-0750.
Disclaimer: The information provided in this document is not intended to be legal advice, but is merely intended to convey general information commonly encountered when dealing with the Subjects discussed herein. Because laws can change very rapidly, we cannot guarantee that any
Information on this document (or references contained therein) is current or accurate. Additionally, laws differ from jurisdiction to jurisdiction, and are subject to interpretation of courts located in each county. Legal advice must be tailored to the specific circumstances of each case and the information provided herein may not be an appropriate fit for your particular situation. The Sedgwick County Sheriff's Office, its employees, agents, or others will not be liable or responsible for any claim, loss, injury, liability, or damages related to use of this document or any reference provided herein.
Related Links / Articles
National Crime Prevention Council
Gang Resistance Education and Training (G.R.E.A.T)
National Criminal Justice Reference Service