Hoarding
This article is designed to define hoarding and to discuss some of the psychological aspects of the phenomenon. It will also give readers some suggestions on what can be done if they are seeking help for themselves or a hoarder that they know in their community.
Hoarding is a phenomenon that has recently become much more publicized due to the reality-based TV show, "Hoarders" which airs on A&E. While there are many different types of hoarding, "Compulsive hoarding is a disorder characterized by difficulty discarding items that appear to most people to have little or no value." 1 In other words, hoarding is the excessive collection and retention of items or animals which interfere with day-to-day functions such as home, health, family, work, and social life. Hoarders differs from those who are simply "pack rats" or "clutterers" because when individuals hoard items they significantly change how they and their families can use intended living spaces. Homes can become so packed with hoarded items that they are virtually uninhabitable and can often impose serious health issues on those living in that environment.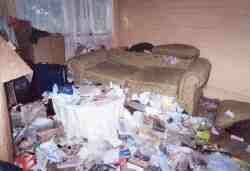 http://www.squalorsurvivors.com/index.shtml
Hoarders most often live in homes that could be deemed unsafe for a variety of reasons. Some hoarding homes are overrun with pests and insects due to the unsanitary living conditions. Many of these homes do not have running water, heat, or electricity which could lead to multiple safety concerns for elderly individuals or children. In addition, mold exposure and fire hazards are also important to note. Hoarding is most common among the elderly 2 who are more susceptible to tripping and falling. If this occurs in a hoarding home, it may be even more difficult for the person to obtain help if they are unable to get up. Nationwide there have been cases where hoarders have actually been crushed by piles of items falling over in their own homes.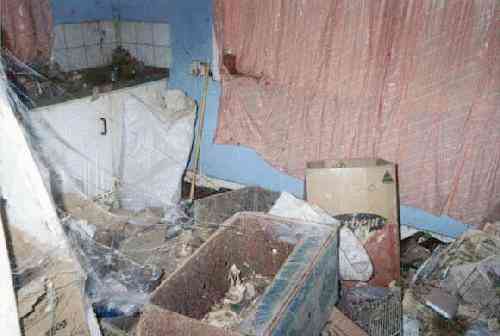 "Pictures of squalor - Kimmy - Kitchen." Squalor Survivors. Web. 09 Feb. 2010. http://www.squalorsurvivors.com/pictures/kimmy/kitchen.shtml
There are a number of different items that are commonly hoarded. Some examples include: food, trash, animals, printed materials, etc. Each of these items can be stockpiled for different reasons. Oftentimes physical items are kept because the hoarder feels an emotional connection to those items. For example, a hoarder may keep all of his or her deceased mother's belongings because he or she may feel that if they part with those items they will also lose the corresponding memories. Animals may be kept because the hoarder believes that they are helping the animal and that if they didn't care for them that they would be put to sleep. Hoarders are unable to see that in most animal hoarding situations the animals are extremely neglected and often completely unsocialized or feral. This can make animal hoarding unique because in the event that the animals have to be seized by law enforcement or animal control for neglect issues, many must be euthanized because of health or behavioral issues. This then completes the vicious circle of a self-fulfilled prophecy.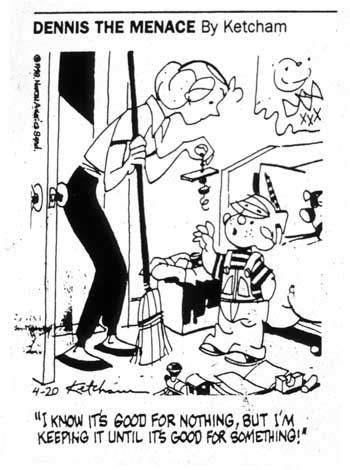 1 "Specialty Programs." UCSD Department of Psychiatry. Web. 09 Feb. 2010. http://psychiatry.ucsd.edu/OCD_hoarding.html
"A person may have a problem with having too many belongings if they can identify with two or more of the following statements:
Saving or collecting continues beyond what is needed or usable- even though the house is full.
Value, uniqueness and sentiment are found in belongings that others do not find valuable, such as old papers, containers and food items.
There are strong emotional attachments formed with many items for comfort or safety.
Multiple efforts to stop collecting, organizing or discarding belongings are unsuccessful and lead to a sense of anxiety, emptiness, [and] vulnerability.
Belongings interfere with safe and functional use of the home for sleeping, cooking, bathing, and/or socializing.
Others see the belongings as bothersome and dangerous.
The fear of losing things prevents the organization or discarding of belongings." 3
Hoarding is a very complex issue and cannot be solved by simply removing a hoarder's belongings and cleaning up the property. Hoarding is commonly associated with several different mental health disorders, but there are treatments available for those who want them. This problem has been researched very little and is believed to be underreported in most communities.
If you believe that you have hoarding tendencies and need help or more information, please contact COMCARE at (316) 660-7500 for assistance. They will be able to direct you to the appropriate agency. If you believe that you know of a hoarder and you want them checked on, please refer to www.sedgwickcounty.org/hoarding.asp for specific directions on who to contact. Once again, if this is an emergent situation (i.e. a hoarder without heat or air conditioning in extreme weather conditions or an elderly person who is no longer able to care for themselves) please call 9-1-1 immediately so that a welfare check can be done by law enforcement and/or social workers.
Related Links/Articles
Wichita/Sedgwick County Hoarding Coalition
Handouts/Pamphlets
Wichita/Sedgwick County Hoarding Coalition
We, at the Sedgwick County Sheriff's Office, are dedicated to helping citizens combat crime in their neighborhoods. But we need your help! By utilizing crime prevention techniques around your home, work place, and vehicles, you can decrease your chances of becoming a victim! If you have any questions about what you could do to help protect yourself and your property, please call either your Community Liaison Unit at (316) 660-3920 or your Community Policing Unit at (316) 522-2610.
Disclaimer: The information provided in this document is not intended to be legal advice, but is merely intended to convey general information commonly encountered when dealing with the subjects discussed herein. Because laws can change very rapidly, we cannot guarantee that any information on this document (or references contained therein) are current or accurate. Additionally, laws differ from jurisdiction to jurisdiction, and are subject to interpretation of courts located in each county. Legal advice must be tailored to the specific circumstances of each case and the information provided herein may not be an appropriate fit for your particular situation. The Sedgwick County Sheriff's Office, its employees, agents, or others will not be liable or responsible for any claim, loss, injury, liability, or damages related to use of this document or any reference provided herein.
---
References
1 "Specialty Programs." UCSD Department of Psychiatry. Web. 09 Feb. 2010. .

2 Children of Hoarders. Can't Let Anyone in Your House? Children of Hoarders. Print.

3 County of Orange Health Care Agency Behavioral Health Services. This Full House. County of Orange Health Care Agency Behavioral Health Services. Print.
Date Written: 02/08/2011
Date Reviewed: 12/03/2013
Written by: Deputy C. Fischer D1639
Reviewed by: J. Page D1642