Sheriff Officers Benefit Fund Association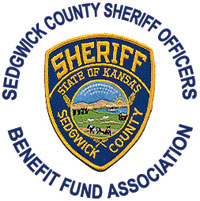 Mission: To provide benefits for our members in helping to defray some medical co-payment costs.
The Sedgwick County Sheriff Officers Benefit Fund Association (hereinafter called Benefit Fund) is a not for profit organization which was originally chartered in 1985. The Mission of the Benefit Fund is to provide benefits for our members in helping to defray some medical co-payment costs.
The membership of the Benefit Fund is comprised of both active and retired members of the Sedgwick County Sheriff's Office, located in Wichita, Sedgwick County, Kansas. Any department employee may join the fund. Low membership dues are maintained by voluntary payroll deduction of $5.77 per pay period.
Each member is covered by a $10,000 term life insurance policy with double indemnity for accidental death. This policy covers the member both on and off the job. There is no additional charge to the member for this coverage. Upon leaving the department without qualifying for retirement status, this policy may be converted to a personal policy.
Benefits are allowable and paid to members for submitted claims pursuant to the Benefit Fund's By-Laws. Claims may be made for medical, dental, eye care, and prescription expenditures. These claims are for amounts the member must pay out of pocket that are not covered entirely by the member's medical insurance. Benefits are payable to members according to a reimbursement schedule which is based upon length of membership, what type of expense, and dates of medical service. These claims are reviewed after submission to the fund by either the Treasurer or an accountant, and eligible benefits are paid to members.
Fundraising and Merchandise
A large part of the activity of the Board of Directors is to plan, organize, and conduct fundraising events and the selling of Fund Benefit merchandise. This includes the marketing of items such as t-shirts, coffee mugs, coasters, sweatshirts, lapel pins, writing pens, and other items as they are available. Any money collected from sales of these items is deposited directly into the Benefit Fund's accounts, after vendor expenses are paid.
Board of Directors
The Benefit Fund is guided by a Board of Directors, consisting of 5 regular members and 1 retired member. Elections are held among the general membership whenever a position becomes vacant on the board. Voting members then elect by majority count whom will fill the vacant position on the board. The Board of Directors is basically the administrative unit of the Fund. They make financial decisions for the membership.
Current Directors:
Member Information: