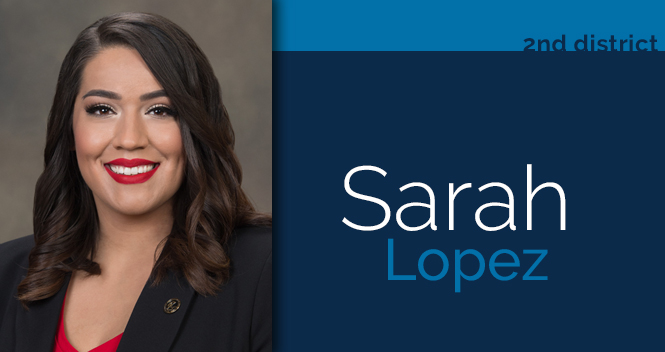 2nd District - Sarah Lopez
District 2 Citizens Advisory Board Meetings
Agendas and Minutes - 2nd Tuesday of each month (unless rescheduled by CAB)
April 11, 2023 - Agenda | Minutes will be uploaded once approved
May 9, 2023 - Meeting canceled because of possible severe weather.
June 13, 2023 - Agenda | Minutes will be uploaded once approved
July 11, 2023  - Agenda | Minutes will be uploaded once approved
August 8, 2023 - Agenda | Minutes will be uploaded once approved
September 12, 2023 - Agenda | Minutes will be uploaded once approved
October 10, 2023 - Agenda | Minutes will be uploaded once approved
November 14, 2023 - Agenda | Minutes will be uploaded once approved
December 12, 2023 - Agenda | Minutes will be uploaded once approved
Archived Agendas & Meeting Minutes
Newsletters:
Biography
Sarah was born in Wichita, Kansas and raised in a union machinist household. She attended area public schools and graduated from Wichita Technical Institute's Program for Information Technology and Network Administration.   Sarah is serving her first term as County Commissioner for Sedgwick County's District 2, which includes parts of Wichita, Haysville, and Clearwater.
Prior to her service as County Commissioner, Sarah spent 15 years working for Ascension Via-Christi Healthcare System. She first provided clinical care and then worked the next 10 years in IT / Business Management. Sarah was promoted multiple times throughout her career with Ascension Technologies because of her strong work ethic and ability to be solution oriented as part of a team. She is excited to bring her healthcare background to the Board of Health as well as her technical experience to the County Commission.
Sarah currently serves on multiple Boards, which include the HealthCore Clinic and is a member of W – A Community of Young Professionals and the Young Latino Professionals of Wichita.
She is committed to the health, safety, and prosperity of our hard working families in Sedgwick County. Sarah will spend her time focusing on expanding community access to quality mental healthcare services and bringing more well-paying jobs and business opportunities to south Sedgwick County.
Sarah has three children; all baptized at St. Anne's Catholic Church and attend Haysville Public Schools. In her free time, you might find her with her son at her oldest daughter's swim meets (Go Haysville Piranhas!) or on the sideline at her younger daughter's soccer games.