District Attorney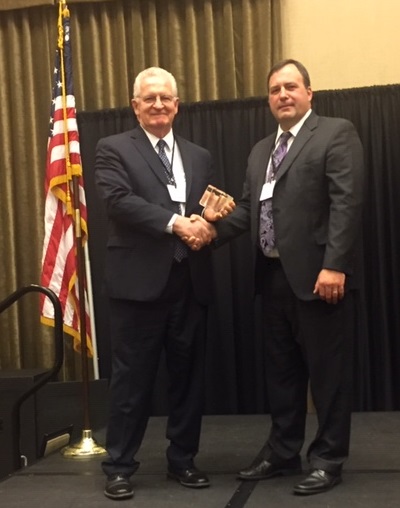 Two prosecutors in the District Attorney's Office received recognition on October 8th from the Kansas County & District Attorneys Association.  District Attorney Marc Bennett was named Prosecutor of the Year while Chief Tom Weilert received the Lifetime Achievement Award at the KCDAA Annual Fall Conference in Manhattan.
In 2018, Mr. Bennett successfully prosecuted Yesenia Sesmas who murdered Laura Abarca and kidnapped her baby.  Sesmas was sentenced to 55 years in prison.
Mr. Bennett was also successful in the prosecution of Corbin Breitenbach who sexually assaulted a seven year old girl.
Mr. Bennett is a past board member and president of the KCDAA Board of Directors and is a current member of the Best Practices Committee of the KCDAA.
Mr. Weilert began as a prosecutor in Municipal Court in Wichita in 1975.  After a few months, he was hired by DA Vern Miller as an assistant district attorney.  A few years later he went into private practice but later was hired by DA Nola Foulston in 1999.  He left in 2005 to work at the National District Attorney's Association.  In 2009, Mr. Weilert rejoined the District Attorney's office in Wichita.  For the last nine years, he has supervised the General Trial Division and has coordinated training and continuing education for all prosecutors in the office.
Mr. Weilert, along with Assistant DA Jason Roach, helped Marc Bennett in the Sesmas trial which ended in July.
Marc Bennett worked in the Sedgwick County District Attorney's office for 15 years before being elected to serve in this position.
In the traditional sense, the district attorney's office is charged with the prosecution of offenders in the criminal justice system. Read about the prosecution team and meet the deputy district attorneys and chief attorneys.
Specialized prosecution units were established in the traditional prosecution office that not only participate in trial of offenders, but that are also intricately involved in victim assistance, crime prevention and intervention issues..