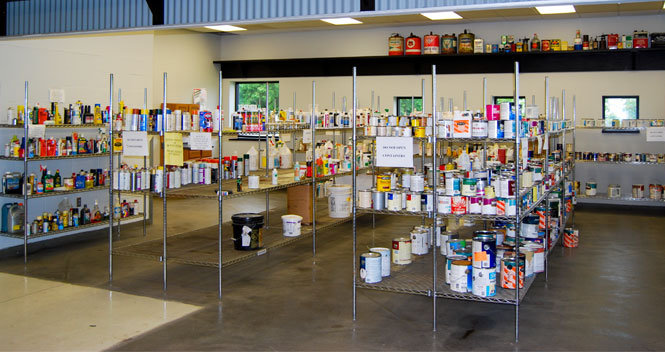 Household Hazardous Waste Facility
HHW will be closed Saturday, September 23, 2023 for the remote collection event. The event will be from 9 am to 1 pm at Haysville city Hall 200 W Grand, Haysville, KS. We will be collecting household hazardous waste only.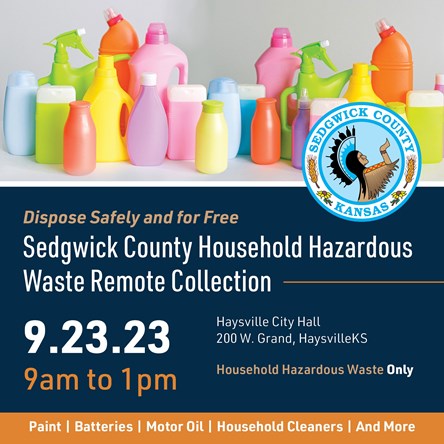 The HHW Facility is a place Sedgwick County residents can dispose of old chemicals and household hazardous waste free of charge. It offers a way to get rid of old chemicals and materials to help prevent them from getting into the waste stream and polluting the environment.
Where is the HHW facility located?
801 Stillwell
Wichita, KS 67213
(316) 660-7458
South of Kellogg off of Seneca (at the corner of Osage and Stillwell)
What are the HHW facility's hours?
Swap and Shop
9 a.m. to 4 p.m. Tuesday-Friday
9 a.m. to 3 p.m. Saturday
Closed Sundays and Mondays
Drop-Off
9 a.m. to 5 p.m. Tuesday-Friday
9 a.m. to 3 p.m. Saturday
Closed Sundays and Mondays
What items will the HHW facility accept?
We will accept almost all chemical items from a residential house, such as: paint, aerosols, batteries, used oil, gasoline, antifreeze, pesticides, herbicides, garden chemicals, household cleaners, fluorescent bulbs, propane, and old, unwanted medication (no controlled substances).
Who can bring items to the HHW facility?
Any resident of Sedgwick County can bring their left over or unused hazardous waste materials to the facility.
Can I collect household hazardous waste from my neighborhood and bring a large load to the HHW facility?
We strongly discourage this idea. Any individual that transports household hazardous waste for another party assumes all liability during the transport. State and federal laws allow individuals to transport their own products. Parties that transport household hazardous waste for other people must have a permit from the Kansas Department of Health and Environmental and the Environmental Protection Agency to be in full compliance with state and federal laws.
Can businesses use the Household Hazardous Waste Facility?
Businesses generating less than 55 pounds a month of hazardous waste are eligible to use the Small Quantity Generator program at the Household Hazardous Waste Facility. Call 660-7464 for more information.
What else does the facility offer?
We have a Swap-&-Shop where residents can take selected materials home for free (Limit of 10 items per vehicle AND limit of 10 items per person in a one-month period). Some materials that might be found in the Swap-&-Shop are paint, fertilizers, aerosols and household chemicals.
Does the city of Wichita operate a HHW Facility?
The city of Wichita used to operate a facility at 2305 E 57 S., but Sedgwick County took over responsibilities for household hazardous waste disposal in 2002. The facility in south Wichita closed when the new HHW facility opened.
How can I get more information?
Call the Sedgwick County Household Hazardous Waste Facility at (316) 660-7464.