Community Health News
What's Happening Now?
Mosquito Surveillance in Sedgwick County
Each summer, Sedgwick County and the City of Wichita track mosquito numbers and implement control measures in the area in order to protect the public from diseases, such as West Nile virus, which are spread by the bite of an infected mosquito. Wes Nile virus positive mosquitoes have been identified in Sedgwick County. Residents are encouraged to eliminate or treat mosquito breeding areas of standing water in their neighborhood.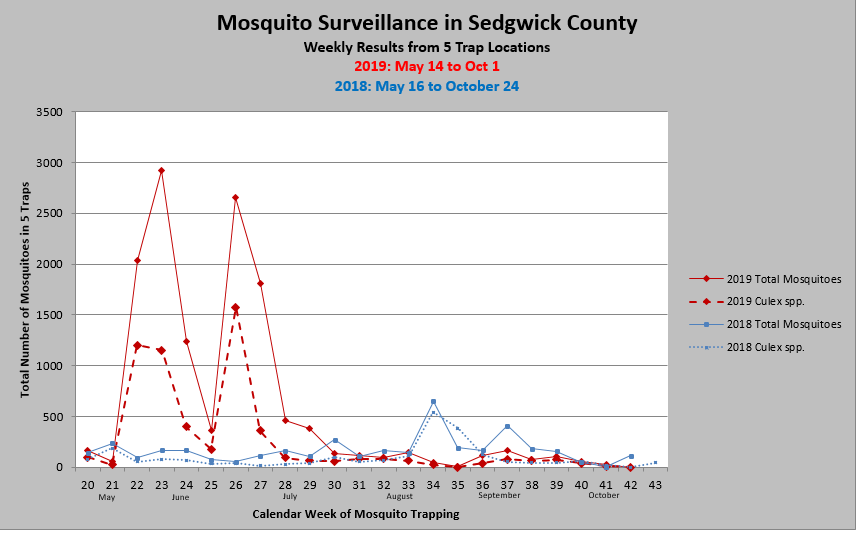 For more information about mosquito surveillance in Sedgwick County, view the educational document
The Culex species of mosquitoes are the primary vector for West Nile virus in the United States and Kansas. An increase in mosquitoes, especially Culex species, may indicate an increased risk of West Nile virus (WNV) infection in humans. WNV is spread by the bite of an infected mosquito. Mosquitoes become infected when they feed on infected birds.
Mosquitoes are the primary vector for many diseases, including West Nile virus. As the weather warms up, there is an increased chance for mosquito bites. The best way to prevent West Nile virus infection is to prevent mosquito bites.

Fight the Bite!
To protect yourself and your family from mosquito bites, follow the three D's: Drain, Dress, and DEET
- Drain standing water where mosquitoes live and breed
- Dress in long sleeves and pants when outside
- Wear DEET containing insect repellant
View the Fight the Bite! poster and palm cards
Do Not Eat Recalled Foods to Prevent Foodborne Illness
On July 20, the United States Department of Agriculture's (USDA) Food Safety and Inspection Services announced that certain food products containing whey powder may be contaminated with Salmonella. Although no illnesses have been reported, the USDA and the United States Food and Drug Administration (FDA) recommend that people do not eat any of the recalled foods. 
The list of recalled foods include the following:
Pepperidge Farm Goldfish – Recalled flavors: Blasted Xtra Cheddar, Flavor Blasted Sour Cream & Onion, Goldfish Backed with Whole Grain Cheddar and Goldfish Mix Xtra Cheddar & Pretzel.
Ritz Crackers - Ritz Bits Cheese Cracker Sandwiches and Mixed Cookie and Crackers.
Swiss Rolls – Swiss rolls under brand names Mrs. Freshley's, Food Lion, H-E-B, Baker's Treat, Market Square and Great Value.
Hungry Man Chipotle BBQ Sauced Boneless Chicken Wyngz- Frozen microwavable dinners from Pinnacle Foods, Inc. with a best buy date of 9/6/2019.
In the last few weeks, there have been several foods recalled due to Salmonella contamination. Many of these are linked to multi-state outbreaks.
Raw Turkey Products- On July 18, raw turkey products from a variety of sources and brands were linked to 90 Salmonella cases in 26 states. Products in the outbreak include turkey pet food, raw turkey, and live turkey products.
Hy-Vee Spring Salads – On July 17, Hy-Vee Spring Salads were recalled by Hy-Vee, Inc. after being linked to 21 Salmonella cases in 5 states.
Kellogg's Honey Smacks Cereal – On June 14, all Kellogg's Honey Smacks Cereal were recalled after being linked to 100 Salmonella cases in 33 states.
Pre-Cut Melons – On June 9, pre-cut melons from Caito Foods were recalled after being linked to 70 Salmonella cases in 7 states.
Salmonella is a bacterium that causes diarrhea and other food poisoning symptoms. Salmonellosis is the infection the bacteria causes. To prevent salmonellosis, do not eat food that has been recalled. If you develop salmonellosis symptoms after eating one of the foods listed above, contact your healthcare provider. 
For more details, visit the CDC Salmonella webpage.
For a list of current recalls, visit the FDA Recalls, Market Withdrawals, and Safety Alerts webpage. 
Summer Safety
While summer can bring a lot of fun and free time away from school, it also brings a lot of health and safety concerns. The Sedgwick County Division of Health and the Centers for Disease Control and Prevention (CDC) want to encourage you to take some extra precautions while enjoying all the experiences summer has to offer.
Safe Grilling
As summer is in full swing, you may be thinking about fun outdoor activities, including barbeques and other outdoor parties. Follow the tips below for safe grilling during the summer season:
Place the grill away from the home or deck railing, and not underneath overhanging tree branches.
Use propane and BBQ grills outdoors only.
Wash your hands with soap after handling raw meat, poultry, and seafood.
Keep meat, poultry, and seafood refrigerated until ready to grill.
Do not cross-contaminate sauces or marinades with raw meat juice. Always put cooked meat on a clean plate.
Children and pets should be away from the grill area; never leave your grill unattended.
For more information please refer to CDC safe grilling practice page.
Heat Safety: Keep It Cool
Sedgwick County experiences high temperatures during the summer, increasing the risk for heat-related illnesses. People at highest risk include those 65 years old and older, children younger than 2 years old, and people with chronic or mental illness.  
 Signs and Symptoms of Heat-Related Illness:
Thirst: Occurs when you are mildly dehydrated.
Heat Cramps: These are muscular pains or spasms due to heavy exhaustion. Get to a cooler place to rest, lightly stretch the affected muscles, and drink a glass of water every 15 minutes.
Heat Exhaustion: Heavy sweating, headache, upset stomach, or vomiting are signs of heat exhaustion. Immediately get to a cooler place and rest. If symptoms worsen, contact your healthcare provider.
Heat Stroke: The warning signs of heat stroke include flushed face/skin, confusion, dizziness, vomiting, rapid weak pulse, rapid shallow breathing, and seizures. Heat stroke can be life threatening, call 911 immediately if you experience these symptoms.
Protect Yourselves and Others from Heat-Related Illness:
Avoid taxing outdoor activities on hot days; limit activities to the coolest part of the day (4 am-7 am).
Drink plenty of water/fluids even if you don't feel thirsty.
Wear loose, lightweight clothing and sunscreen.
Stay in air conditioned areas when possible. If your home does not have air conditioning, stay on the lowest floor or basement away from sunshine or go to public facilities that are air conditioned during the hottest part of the day.
Never leave children or pets in cars unattended.
For more information please refer to CDC Heat related illness page.
Notifiable Disease Investigations
Read about the epidemiology (disease investigation) program at the Sedgwick County Division of Health