Community Health News
What's Happening Now?
Mosquito Surveillance in Sedgwick County
Each summer, Sedgwick County and the City of Wichita track mosquito numbers and implement control measures in the area in order to protect the public from diseases, such as West Nile virus, which are spread by the bite of an infected mosquito. West Nile virus positive mosquitoes have been identified in Sedgwick County.  Residents are encouraged to eliminate or treat mosquito breeding areas of standing water in their neighborhood. The Sedgwick County Health Department has larvicidal mosquito dunks available for Sedgwick County residents. Contact the Health Department (316) 660-7343 for more information.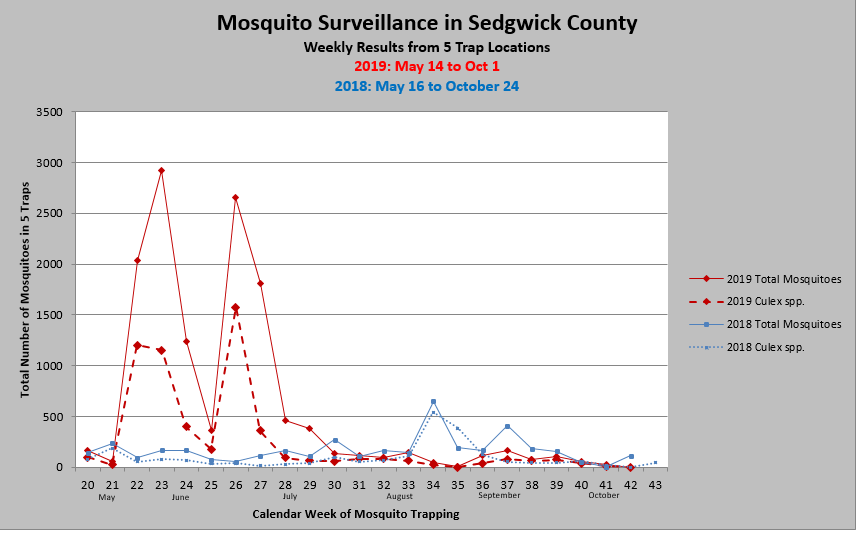 For more information about mosquito surveillance in Sedgwick County, view the educational document
The Culex species of mosquitoes are the primary vector for West Nile virus in the United States and Kansas. An increase in mosquitoes, especially Culex species, may indicate an increased risk of West Nile virus (WNV) infection in humans. WNV is spread by the bite of an infected mosquito. Mosquitoes become infected when they feed on infected birds.
Mosquitoes are the primary vector for many diseases, including West Nile virus. As the weather warms up, there is an increased chance for mosquito bites. The best way to prevent West Nile virus infection is to prevent mosquito bites.

Fight the Bite!
To protect yourself and your family from mosquito bites, follow the three D's: Drain, Dress, and DEET
- Drain standing water where mosquitoes live and breed
- Dress in long sleeves and pants when outside
- Wear DEET containing insect repellant
View the Fight the Bite! poster and palm cards
Measles in the United States
Measles outbreaks have been occurring across the country.  The best prevention is being up to date on the MMR vaccine that covers measles, mumps and rubella.  If you are wondering if you need to be vaccinated again, the recommendations have not changed:
 CDC's MMR vaccine routine recommendations are as follows:
Children:

12 months of age or older should have 2 doses, the first dose at age 12 to 15 month and the second dose between 4 to 6 years (prior to school entry).

Adults:

If had measles, no need to receive MMR vaccine.

If born before 1957, no need to receive MMR vaccine because presumed exposed to the virus when young.

If born between 1963 and 1967, receive one MMR dose. The vaccine given during those years was not as effective as the current vaccine.

If born after 1967 and vaccinated, no need to receive another MMR vaccine dose.

If unvaccinated or unsure of your vaccination status, receive one MMR vaccine dose. Alternatively, talk to your medical provider about testing for immunity.

Healthcare personnel (not just clinical staff), students at post-secondary institutions (colleges and vocational schools), and international travelers:

Documented (on paper or electronically) two doses of MMR vaccine.
For more information about MMR vaccine, visit the CDC's vaccination website (see the Q&A on "Who Should Get MMR Vaccine?" And "Who Does Not Need MMR Vaccine?"
For more information about the current outbreak, visit the CDC website.
For more information about measles, view the SCHD Measles Fact Sheet. 
Have a Safe and Healthy Summer
Everyone is excited for summer and ready to spend outdoor time with friends and family. The CDC recommends the following health tips, including practical advice for travelers, swimmers, and everyone who wants to beat the summer heat.
Notifiable Disease Investigations
Read about the epidemiology (disease investigation) program at the Sedgwick County Health Department