Community Health News
What's Happening Now?
Influenza (Flu) Update
Influenza activity continues to increase and is widespread in Kansas. In the United States this year, influenza A (H3N2) is the main type, and most strains match the flu vaccine. For more information, visit the Kansas Department of Health and Environment Influenza Surveillance website.
Free flu vaccinations are available for uninsured Sedgwick County residents age 19 and older (until the supply runs out). These vaccinations are also available for a sliding fee to uninsured children up to age 18 with state-sponsored insurance plans such as Medicaid, Amerigroup, United Healthcare, or Sunflower. These vaccinations are administered at the main clinic at 2716 W. Central.
Flu vaccines are recommended for anyone six months or older, unless otherwise directed by a physician. It is important to get a flu vaccination every year, as flu strains differ year to year. Sedgwick County wants to remind residents that flu vaccinations protect the person receiving it as well as others who are not able to receive this type of immunization.
Influenza (flu) is a viral infection of the nose, throat, bronchial tubes and lungs caused by influenza viruses. There are different strains of the flu that can change annually. The best way to prevent flu is to get an annual influenza vaccination (flu shot). Other ways to prevent the spread of disease include washing hands frequently in hot water and soap; coughing and sneezing into an elbow instead of hands; eating healthy foods; getting plenty of rest; and staying home when ill.
For more information see Sedgwick County Influenza and Cold versus Flu fact sheets [English][Spanish]
Mosquito Surveillance in Sedgwick County
Each summer, Sedgwick County and the City of Wichita track mosquito numbers and implement control measures in the area in order to protect the public from diseases, such as West Nile virus, which are spread by the bite of an infected mosquito. Wes Nile virus positive mosquitoes have been identified in Sedgwick County. Residents are encouraged to eliminate or treat mosquito breeding areas of standing water in their neighborhood.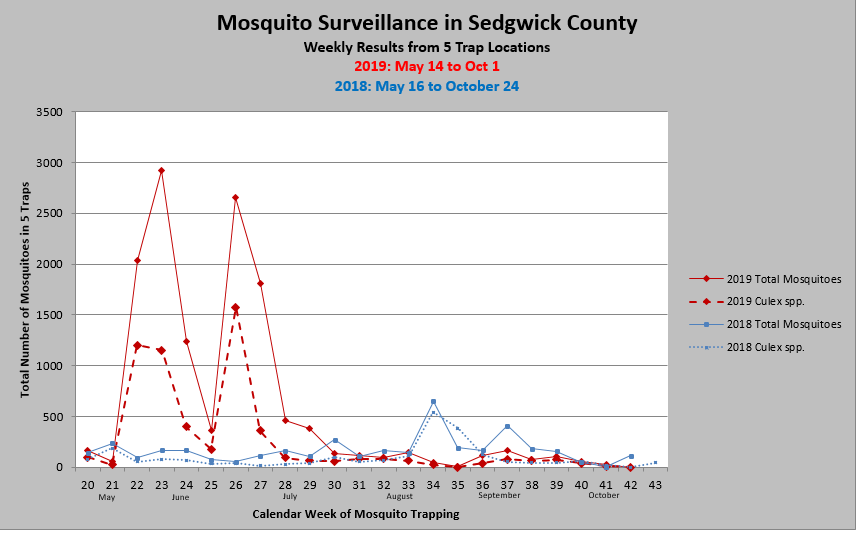 For more information about mosquito surveillance in Sedgwick County, view the educational document
The Culex species of mosquitoes are the primary vector for West Nile virus in the United States and Kansas. An increase in mosquitoes, especially Culex species, may indicate an increased risk of West Nile virus (WNV) infection in humans. WNV is spread by the bite of an infected mosquito. Mosquitoes become infected when they feed on infected birds.
Mosquitoes are the primary vector for many diseases, including West Nile virus. As the weather warms up, there is an increased chance for mosquito bites. The best way to prevent West Nile virus infection is to prevent mosquito bites.

Fight the Bite!
To protect yourself and your family from mosquito bites, follow the three D's: Drain, Dress, and DEET
- Drain standing water where mosquitoes live and breed
- Dress in long sleeves and pants when outside
- Wear DEET containing insect repellant
View the Fight the Bite! poster and palm cards
Campylobacteriosis Infections Linked to Pet Store Puppies
The Centers for Disease Control and Prevention (CDC) is working with the United States Department of Agriculture (USDA) and several state and local health departments to investigate a multistate outbreak of campylobacteriosis linked to puppies sold through Petland stores. As of October 30, 67 campylobacteriosis cases have been linked to the outbreak, including 6 in Kansas. The investigation is ongoing.
Campylobacteriosis is an infection caused by the bacteria Campylobacter and is one of the most common causes of diarrheal illness in the United States. The primary symptoms are diarrhea (often bloody), fever, stomach pain, and cramps. Symptoms occur two to five days after exposure and last about one week. Most people recover without specific treatment, but should drink extra fluids to avoid dehydration. If you experience symptoms after contact with a puppy or other animal, please contact you healthcare provider.
In this outbreak, people became ill due to contact with infected puppies. Most Campylobacter infections are due to drinking or eating contaminated water or food, such as undercooked chicken or unpasteurized milk.
To prevent campylobacteriosis: Wash your hands after using the restroom, before eating, or after handling an animal or their feces (poop). Clean up animal messes safely and immediately, especially if children play in the area. If your pet becomes ill, contact your veterinarian immediately. Not all infected animals will show campylobacteriosis symptoms, but those that do may appear sluggish, not eat, and have diarrhea.
For more information about campylobacteriosis, click this link [English] [Spanish]
For more information about the outbreak, visit the Centers for Disease Control and Prevention outbreak page
Notifiable Disease Investigations
Read about the epidemiology (disease investigation) program at the Sedgwick County Division of Health