Community Health News
What's Happening Now?
Mpox (monkeypox) Outbreak
The first presumptive case of mpox in Sedgwick County was identified on September 14, 2022, in a resident who recently traveled out of state. As of October 25, Sedgwick County has 12 cases out of approximately 34 cases identified in Kansas.

As of December 22, there are more than 29,000 confirmed mpox cases in the United States. For more case information, visit CDC's 2022 U.S. Map & Case Count.
Close contact or sustained skin-to-skin contact including sexual contact with a person with mpox or contact with an infected person's items (ex. towels, sheets) are the most significant risk factors in this outbreak.
Due to limited supplies, a vaccine for mpox is currently available only to people who have been exposed to someone with monkeypox and to certain people at high risk of exposure (see CDC vaccination guidelines here). 
The risk to the general public remains low.
For more information, check out the SCHD fact sheet and the CDC website.
Influenza (Flu)
Influenza (also known as the flu) has been reported in Sedgwick County. Flu is a contagious respiratory illness caused by flu viruses. It can cause mild to severe illness and, at times, can lead to death.
What to do when you are sick.
Most people who get sick with the flu will have mild illness and will recover in less than two weeks.
Limit contact with others as much as possible to keep from infecting them.
If you test positive for flu or are diagnosed with flu by a healthcare provider without testing, you should remain at home for 5 days from symptom onset or until 24 hours fever free without fever-reducing medications, whichever is longer. 
Cover your nose and mouth with a tissue when you cough or sneeze. After using a tissue, throw it in the trash and wash your hands.
Wash your hands often with soap and water. If soap and water are not available, use an alcohol-based hand rub.
Avoid touching your eyes, nose and mouth. Germs spread this way.
Clean and disinfect surfaces and objects that may be contaminated with germs like flu.
How to protect yourself, your family and others from the flu.
The first and most important step in preventing flu is to get a flu vaccine each year! This year's flu shot protects against two types of influenza A and two types of influenza B. Flu can cause serious illness and even death, especially in older adults and in people with underlying medical conditions. Studies show an annual flu shot reduces the risk of flu illness by 40-60% in years when the vaccine is well-matched to circulating viruses.
The Sedgwick County Health Department (SCHD) Clinic at 2716 W. Central provides no-cost flu shots to uninsured adults, uninsured children and children with CHIP (Children's Health Insurance Program) and Medicaid/KanCare (Aetna Better Health, Sunflower and United Healthcare). Uninsured adults and children receive the flu shot at no-cost; children with CHIP or Medicaid/KanCare have no co-pay. Flu shots are by appointment only, call 316-660-7300 to schedule.
References:
High Risk of West Nile Virus Activity in South Central Kansas, Including Sedgwick County
On July 15, 2022, the Kansas Department of Health and Environment (KDHE) issued a high-risk warning for West Nile virus (WNV) infections for south central Kansas, including Sedgwick County. This means there is a high risk that a mosquito bite may contain WNV. The risk is based on the number of Culex species mosquitoes identified, the number of human cases of WNV at this time in previous years, and environmental conditions including above-normal temperatures. Visit the KDHE WNV website for weekly updates on the current WNV risk level in Sedgwick County and other parts of the state.
Most WNV infections occur in the late summer and early fall; so far there are no reported cases of WNV in Kansas in 2022. West Nile virus spreads to people through mosquito bites. The Culex species mosquitoes are the primary vector for WNV in the United States.
Protect yourself from mosquito bites and West Nile virus by following the 3 D's: Drain, Dress, and DEET. 
Drain: drain or treat standing water around your home and neighborhood. The Sedgwick County Health Department has no-cost larvicidal mosquito dunks available for Sedgwick County residents. Contact the Health Department (316) 660-7343 for more information.
Dress: wear long sleeves and pants when outside.
DEET: use insect repellant containing DEET. If you do not want to use DEET, 

there are other alternatives

.
Mosquito surveillance in Sedgwick County began on June 27 and will continue through mid-October 2022. During the most recent week of mosquito surveillance, 37% of mosquitoes trapped were Culex species mosquitoes that can transmit West Nile virus. During this time, the level of mosquitoes is about the same as 2021.
No-cost mosquito dunks are available at the Sedgwick County Health Department. Call 316-660-7300 for more information.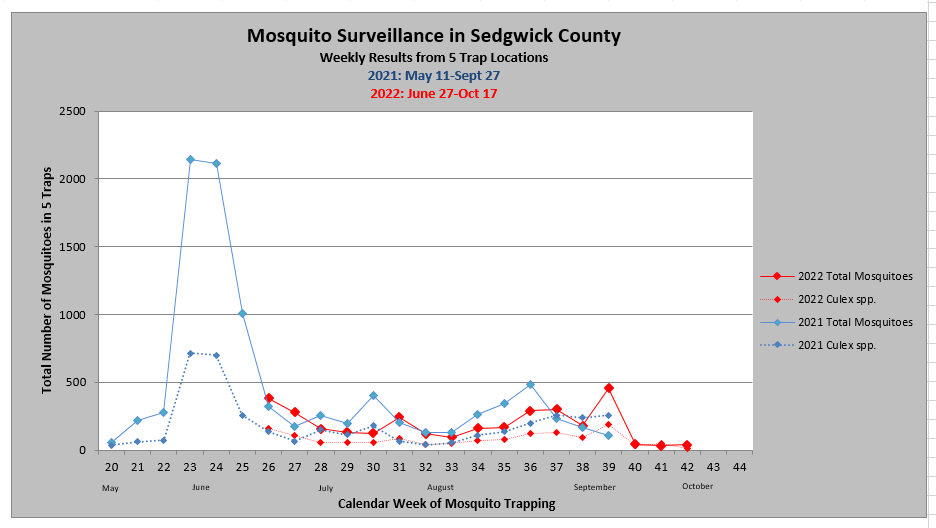 See KDHE's press release for more information on the high-risk warning.
Notifiable Disease Investigations
Read about the epidemiology (disease investigation) program at the Sedgwick County Health Department