Community Health News
What's Happening Now?
Mosquito Surveillance in Sedgwick County
Each summer, Sedgwick County and the City of Wichita track mosquito numbers and implement control measures in the area in order to protect the public from diseases, such as West Nile virus, which are spread by the bite of an infected mosquito. Wes Nile virus positive mosquitoes have been identified in Sedgwick County. Residents are encouraged to eliminate or treat mosquito breeding areas of standing water in their neighborhood.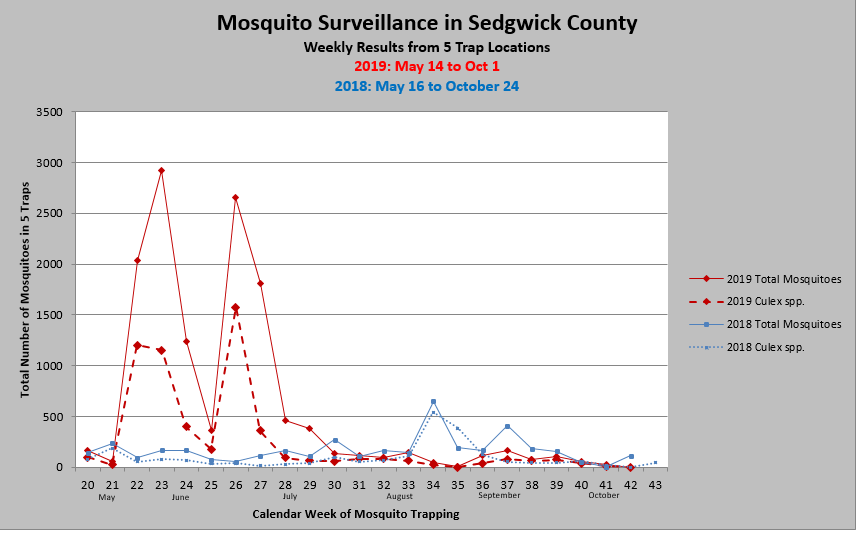 For more information about mosquito surveillance in Sedgwick County, view the educational document
The Culex species of mosquitoes are the primary vector for West Nile virus in the United States and Kansas. An increase in mosquitoes, especially Culex species, may indicate an increased risk of West Nile virus (WNV) infection in humans. WNV is spread by the bite of an infected mosquito. Mosquitoes become infected when they feed on infected birds.
Mosquitoes are the primary vector for many diseases, including West Nile virus. As the weather warms up, there is an increased chance for mosquito bites. The best way to prevent West Nile virus infection is to prevent mosquito bites.

Fight the Bite!
To protect yourself and your family from mosquito bites, follow the three D's: Drain, Dress, and DEET
- Drain standing water where mosquitoes live and breed
- Dress in long sleeves and pants when outside
- Wear DEET containing insect repellant
View the Fight the Bite! poster and palm cards
Influenza (Flu) Update
The Sedgwick County Health Department (SCHD) will being offering flu shots on October 1, 2018. The SCHD flu shots are free to uninsured adults age 19 and older and to children age 18 and younger with CHIP, Medicaid, Amerigroup, United Healthcare, or Sunflower. A sliding fee scale from $2-$20.26 will be applied to uninsured children age 18 and younger. Please remember the following:
   *   Residents who do not qualify for flu shots at the SCHD should contact their insurance companies to find out where flu shots are covered by their plans, and use the online flu vaccine finder at https://www.cdc.gov/flu/ (located at the bottom right corner of the page) to find a location near you.
  *   Residents who qualify may visit the SCHD's Main Clinic at 2716 W. Central (67203) in Wichita. Clinic hours are:
Monday-Wednesday, 8 a.m. to 5 p.m.
Thursday, noon to 6:30 p.m.
Friday, 8-5 p.m. (no walks ins after 4:30 p.m. for immunizations)
  *   Proof of income, such as pay stubs, tax returns, bank statements, an award letter, or a letter from your employer, is required to qualify for the sliding fee scale.
 Influenza (flu) is a viral infection of the nose, throat, bronchial tubes and lungs caused by influenza viruses. There are different strains of the flu that change annually. The best way to prevent flu is the annual influenza vaccination. Vaccines contain either two influenza A strains and one influenza B strain (trivalent) or two influenza A strains and two influenza B strains (quadrivalent). Other ways to prevent the spread of disease include washing hands frequently in hot water and soap; coughing and sneezing into an elbow, rather than the hands; eating healthy foods; getting plenty of rest; and staying home when ill.
 For more information about flu, please click Flu fact sheet.
Notifiable Disease Investigations
Read about the epidemiology (disease investigation) program at the Sedgwick County Health Department