Community Health News
What's Happening Now?
Increase in Hepatitis A Cases in Sedgwick County
Confirmed Hepatitis A Cases in Sedgwick County Residents 
May 15 through April 8, 2021
Total Cases

Hospitalizations

New Cases

Week of Dec 8-April 8

397

320 (81%)

10
Exposures Identified in Confirmed Hepatitis A Cases in Sedgwick County Residents
May 15 through April 8
Some cases have multiple exposures.
| | | | | | | |
| --- | --- | --- | --- | --- | --- | --- |
| IV Drug Use          | Drug Use (Non-injections) | Experiencing Homelessness | Travel (within  USA) | Correctional Facility Inmates | Other risk factors | No identified risk factors |
| 191(48%) | 104(26%) | 72(18%) | 16(5%) | 2(6%) | 73(18%) | 23(5%) |
* Other risk factors reported include history of men having sex with men, history of food exposure. There is no specific food sources such as grocery stores, a food brand, restaurant or kitchen staff has been identified in the Sedgwick County. The history of food exposure primarily include food exposures identified during their interviews.
** Medical records are reviewed for every case. If no risk factors are noted in medical record or patient interview, then the case is counted under "No Risk Factors Identified."
The Sedgwick County Health Department and other local healthcare providers have identified more than 350 Sedgwick County residents who have been diagnosed with hepatitis A since May 2020. In all of 2019, four hepatitis A cases were reported.
Most of the cases are people who are experiencing homelessness or who use recreational drugs (injection and non- injection). Of the 397 cases, 320 have been hospitalized and four deaths have been identified. 
Hepatitis A is vaccine preventable and is caused by the hepatitis A virus. The virus is spread through exposure to the stool (poop) and blood of people who are infected. Close personal contact with an infected person or eating contaminated food or drink can transmit the hepatitis A virus.
Signs and symptoms of hepatitis A include jaundice (yellowing of the skin and whites of the eyes), dark urine, diarrhea, clay-colored stool, stomach pain, nausea and vomiting, loss of appetite, fever, tiredness (fatigue), and joint pain. Symptoms usually last less than two months. The average time from exposure to symptoms is about 28 days.

Some people are more at risk for hepatitis A infection. Vaccination is the most effective way to prevent hepatitis A infection. People recommended to receive hepatitis A vaccine include children aged 12-23 months and people at increased risk for infection or severe disease. Contact your medical provider or the Sedgwick County Health Department (316-660-7300).
What actions can I take?
• If you have symptoms of hepatitis A, contact your medical provider or a local clinic. Your contacts should be vaccinated to prevent the spread of this contagious disease.
• If you don't have symptoms, check with a medical provider about vaccination.
• Wash your hands often. This will prevent the spread of hepatitis A and other infectious diseases.
What is the Sedgwick County Health Department doing to control the spread of disease?
• Hepatitis A is a reportable disease and so the Health Department receives all positive test results.
• Staff perform disease investigations on people who test positive, providing education and identifying where they may have been infected and who they have been in contact with while infectious. For contacts, the hepatitis A vaccine is recommended to prevent illness.
• Vaccine and staff are provided to specific clinics in Sedgwick County that serve people recommended to receive the hepatitis A vaccine.
• Education and awareness are provided to medical facilities and organizations. This helps to identify cases and vaccinate contacts.
References:
Sedgwick County Health Department Hepatitis A Fact Sheet [link]
Centers for Disease Control and Prevention - Hepatitis A, https://www.cdc.gov/hepatitis/hav/index.htm
Influenza (Flu) Surveillance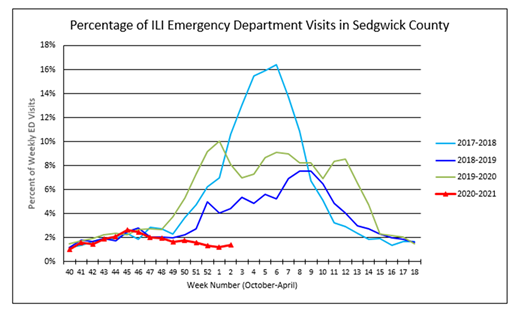 If you are a provider who has a suspected case of coronavirus (COVID-19), please contact the Kansas Department of Health and Environment Epidemiology hotline at 1-877-427-7317 immediately. 
Free flu vaccinations are available for uninsured adults, uninsured children, children covered under the Children's Health Insurance Program (CHIP), and Medicaid (Aetna, Sunflower, or United Healthcare). These vaccinations are administered at the Main Clinic, 2716 W. Central, Wichita. Please call (316) 660-7300 to make an appointment.
Flu vaccines are recommended for anyone six months or older, unless otherwise directed by a physician. It is important to get a flu vaccination every year, as flu strains differ year to year. Sedgwick County wants to remind residents that flu vaccinations protect the person receiving it as well as others who are not able to receive this type of immunization.
Influenza (flu) is a viral infection of the nose, throat, bronchial tubes, and lungs caused by influenza viruses. There are different strains of the flu that can change annually. The best way to prevent flu is to get an annual influenza vaccination (flu shot). Other ways to prevent the spread of disease include washing hands frequently in hot water and soap; coughing and sneezing into an elbow instead of hands; eating healthy foods; getting plenty of rest; and staying home when ill.
For more information, please view the Sedgwick County Influenza and Cold versus Flu fact sheets [English][Spanish]
For more information on flu in Kansas, visit the Kansas Department of Health and Environment (KDHE) Influenza Surveillance website.
Lead Poisoning Prevention Recipe Book
Lead Poisoning is when lead builds up in the body anywhere from months to years. No amount of lead is safe, especially for kids. Lead Poisoning is more dangerous in children younger than six, because it can affect their mental and physical development. At high levels, lead poisoning can be fatal. Some likely exposures are lead-based paint and lead-contaminated dust in older buildings. Contaminated water, soil, and air are other sources of exposure. Adults are also exposed to lead if they work with batteries, do home remodeling, go to a shooting range, or work in auto repair shops.
Some of the common symptoms in children include:
Developmental delay
Learning difficulties
Irritability, loss of appetite
Weight loss
Sluggishness and fatigue
Abdominal pain
Hearing loss
In Sedgwick County the most common causes of exposure are:
Deterioration of home (peeling paint), especially if the home was built prior to 1978.
Parent occupation/hobby including:
Home remodeling
Auto repair
Shooting range
Working with metals and doing lead soldering
Because there is still so much unknown about lead, the best way to mitigate high levels is through diet. A diet that is rich is calcium, vitamin c, and iron will help lower the lead levels in children and adults. Sometimes it might be hard for families to know what foods contain these vitamins and mineral. This is where our recipe book comes in. With the recipe book online and available to the public many families would benefit from this. Our newly edited recipe book provides healthy food options for the whole family. Although the book was created to target families with children who have elevated blood lead levels, it can be used by everyone not just those affected by lead. Sometimes it might be hard to know ways to introduce vegetables to children and with some of the easy to make recipes available via the internet, parents have easier access to them and can bookmark them for future reference.
Please view the Lead Recipe Book here.
For more information, please view the Sedgwick County Blood Lead Fact Sheets for adults and children.
Notifiable Disease Investigations
Read about the epidemiology (disease investigation) program at the Sedgwick County Health Department