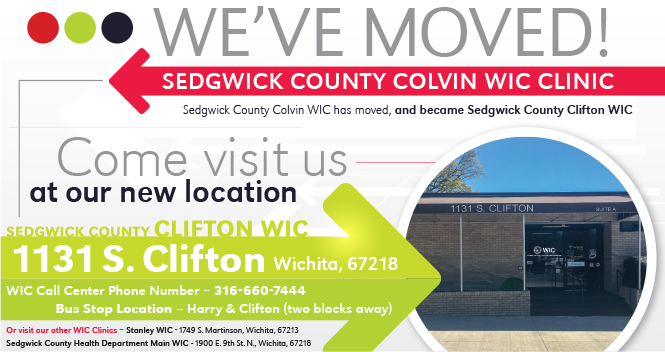 Women, Infants and Children (WIC)
Nutrition education to help improve you and your family's eating habits and health
Supplemental food checks to buy specific foods for good health
Referrals to community and health agencies for additional support
To be eligible for the WIC program, women must meet income guidelines and be pregnant, breastfeeding or have recently delivered a baby. Children must be younger than five years of age. Program participants must receive a health exam by WIC staff and be found at medical and/or nutritional risk by a health professional.
If you have questions about the WIC program, please call (316) 660-7444.
Visit www.kansaswic.org for more information and to view the income guidelines.
WIC Diet Questionnaire(s)
A completed diet questionnaire is required for each family member who has a scheduled WIC appointment.  Save time by completing an online diet questionnaire form(s) and emailing them to your assigned Sedgwick County WIC clinic. 
New clients should call the WIC Call Center at (316) 660-7444 to schedule an appointment before completing the online diet questionnaire form. 
Click on appropriate diet form(s) below to complete the online form and send to your WIC office.
Complete the online form
Click "submit" at the bottom of the page
An email box will appear with the Sedgwick WIC address.
Click on "Send". Your email will be delivered to Sedgwick County WIC and delivered to your assigned WIC clinic (Main, Stanley or Clifton). 
This institution is an equal opportunity provider.
Mujeres, Bebés y Niños
WIC es un programa temporal de educación nutricional y comida suplementaria que proporciona ayuda a Mujeres, bebés y niños.
Los clientes nuevos deberan llamar primero a el centro de llamadas de WIC al (316) 660-7444 para hacer cita antes de completar el cuestionario de dieta en linea.
WIC proporciona:
Educación nutricional – Ideas para mejorar las costumbres alimenticias y la salud.
Comidas suplementarias – Cupones para comprar comidas específicos para la buena salud
Referencias a agencias comunitarias y de salud para apoyo adicional.
Para ser elegible para el programa, las mujeres tienen que reunir ciertos requerimientos en cuanto a ingresos y deben estar embarazadas, dando de lactar, o haber dado a luz recientemente. Los niños tienen que ser menores de cinco años de edad. Los participantes en el programa tienen que someterse a un chequeo de salud y un profesional médico tiene que verificar que tienen algunos riesgo médico y/o nutricional.

Si tiene preguntas sobre el programa de WIC, favor de llamar al (316) 660-7444.
Cuestionario(s) de dieta WIC(s)
Se requiere un cuestionario de dieta completo para cada miembro de la familia que tenga una cita programada para WIC. Ahorre tiempo completando un formulario de cuestionario de dieta en línea y enviandolos por correo electrónico a su clínica WIC del Condado de Sedgwick asignada.
Haga clic en los formularios de dieta apropiados a continuación para completar el formulario en línea y enviarlo a su oficina de WIC.
Complete el formulario en línea
Haga clic en "Enviar" en la parte inferior de la página
Aparecerá un cuadro de correo electrónico con la dirección WIC de Sedgwick.
Haga clic en "Enviar". Su correo electrónico será entregado a Sedgwick County WIC y entregado a su clínica WIC asignada (Main, Stanley o Clifton).
Esta institución es un proveedor de igualdad de oportunidades.