Community Health Assessment and Planning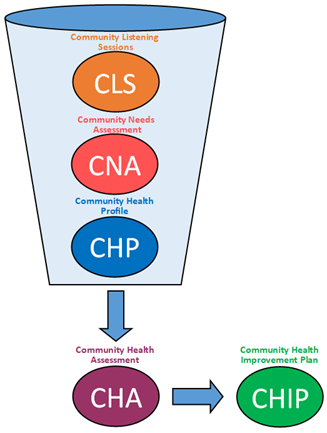 2023-2025 Community Health Assessment Progress
2019-2022 Community Health Assessment Planning
2017-2019 Community Health Assessment Planning
Archives
The Kansas Health Matters website brings together community health-related statistical data, local resources and a wealth of information into one accessible location. The intent is to give communities the tools they need to read and understand the public health indicators that affect the quality of our residents' lives. The site was created by the Kansas Partnership for Improving Community Health which is supported by Kansas Department of Health and Environment, Kansas Health Foundation, KALHD, and Community Care Network of Kansas (formerly KAMU).
The County Health Rankings show that where we live matters to our health. The health of a community depends on many different factors - ranging from health behaviors, education and jobs, to quality of health care, to the environment. These are published annually by University of Wisconsin Population Health Institute and support is provided by the Robert Wood Johnson Foundation.
The Kansas Health Institute is an independent, nonprofit health policy and research organization that informs policymakers about important issues affecting the health of Kansans. Their website contains up-to-date health related topics at a state-level governmental prospective.