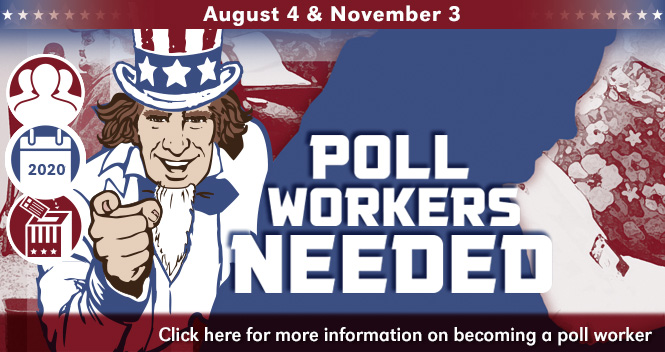 Election Office
Helpful Information
Upcoming elections in Sedgwick County:   
Primary Election - August 4, 2020, Partisan Primary Election (Democratic Party and Republican Party)
General Election - November 3, 2020, Presidential General Election
Current Election Information
Click on a question below for more information
How can I get information on becoming a candidate in 2020?
I would like to work at a polling site on Election Day.  How can I become an Election Worker?
How can I check on the status of my Advance by Mail Application or Ballot?
Voter Registration
How do I register to vote for the first time?
How do I update my name, address or party affiliation?
What are the rules for party affiliation in 2020 in Kansas?
What's on your ballot?
View Sample ballot. Sample ballots will be available 5 weeks prior to each scheduled election.
Who has filed as a candidate in Sedgwick County?
Voting options:
Where is my election day polling place? 
How do I vote early in person?
When can I vote early at the Election Office?
When can I vote early at other locations?
How do I vote if I need assistance? 
What should you expect when you vote?
You will be asked to provide government issued photo ID.
Got voter ID? Learn more at www.gotvoterid.com
You will be asked to state your name and address to the check in clerk.
If the name or address you state does not match your voter registration data, you will be asked to complete a provisional ballot. 
If your stated name and address match your record, you may choose to vote on a machine or a paper ballot. Our new voting machines will provide you with a printed ballot for review prior to your votes being counted.
Complete your ballot.
Insert your ballot in the counting machine.
Wear your I Voted sticker with pride!
Upcoming Elections and Important Dates