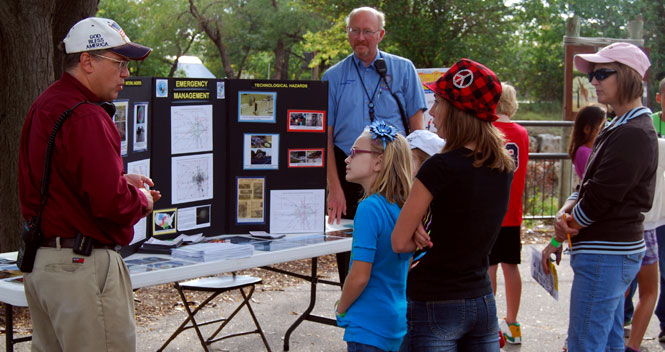 Emergency Management
Severe Weather Safety Classes
In February, March, and April, Emergency Management will host 19 severe weather safety classes at locations throughout Sedgwick County. Attendees will learn the basics of thunderstorm development, storm structures and features, how to recognize them, and how to stay safe from them. What, when and how to report severe weather information will also be covered.
Classes are open to the public and no prior experience or knowledge of severe weather is necessary to attend. At each class Emergency Management will be giving away a starter disaster kit. Registration for the two-hour class is not necessary.
Planning, shelters, warning systems ... get information about these severe weather topics, as well as safety tips.
What's Happening Now?
Read the Emergency Log for updates regarding emergencies in Sedgwick County.
2014 Sedgwick County Multi-Hazard Mitigation Plan
The 2014 South-Central Kansas (Homeland Security Region G) Multi-Hazard, Multi-Jurisdictional Mitigation Plan was approved by the Federal Emergency Management Agency (FEMA) on May 27, 2014. This plan replaces the 2009 Sedgwick County Multi-Hazard Mitigation Plan and now includes all 19 counties within the South-Central Kansas region. This plan meets federal requirements covered under the Disaster Mitigation Act of 2000. The public is encouraged to review new mitigation plan to see what the plan says about your community.