Emergency Alerts
Layered Warning Strategy
We recommend everyone use a layered approach to receive critical information; in other words, have multiple ways to get the news that could save your life. Some of those layers include:
Local media outlets for weather information
Weather alerts on your phone or mobile device
Outdoor warning devices
Sedgwick County uses CivicPlus®Mass Notification system, also known as Civic Ready to send emergency and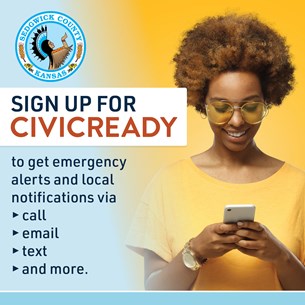 routine alerts and notifications. Sign up here.
Subscribers can register and opt-in to receive emergency public safety alerts, public health alerts, or community bulletins via automated voice calls, text messages, and/or email. Non-emergency messages will be sent by email only.
We have partnered with a number of cities within Sedgwick County so they may have access to send their own alerts. We are launching this for only two cities initially, both Wichita and Mount Hope residents can sign up for City specific alerts. Stay tuned as we continue to add more cities in the coming months. 
 Examples of messages sent through the CivicPlus Mass Notification System 
Public Safety/911 Alerts (May include active dangers or threats to life and safety in your area.)
Public Health Notifications (May include boil water advisories, illness, or outbreak concerns)
Community Bulletins (May include government closures, important news or other information.)
Integrated Public Alert & Warning System (IPAWS)
The Integrated Public Alert & Warning System (IPAWS) is FEMA's national system for local alerting that provides authenticated emergency and life-saving information to the public through mobile phones using Wireless Emergency Alerts, to radio and television via the Emergency Alert System, on the National Oceanic and Atmospheric Administration's Weather Radio, and other platforms.
Sedgwick County Emergency Management is a FEMA approved IPAWS Alerting Authority. As an Alerting Authority, Emergency Management is able to send IPAWS messages to warn the public in times of public danger. The National Weather Service is responsible for sending weather related IPAWS messages. KHP is responsible for sending Amber Alerts. Sedgwick County Emergency Management will typically send all others. IPAWS messages are assigned a FEMA event code depending on the severity of the threat or type of message being sent. Those FEMA event codes can be referenced here.
Wireless Emergency Alerts (WEA)
Wireless Emergency Alerts (WEAs) are short emergency messages from authorized federal, state, local, tribal and territorial public alerting authorities that can be broadcast from cell towers to any WEA‐enabled mobile device in a locally targeted area. Wireless providers primarily use cell broadcast technology for WEA message delivery. WEA is a partnership among FEMA, the Federal Communications Commission (FCC) and wireless providers to enhance public safety.  
Emergency Alert System (EAS)
The Emergency Alert System (EAS) is a national public warning system that requires radio and TV broadcasters, cable TV, wireless cable systems, satellite and wireline operators to provide the President with capability to address the American people within 10 minutes during a national emergency.
Alerting People with Disabilities and Access and Functional Needs
Executive Order 13407 mandates that the federal government "include in the public alert and warning system the capability to alert and warn all Americans, including those with disabilities and those without an understanding of the English language." The Integrated Public Alert and Warning System office is working endlessly to build a stronger and more inclusive alert and warning system. More information regarding additional capabilities of IPAWS can be found here.
Outdoor Warning Devices
It is important for everyone to have the same expectations when it comes to outdoor warning devices, commonly referred to as tornado sirens. First and foremost, the sirens are not meant to be heard indoors. The devices are in place to warn people who are outside, away from radio and TV, that something bad is happening, and they need to get inside, turn on local media, and find out what is going on. That means for most people the sirens are NOT meant to be a primary means of receiving an alert; they serve as a backup to one of the primary methods listed above.
When do warning devices sound?
Sedgwick County Emergency Management tests sirens every Monday at noon, except on holidays, or when the sky looks threatening.
The sirens in Sedgwick County sound when there is an attack on the homeland or an air attack in times of war; this is signaled by using the classic rise-and-fall
The sirens also sound for tornado warnings by using a steady alert tone.
There is no such thing as an "all clear" sounding; if the sirens are activated, it means danger is near, so TAKE COVER, TUNE IN, and TAKE ACTION!
How does the warning system operate?
Sedgwick County Emergency Management coordinates with the National Weather Service (NWS) office in Wichita to provide the timeliest and most accurate weather warnings possible for the citizens of Sedgwick County. One of the ways we do this is through selective sounding of only the sirens associated with the threat, rather than sounding the entire county every time.
When the NWS issues a tornado warning, they draw an area on the map starting with where the storm is currently and include the area downstream of the storm that may be affected. This is called the warning polygon. The polygon instantly appears on our siren computer, along with a list of sirens that are located in, or can be heard within, the warned area.  ONLY these sirens will be activated.  If a community or an individual siren lies outside the warned area, the device(s) will not sound.
This system helps prevent over-warning the public and contributing to something called siren fatigue.  For example, if the storm is near Mt. Hope and moving toward Newton, why warn the people in Haysville, Derby or even Wichita? If you sound the sirens in areas where no threat exists, and nothing happens time after time, eventually people start to tune out the sirens and they lose their effectiveness.
With selective sounding of our devices, it means there's no room for complacency or guess work; if the siren near you is sounding, the threat is real, it is close, and you should take shelter immediately!  If you are not in the warning polygon, you still should tune to local media to see where the storm is, and which direction it is moving. If the storm appears it could be headed your way, be prepared to take action in case another warning is issued.
How do I report a non-functioning outdoor warning device?
Email sirens@sedgwick.gov or call the emergency management office between 8 a.m. and 5 p.m. Monday through Friday at 660-5959 and advise any available staff member. For times beyond normal business hours, contact 911.
Where are the warning devices located?
Visit the GIS website or check out this Google Map