Outdoor Warning System
Outdoor Warning Devices
It is important for everyone to have the same expectations when it comes to outdoor warning devices, commonly referred to as tornado sirens. First and foremost, the sirens are not meant to be heard indoors. The devices are in place to warn people who are outside to seek shelter indoors and tune to local media for more information. Sirens are NOT meant to be a primary means of receiving an alert if you are in your home. There is a suite of warning options available to warn you of danger while you are indoors, please navigate to the "Emergency Alerts" Menu option on the left Nav Bar.
Emergency Management maintains 153 sirens throughout Sedgwick County and in 21 jurisdictions. Each siren consists of electric motors, radios, motherboards, batteries, and some are PA speakers. We have sirens that range from an initial installation year of 1953 still in operation alongside sirens installed in 2023. 50% of our outdoor warning system is AC powered only, which means if there is a power failure, the sirens in that area will not activate. The other 50% of our system is DC battery powered. 
When do warning devices sound?
Sedgwick County Emergency Management tests sirens every Monday at noon, except on holidays, or when the sky looks threatening. The Monday test is a manual maintenance check on all the Mechanical & Electronic equipment.
The sirens also sound for tornado warnings by using a steady alert tone. This is automatically triggered when the National Weather Service issues a Tornado Warning polygon. The signal to activate sirens typically coincides with the Cellphone Wireless Emergency Alert.
The sirens will also in Sedgwick County sound when there is an attack on the homeland or an air attack in times of war; this is signaled by using the classic rise-and-fall.
There is no such thing as an "all clear" sounding; if the sirens are activated, it means danger is near, so TAKE COVER, TUNE IN, and TAKE ACTION!
How does the outdoor warning system operate?
Sedgwick County Emergency Management coordinates with the National Weather Service (NWS) office in Wichita to provide the timeliest and most accurate weather warnings possible. Currently, Sedgwick County is divided into five geographical warning zones for siren activation. If a NWS tornado warning polygon touches any portion of a zone, all sirens within that colored zone will activate. This zone activation method will be in place for the next five-years as our system undergoes an overhaul. This is a temporary departure from selective warning until we're able to complete our Capital Improvement Project.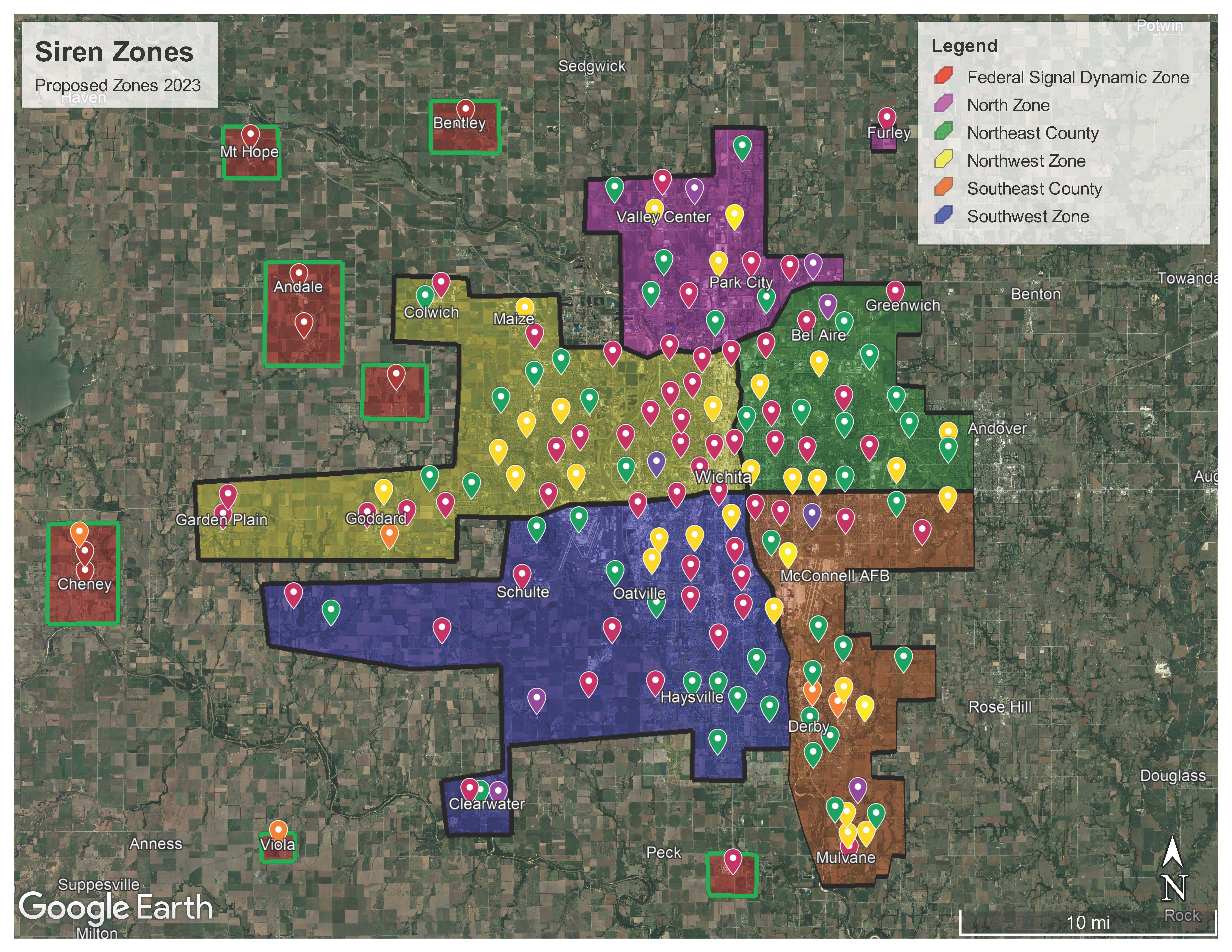 Outdoor Warning System Capital Improvement Project.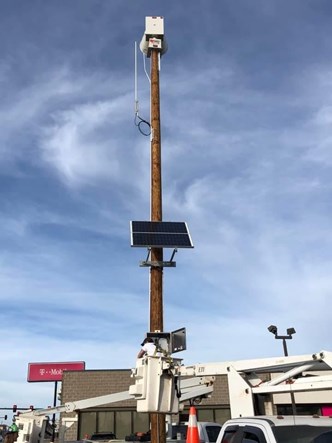 In 2021, Emergency Management communicated concerns about the continued serviceability of the outdoor warning system.  In August of 2022, The Sedgwick County Commission passed a 5-year Capital Improvement Project(CIP) to overhaul our aged outdoor warning system. Upon completion of the upgrade, estimated to be 2028, the outdoor warning system will abandon zone activation and wholly go back to selective warning. The current zone map in place will change from year-to-year as new sirens are installed. We will update the map on this page as the project progresses. The CIP will expand coverage of our population by 5%.
A SoundPlan analysis was completed to acoustically determine the best installation location for sirens based on highway noise, building height, topography, industrial noise and so forth. The SoundPlan analysis will be used as our guide when deciding siren new placement. The points on the map do not represent the exact location for installation as we will need to consider ground truth for each site. The goal is to achieve 70 decibels(db) of sound throughout the warning area as recommended by FEMA. The continuous green line is 70db. The blue line is 75db, and the yellow line is 80 db. 
This CIP is considered a green project as it replaces electrical utility service with solar panels. Upon completion, the system will no longer rely on the electrical grid for activation.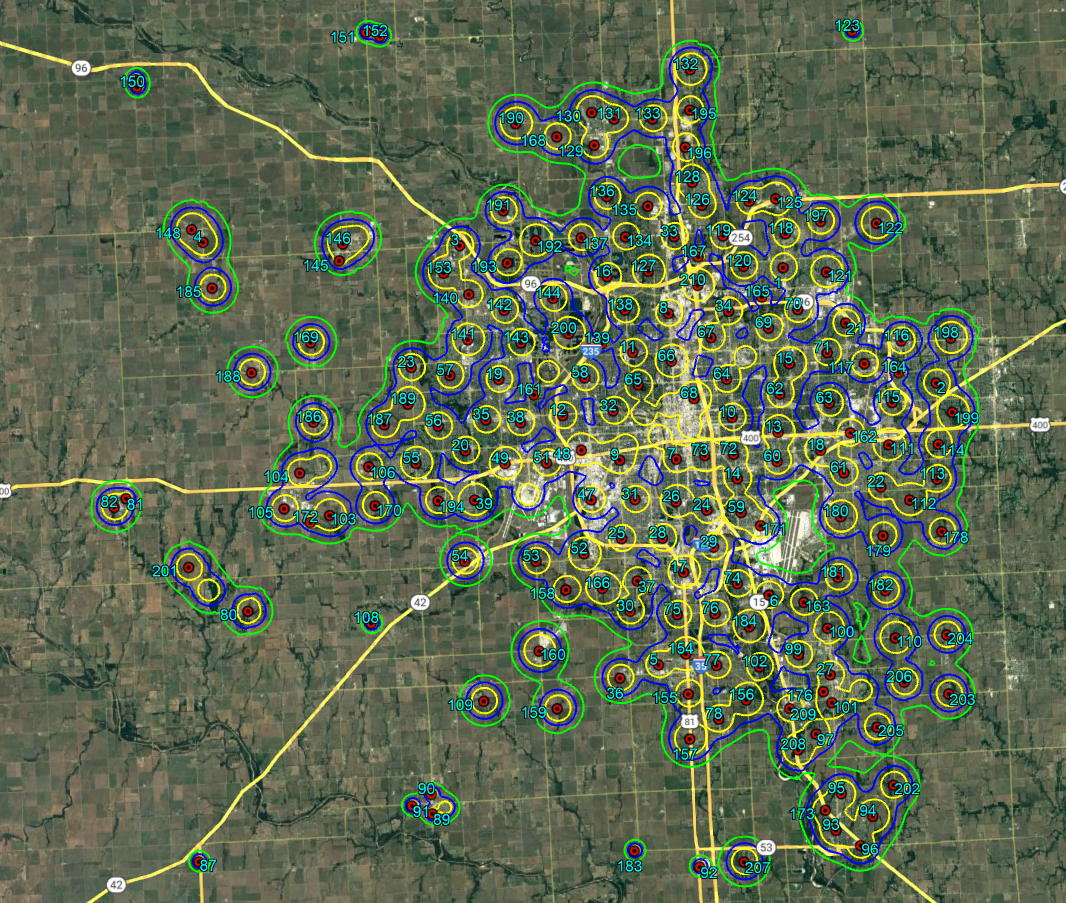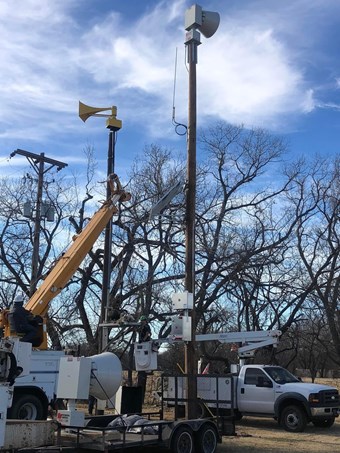 2023 is considered year one of this project and we've already replaced two siren control stations as well as outdoor warning sirens in Cheney, Mount Hope, Andale, Bentley and St. Marks. Later in 2023, we will install new sirens in Viola, Garden Plain, Clearwater, Colwich and areas of the western county.
In 2024 we are looking to replace sirens in Derby, Haysville, Mulvane and add coverage to SE Sedgwick County east of McConnell AFB.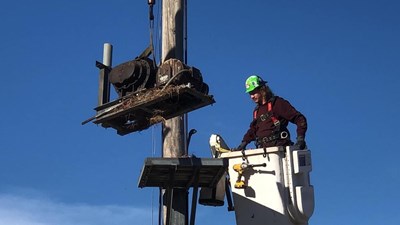 How do I report a non-functioning outdoor warning device?
Email sirens@sedgwick.gov or call the emergency management office between 8 a.m. and 5 p.m. Monday through Friday at 660-5959 and advise any available staff member. For times beyond normal business hours, contact 911.
Where are the warning devices located?
Visit the GIS website or check out this Google Map