COMCARE

A Certified Community Behavioral Health Clinic (CCBHC) and Licensed Community Mental Health Center (CMHC)
What is a CCBHC?
A Kansas Initiative has laid the groundwork for transformation of the mental system in our state and moved towards the development of a new model of healthcare. CCBHCs are non-profit organizations or units of a local government behavioral health authority. They must provide nine types of services, with an emphasis on the availability of 24-hour crisis care, evidence-based practices, care coordination and integration with physical health care. To learn more about CCBHCs visit The National Council for Mental Wellbeing.
COMCARE is the recipient of a SAMHSA grant focused on expanding an array of comprehensive services to adults and youth with mental illness and is provisionally Certified by the Kansas Department of Aging and Disability Services as a CCBHC.
What changes as a CCBHC?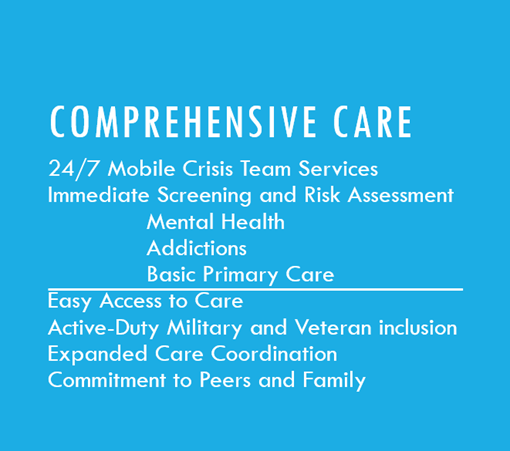 Primary Health Screening is added to gather health metrics and move towards whole health treatment through Primary Health Resources and Referrals.
Care Coordination expands to embrace whole person healthcare with connections to a variety of community resources.
What Stays the Same?
Easy Access to mental health services, including crisis, medication, and community services will not change.
COMCARE Medication Practices
In order to help you improve your experience with us, we have developed the following guidelines for Medication Management that will help answer many questions for you. Please call us at 660-1100 and ask for you medical provider's nurse. Click here for Policy.
For a first appointment, please call 316-660-7540 or click here to learn more about accessing our services. For general inquiries, please click here.
If you or someone you know is experiencing a mental health crisis, call COMCARE's 24-hour crisis hotline, 316-660-7500.