Non-Point Source Pollution Program
The Non-Point Source Pollution Program continuously takes applications for septic replacement cost-share through the on-site waste program. Those with failed septic systems are eligible for up to $3,000 in cost-share assistance to replace failed components of an existing septic system. This program has limited funding and thus is targeted at the parts of Sedgwick County that are the most sensitive in terms of water quality. Funding is provided by the State Conservation Commission.
All applicants are ranked based on the water quality parameters of their property's location. The criteria include the following: located within a TMDL watershed (watershed exceeding the total maximum daily load allowable for various pollutants), distance to a public water well, distance to a private water well, distance to a water body or stream, located in the Equis Beds. The following map of Sedgwick County shows the areas of priority in blue, with a deeper blue color indicating higher priority.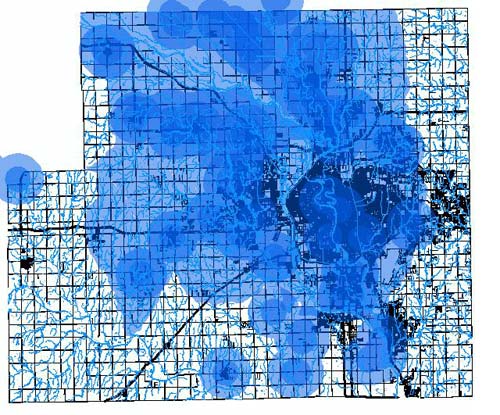 Due to limited funding, landowners with failed septic systems in areas that are not blue are not likely to receive funding.
A waiting list of applicants is maintained until funds become available. Funds are then allocated to those individuals with the highest priority scores at the time the funding is received and processed. Funds are normally made available to the district in July and reallocated funds, if available at the state level, are received by the district in December each year.

This cost-share does not apply retroactively, thus to qualify for the funds, an individual must be allocated funds by the SCCD prior to fixing the failed septic system components. Allocation is conferred by a signed contract between the individual and the State Conservation Commission as processed by the NPS coordinator.
The cost-share is not available to new septic system construction projects, nor does it assist in paying for connection to city sewer services.
Applicants who receive funding are required to pay for the installation costs in full prior to receiving the cost-share funds, thus must have the means to cover the initial cost. Occasionally an approved applicant is unable to pay for this installation, or unable to complete the installation within 60 days of the funds being made available. In those cases, the funds will then be reallocated to the next applicant on the waiting list.