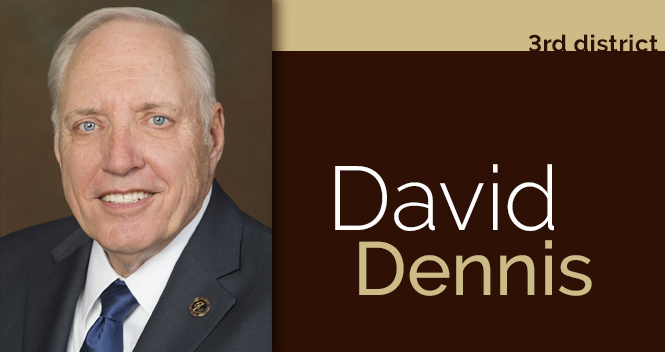 3rd District - David Dennis
District 3 Citizens Advisory Board 
Agenda and Minutes

Previous meeting agendas and minutes can be requested by emailing communications@sedgwick.gov. 
May 9, 2022 - Agenda | Minutes will be uploaded once approved.
June 6, 2022 - Agenda will be uploaded once approved. | Minutes will be uploaded once approved.
Newsletters:
Biography
David T. Dennis and his wife Janet of 47 years, have two sons, David, a teacher at Northwest High School, and Eric, a principal in Conestoga School District, Nebraska. They have five grandchildren, Brittany, Amanda, Devan, William and Elizabeth. David served in the United States Air Force for 29 years and worked his way up through the ranks from Airman to Colonel. He earned a Bachelor of Science degree in Business Administration and Education from Fort Hays State University and a Masters of Arts degree in Public Administration from the University of Oklahoma. Following his retirement from the Air Force, he returned to school at Wichita State University and obtained his teacher's license and taught at North High School for 11 years. He was elected to the Kansas State Board of Education in 2008 and served as the chairman for two years. He was a member of the Board of Directors for the National Association of State Boards of Education, and served on the Executive Board of Directors for the Kansas State High School Activities Association. Locally, he served as the Chairman of the District V Advisory Board for eight years and served as a Commissioner on the Wichita and Sedgwick County Metropolitan Area Planning Commission for nine years, he is the president of his homeowner's association, was a Boy Scout leader for 30 years and recipient of the highest awards a Boy Scout District and Council can present to a volunteer. He is an Eucharistic Minister for St. Elizabeth Ann Seton Catholic Church and a member of the Knights of Columbus. He was elected in 2016 to the Sedgwick County Board of County Commissioners to represent District 3.