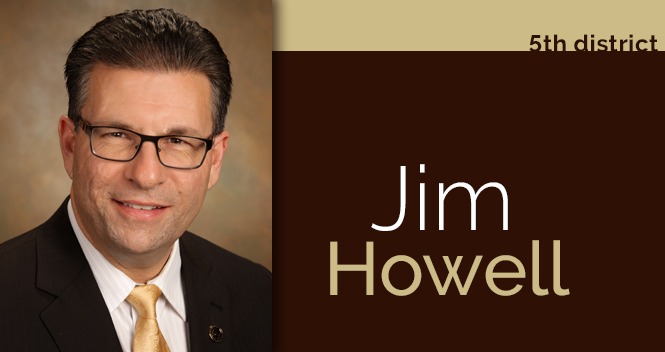 5th District - Jim Howell
District 5 Citizens Advisory Board Meetings

Agendas and Minutes
Newsletters:
Biography
Jim Howell grew up in southeast Sedgwick County and graduated from Wichita Southeast High School. Today, he is the Sedgwick County Commissioner for District 5 covering the southeast part of Sedgwick County including southeast Wichita, McConnell Air Force Base, Derby and Mulvane. Howell is in his second elected term on the county commission starting in 2015. Prior to his election to the commission, Commissioner Howell served two terms in the Kansas House of Representatives from 2011 through 2014. He also served in the U.S. Air Force for five years. After the Air Force, Howell spent 25 years in the private sector working in Flight Test Instrumentation for several aircraft companies. This has given him great experience doing mechanical and electrical design, modification/installation/calibration, test support and test conduct, and data analysis.
Jim has been married to his wife Leah for 29 years. They enjoy their five adult children, several daughters'-in-law, and two wonderful grandchildren.
Commissioner Howell has a Bachelor of Science degree in Organizational Management & Leadership from Friends University, a Bachelor of Science degree in Industrial Technology from Southern Illinois University College of Engineering and an Associates of Science degree in Avionics Systems Technology from the College of the Air Force.
While serving as a Kansas State Representative, Commissioner Howell was the Chair of the South-Central Legislative Delegation and member of the Government Efficiency Committee, House Education Committee, General Government Budget Committee, Federal & State Affairs Committee and Judiciary Committee.
Howell is currently a board member of several organizations and committees. This includes the Kansas State Rifle Association Board or Directors, the Wichita Area Metropolitan Planning Organization, the Criminal Justice Coordinating Council, the Chief Elected Officials Board, and the Exploration Place board.
His hobbies are framing (art or pictures), mechanically or electrically fixing things for people, and all things airplanes.