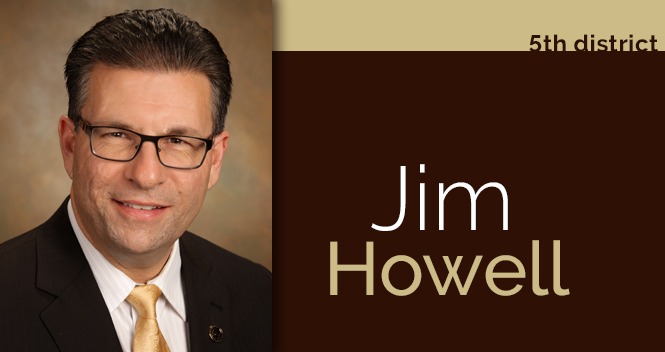 5th District - Jim Howell
District 5 Citizens Advisory Board Meetings
Commissioner Howell is now looking for people to serve on the District 5 CAB. If you think you would like to serve on this board, please let him know.
Commissioner Howell's hope is to create some geographic-diversity (Wichita, Derby, Mulvane, and Unincorporated (township) residents). He also would like sector-diversity meaning to have many sectors represented such as Service, Public Safety, Medical, Seniors, Hospitality, Education, Religious, Government, Military, etc.  The board is intended to have 11 members, creates its own agenda and discussion and meets monthly. Commissioner Howell does not serve on the board but does attend and provide regular reports and updates. The CAB does have the ability to request information and county staff will seek to assist them as needed. They will discuss things such as county policy or spending and specifically make recommendations to Commissioner Howell.
Other Details: The CAB does allow for public comment. They do record meeting minutes and will be subject to the Kansas Open Meetings Act and Kansas Open Records Act. Their recommendations are appreciated but do not bind the commissioner on any issue.
Since this is an official formalized board, each member will need to be appointed by county resolution.
If you think you would like to serve on the Sedgwick County Commission District 5 Citizen's Advisory Board, please reach out to Commissioner Howell here: Jim.Howell@Sedgwick.Gov. You do need to be a resident of District 5 to serve on this board. Here is a map of the District: https://www.sedgwickcounty.org/GisImages/printablemaps/bcc05_voteb.pdf.
District 5 Bylaws, adopted December 9, 2020:

Agendas and Minutes - First Friday of each Month (unless rescheduled by CAB)
August 4, 2023 - Agenda | Minutes will be uploaded once approved.
September 1, 2023 - CANCELLED
October 6, 2023 - CANCELLED
November 3, 2023 - Agenda | Minutes will be uploaded once approved.
December 1, 2023 - Agenda | Minutes will be uploaded once approved.
Archived Agendas & Meeting Minutes
K15 Corridor Traffic Subcommittee 
Newsletters:
Biography
Commissioner Jim Howell grew up in southeast Sedgwick County. He attended public schools in Derby and Wichita and graduated from Wichita Southeast High School. Today, he is the Sedgwick County Commissioner for District 5 covering the southeast part of Sedgwick County including southeast Wichita, McConnell Air Force Base, Derby and Mulvane.
During his time on the commission, Howell has worked to create greater taxpayer transparency, organizational accountability, stronger ethics policy, effective juvenile justice reform, greater fiscal responsibility and better voter integrity policy. Even as a commissioner, Howell has been active in the Kansas Legislature to advance numerous laws to help Sedgwick County along with the rest of the state of Kansas.
Prior to his election to the commission, Howell served two terms in the Kansas House of Representatives from 2011 through 2014. While serving as a Kansas State Representative, Commissioner Howell served as vice-chair of the Pensions & Benefits Committee and Vice-Chair of the General Government Budget Committee. He served as a member of the Government Efficiency Committee, Education Committee, Judiciary Committee and Federal & State Affairs Committee. In 2014, Howell also chaired the South-Central Legislative Delegation.
Commissioner Howell honorably served in the U.S. Air Force for five years. Howell spent most of his active duty stationed in England but was deployed on several temporary assignments including Saudi Arabia during Desert Shield, also known as the First Gulf War. Howell was promoted 'Below-The-Zone' and was named Airman of the Year in his unit. He earned several awards plus four medals including the Southwest Asia Service Medal, a Good Conduct Medal and a Commendation medal.
After his Honorable Discharge from the Air Force, Howell spent 25-years in the private-sector working in Flight Test Instrumentation for several local aircraft companies. This has given him great experience doing mechanical and electrical design, modification/installation/calibration, test planning, test conduct and data analysis.
Jim has been married to his wife Leah for 32 years. They raised their five children in District 5 and have added several daughters'-in-law and five wonderful grandchildren.
Commissioner Howell has a Bachelor of Science degree in Organizational Management & Leadership from Friends University, another Bachelor of Science degree in Industrial Technology from Southern Illinois University College of Engineering and an Associate of Science degree in Avionics Systems Technology from the College of the Air Force.
Howell serves on the Kansas State Rifle Association Board of Directors, the Wichita Area Metropolitan Planning Organization, the Criminal Justice Coordinating Council and the Chief Elected Officials Board. He has also served on the Sedgwick County Zoo Board, the National Center of Aviation Training Board and the Exploration Place Board among several other public and private organization boards.
Howell and his family attend a local church in the Derby area where Howell leads/teaches an adult Sunday School group. He served as a trustee for more than two decades and now serves as the church treasurer. As a 'jack-of-all-trades,' Howell enjoys fixing cars and engages in all sorts of building projects including helping people in the community with their home or car challenges.