CDC Establishes COVID-19 Community Levels to Guide Masking
Sedgwick County's current COVID-19 Community Level is Low. 
Sedgwick County Health Department is following the the Centers for Disease Control and Prevention's (CDC) framework for mask recommendations. Residents can use the mask guidance along with social distancing and regular disinfection of surfaces to reduce the spread of COVID-19 and other infectious diseases.
Even if low or medium exists in the community, people may choose to wear a mask because they have a cold, to feel safe or protected in a crowded place, or if they or someone they live with has a weakened immune system.
The CDC will update the levels weekly.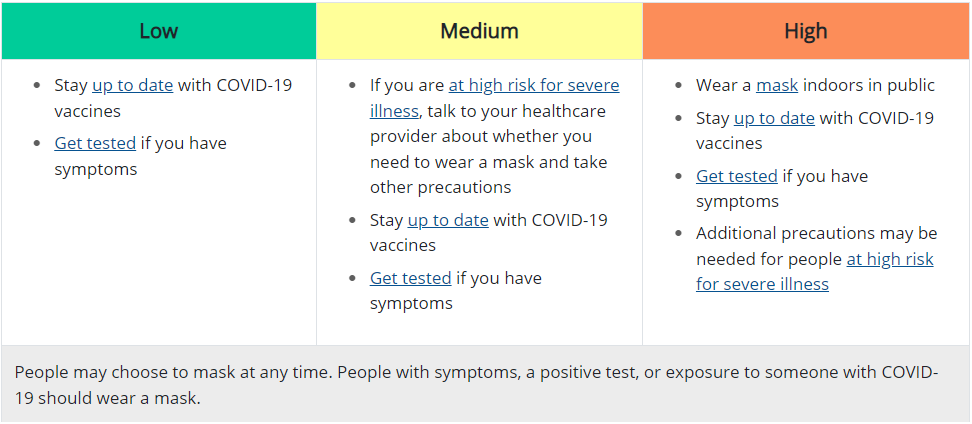 On February 25, the CDC released a new framework to gauge local COVID-19 conditions and guide individuals on prevention measures such as masking. The Kansas Department of Health and Environment (KDHE) has adopted the new framework.
The guidance establishes a COVID-19 Community Level based on case counts, hospital admissions and hospital capacity. Levels are reflected in a color-coded system, with green indicating low, yellow indicating medium, and orange indicating high community levels.
In areas with low and medium community levels, individuals with low risk for severe illness may choose to unmask in indoor public settings. In medium-level communities, individuals who are at increased risk should talk to a healthcare provider about masking and other prevention measures. In areas with high community levels, everyone should mask in public indoor settings.
Regardless of community level, the CDC still recommends getting vaccinated and boosted, getting tested if symptomatic, isolating if positive, and masking if exposed.