Printable version
---
For Immediate Release
March 4, 2019
CONTACT
Kate Flavin
316-660-9370
Regional Forensic Science Center Receives Renewed Accreditation
On January 7, 2019, the Regional Forensic Science Center received renewed accreditation from the ANSI National Accreditation Board (ANAB) in the Field of Forensic Science Testing. 
In order to receive this accreditation, forensic science providers are monitored by surveillance activities, external proficiency testing reports submitted by approval test providers, and disclosures of significant events and nonconformities. Maintaining these high standards is a requirement to achieve accreditation. The certification is granted after thorough evaluation of an organization's management system and technical procedures and practices. 
The Regional Forensic Science Center is one of the first 12 agencies to achieve this level of accreditation out of the approximately 480 forensic service providers in the U.S. that ANAB assess.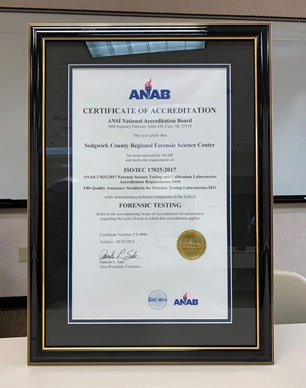 ---