Coronavirus FAQs for the General Public
News Update
Updated 3/30/2021, 3:15 PM
Preguntas frecuentes sobre el coronavirus para el público en general
Câu hỏi thường gặp về bệnh virus corona mới cho công chúng
COVID-19 is a respiratory disease caused by a new strain of coronavirus that has now spread globally.
While anyone can be infected, most people experience mild symptoms and do not need to go to the hospital.
Common symptoms are fever, cough, shortness of breath/difficulty breathing, upper respiratory symptoms (congestion, runny nose), chills or shivering, muscle or body aches, headaches, sore throat, new loss of taste or smell, diarrhea, extreme exhaustion, and fatigue.
People most at risk for severe disease are older adults and those with underlying conditions such as heart disease.
Cases of COVID-19 have been reported in Kansas and Sedgwick County.
Sedgwick County Health Department is closely monitoring this issue and is coordinating with the Kansas Department of Health and Environment (KDHE).
We anticipate more cases of COVID-19 in Sedgwick County in the coming days or weeks.
If you have questions related to COVID-19 or testing, you can call the Sedgwick County Health Department (SCHD) at (316) 660-1022.
Sedgwick County Health Department monitors and investigates reports of disease every day, from whooping cough and chickenpox to tuberculosis and HIV. Staff are trained in methods to reduce the spread of disease. You can help, too. COVID-19 is a new disease, but it spreads the same as the flu, through respiratory droplets (e.g.: coughing and sneezing).
The Sedgwick County Health Department recommends all older adults and those with a serious underlying health condition (a condition that impairs your lung or heart function or weakens your immune system) stay home and away from other people.
What should I do if I recently traveled?
Please check the KDHE website for the most up-to-date travel restrictions. If you have traveled to one of the places on the dates mentioned, self-report travel by calling (316) 660-7300. If you have questions about recommendations, please call the Sedgwick County Health Department.
What does home quarantine or self-isolation mean?
Home quarantine or self-isolation means that you should remain at home and not attend school, work, or any other setting where you are not able to ALWAYS maintain a 6-foot distance from other people such as stores.
What is COVID-19?
COVID-19 is a human respiratory disease caused by a novel (new) coronavirus. This novel virus was first identified in Wuhan, China in December 2019.
How does COVID-19 spread?
Health experts are still studying how this novel virus spreads. It is spread by respiratory droplets.
By coughing, sneezing, singing, talking or breathing
By close personal contact, such as touching or shaking hands
By touching an object or surface with the virus on it and touching your face
People are most likely to spread the disease when they have symptoms, but some people may spread the virus before they show symptoms. This is why it is important to follow public health orders to remain at home, especially if quarantined, because of travel or close contact with a person that has laboratory-confirmed COVID-19 (case).
What are the symptoms of COVID-19?
Symptoms of COVID-19 can include one or more of the following: fever, cough, recent decrease in the ability to breathe, upper respiratory symptoms (congestion, runny nose), chills or shivering, tiredness, muscle or body aches, headache, sore throat, sudden loss of smell or taste, diarrhea without a known cause.
COVID-19 symptoms are a new symptom or an increase in severity of something that a person normally experiences.
COVID-19 should be considered when a person experiences these symptoms outside of their normal. For example, a person who has allergies with a runny nose every spring would not consider a runny nose a COVID-19 symptom without any other outside-of-normal symptoms
Be aware that older adults can show atypical COVID-19 symptoms. It is important to recognize any symptoms that could indicate coronavirus infection and to be tested right away.
Older adults infected with coronavirus may not have fever.
They may display headache, diarrhea, loss of smell and/or taste, confusion, sore throat, or runny nose.
Respiratory symptoms, if they occur, may be delayed.
What are severe complications from this virus?
In severe cases, infection can cause bronchitis (swelling of the tubes into the lungs), pneumonia (infection in the lungs often with fluid build up), kidney failure, and even death.  People over 60 years old and those with other underlying health conditions are more likely to have severe complications.
How soon after exposure do symptoms start?
In general, symptoms appear 2 – 14 days after exposure.
How can I help protect myself and my family?
Avoid close contact with people who are sick.
Avoid touching your eyes, nose, and mouth with unwashed hands.
Wash your hands often with soap and water for at least 20 seconds. Use an alcohol-based hand sanitizer that contains at least 60% alcohol if soap and water are not available.
Stay home when you are sick.
Cover your cough or sneeze with a tissue then throw the tissue in the trash.
Clean and disinfect frequently touched objects and surfaces.

A list of products approved to kill coronavirus can be found HERE.

When available, get a COVID-19 vaccination for yourself and family members.
Follow public health orders and guidelines. 
Testing for COVID-19
A laboratory test for the coronavirus that causes COVID-19 is performed by the state health department laboratory in Topeka or through commercial laboratories.  A small swab from a person's nose or throat or the person's saliva is used for the test.
People with symptoms who are currently being tested for COVID-19 should remain in home isolation, or hospital isolation if symptoms are severe enough to be hospitalized until test results are available. People without symptoms may continue normal activities while awaiting test results.
If the test result is negative, isolation is no longer required.

If test results are positive for COVID-19, the person must remain in isolation until released by a health department.
People wanting no-cost testing at through Sedgwick County Health Department (SCHD) may receive no-cost, walk-in testing now at the Sunflower Shelter at Sedgwick County Park, 6501 W. 21st St, Wichita, between 8:30 a.m. and noon, Monday to Friday. Appointments are not required. First come. First served. The Sunflower Shelter is located closer to the park entrance at 13th St.
I'm showing symptoms of COVID-19. Should I be tested?
Symptoms of COVID-19 are similar to other respiratory viruses. Your healthcare provider may be able to collect a sample and perform testing or send to a private lab for testing. Some tests can be done at the state lab, but testing is prioritized for those at highest risk for complications and for other public health priorities, like healthcare workers.
My employer is requiring me to be tested before they will let me come back to work. How can I get tested?
Beginning December 7, 2020, Sedgwick County residents exposed to COVID-19-positive people may quarantine for a shortened length of time, following CDC and KDHE guidelines. Previously, close contacts and travelers had to quarantine and monitor symptoms for 14 days until they could leave their home and return to in-person work. The new guidance applies to people who are close contacts or who have traveled and who do not have COVID-19 symptoms. This guidance does not apply to people who have tested positive.
7-Day Quarantine – no symptoms and with testing (English, Spanish, and Vietnamese Graphics)
After exposure, monitor yourself for symptoms daily for 14 full days. Infection can still develop through day 14.
If you have no symptoms by Day 6, get a PCR test using a nasopharyngeal (nose) swab or a saliva sample.

Antigen and antibody tests are NOT allowed for this purpose.

If the test is negative, and you remain symptom-free, you can leave in-home quarantine after seven full days, which is on Day 8.
If results are still pending on Day 8, you should remain in-home quarantine until receiving your results.
10-Day Quarantine – no symptoms and no testing  (English, Spanish, and Vietnamese Graphics)
After exposure, monitor yourself for symptoms daily for 14 full days. Infection can still develop through day 14.
If you have no symptoms during the 10 days, you can be released from quarantine without a test on Day 11.
People who develop symptoms or who wish to be tested while in quarantine can view the testing locator website to find a testing location near you. 
The Health Department recommends that all close contacts test for COVID-19 at day six or seven of quarantine to ensure viral load is high enough to detect the virus.
If a resident tests positive for COVID-19, the resident can spread coronavirus and should remain at home in isolation for 10 days from the day symptoms started or 72 hours after symptoms stop, whichever is longer (minimum of 10 days).
Modified Disease Investigation
The Health Department has modified their disease investigation protocol, prioritizing case investigations based on the level of risk for spread of the disease.
Disease Investigators will investigate COVID-19-positive people (cases) tested through the Health Department, cases from reported clusters and potential clusters, cases reported from schools, cases in school-aged children not reported from schools, and other cases as resources allow.
In order to help contain the spread of disease, all people who test positive should reach out to their close contacts, letting them know of the exposure and about the 7- and 10-day in-home modified quarantine under the guidance above.
How do we test for COVID-19?
A healthcare provider obtains swabs deep in a person's nose or throat for the test. The provider sends the swabs to a commercial laboratory or the state health department (Kansas Department of Health and Environment). Another option is through saliva testing, where the person being tested spits into a tube for the test.
Antibody and antigen tests are not confirmatory for COVID-19; therefore, the SCHD is not offering these types of tests.
How long do test results typically take?
The time it takes to receive results varies based on the lab. Results will typically be reported in 4-5 business days depending on the lab.
Healthcare providers and the local health department in the patient's county are notified of positive test results.
What is the difference between a sample collection kit and a test kit?
A sample collection kit is a kit containing all supplies and order forms needed for healthcare providers to collect a swab from a person suspected of having COVID-19.
A test kit is what laboratory staff uses with the machine to test for COVID-19.
Is it safe to touch delivered items like packages or food delivery?
The risk of getting sick from a package is low. Early experiments suggests the new coronavirus is stable on some surfaces for hours to days; however, the risk of getting a virus from a delivery is lower than the risk of getting the virus from going to the store. Washing your hands after handling delivered items and avoiding touching your face will lower the risk even more.
Is there a vaccine?
Multiple vaccines to protect against COVID-19 are available. When offered, get the COVID-19 vaccination for yourself and your family members. The best way to prevent infection is to avoid being exposed to this virus (See "How can I help protect myself and my family?").
Is there a treatment?
The U.S. Food and Drug Administration (FDA) has approved one drug, Remdesivir, to treat COVID-19 in certain situations. Most people with mild coronavirus illness will recover on their own by drinking plenty of fluids, resting, and taking pain and fever medications. However, some people have developed pneumonia and require medical care or hospitalization.
What is a close contact?
A person is a "close contact" if any of the following situations happened while spending time with a person with COVID-19, even if they didn't have symptoms:
Were within 6 feet of the person for 10 consecutive minutes or more
Had contact with the person's respiratory secretions (for example, coughed or sneezed on; kissed; contact with a dirty tissue; shared a drinking glass, food, towels, or other personal items).
Live with the person or stayed overnight for at least one night in a house with the person.
What is a "person under investigation (PUI)?"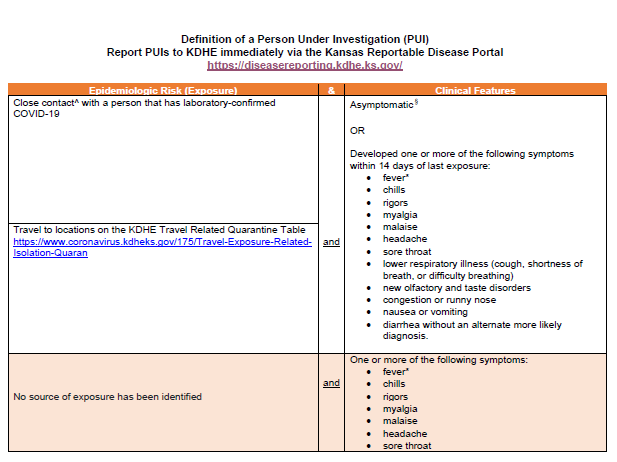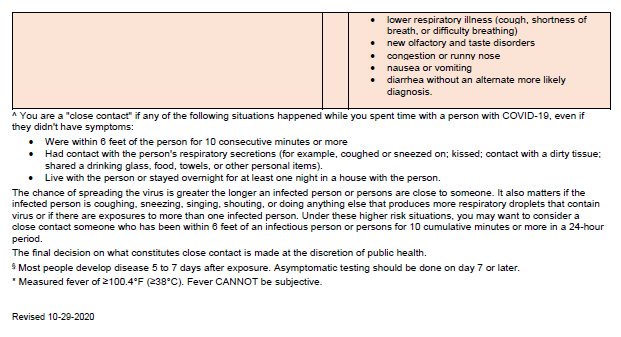 When can a person who tests positive resume normal activities?
The person can return to normal activities 10 days after symptoms started OR 72 hours (3 full days per KDHE guidance) after symptoms stop without taking fever-reducing medications, whichever is longer.
What steps do health department staff take to investigate people who may have COVID-19?
If a person is identified as a Person Under Investigation (PUI), the person is tested.  

A person with symptoms remains at home. 
A person without symptoms may continue normal activities. 

If results are positive, a SCHD Disease Investigator will interview the PUI to create a detailed timeline of where he or she went while potentially infectious, following SCHD Modified Disease Investigation protocol. 

SCHD Disease Investigator will help identify people who had close contact with the PUI. All of their close contacts will be referred to KDHE for follow-up. This only occurs if the person gives SCHD permission. Close contacts should complete the COVID-19 Modified Quarantine

.

If the test result is negative, the PUI can return to normal activities, unless they are under quarantine for contact with a positive case or travel history.
How will people be informed if they have been in contact with a case?
If a person is identified as a contact of a case, they will be referred to KDHE for follow-up.
Should I be concerned about pets or other animals and COVID-19?
To date, CDC has only a few reports of pets or other animals becoming sick with COVID-19. If you are sick, limit contact with pets and other animals. Though the risk of animals spreading COVID-19 is low, animals can spread other diseases to people. Wash your hands after being around animals.
Should I avoid animals or animal products imported from China?
CDC does not have any evidence to suggest that animals or animal products imported from China pose a risk for spreading COVID-19 in the United States. This is a rapidly evolving situation and information will be updated as it becomes available.
I'm having trouble finding child care services and I need to go back to work. What are my options? 
You can contact Child Care Aware of Kansas at 1-877-678-2548 if you need help finding licensed child care options. Additionally, the following child care arrangements do not require a license from KDHE:
Children receiving care in their own home
Children cared for by relatives
Anyone (friend, teacher, relative) caring for 2 children for less than 20 hours per week
Online Resources:
Centers for Disease Control and Prevention
Kansas Department of Health and Environment