How Do I Vote?
Quick links: Become a Voter, Overseas, Military & Federal Service Voters (UOCAVA), Voting Options, Provisional Voting, Where to Vote, Voting Assistance
Become a Voter
Step 1: Register to Vote.
Registration Requirements
Must be a citizen of the United States
Must be 18 years old by the next General Election
Registration Application -(closes 21 days before Election Day in the district where an election is held)
When you register, you can affiliate with a party or be unaffiliated. During partisan primary elections, unaffiliated voters may affiliate when voting.
Step 2: Vote in the next election!
You have three convenient Voting Options to choose from in Sedgwick County.
Step 3: Keep your registration information current.
Keep voting simple for you by keeping your registration information current. Re-register if you move, change your name, or want to change your party affiliation.
[TOP]
Overseas, Military & Federal Service Voters (UOCAVA)
Members of the Uniformed Services (Army, Navy, Marine Corps, Air Force, Coast Guard, United States Public Health Service Commissioned Corps, and National Oceanic and Atmospheric Administration Commissioned Corps)
Members of the Merchant Marines
Eligible family members of the above
U.S. citizens residing outside the U.S.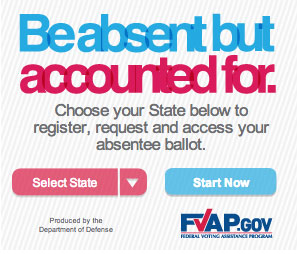 How to register as a UOCAVA Voter:
To register, use the online assistant above or complete the Federal Post Card Application (FPCA). Acrobat Reader may be required to view this application. If you are unable to access this form, please e-mail or call our office at (316) 660-7100 and we will email, mail or fax the application to you.
To successfully vote absentee, UOCAVA citizens should:
Allow plenty of time to request, receive, and return their ballot.
Notify their local election official each time their mailing address changes.
Become familiar with their State's absentee voting deadlines and procedures to make sure their ballot is properly executed and will be counted.
Need more information?
Contact the Sedgwick County Election Office Advance Voting Specialist.
For security purposes, the Sedgwick County website is only accessible to viewers in the United States. Please use https://www.sedgwickcounty.org/elections/uocava/ to access voting information while you are overseas.
[TOP]
Voting Options
Sedgwick County voters have three convenient ways to vote:
Vote Early by Mail
To vote by mail, complete an Advance Voting Application and mail, email, or fax it to the Election Office. We begin mailing ballots 20 days before Election Day. The last day our office can mail a ballot is 7 days before the election. The voted ballot must be returned to the Election Office, any Early Voting location, or an Election Day polling location by 7 p.m. on Election Day. Please only drop off your voted ballot at an Early Voting or Polling location during times the polls are open for voting. If mailing, your ballot must be postmarked by Election Day and received in the Election Office no later than 3 days after the election.
Military and overseas voters can vote in federal elections by submitting to the Election Office a completed Federal Post Card Application. This allows a ballot to be mailed 45 days before the election so it can be returned by Election Day.
Vote Early in Person
Go to the Early Vote Center most convenient for you. You will be checked in through the electronic pollbook. You will have the option to either print your selections by using our touch-screen accessible voting equipment, or to mark your selections on a full page ballot. ALL BALLOTS IN SEDGWICK COUNTY ARE PAPER BALLOTS.
The Election Office begins in-person advance voting 15 days before the election and continues until 12 Noon the Monday before Election Day. Additional satellite sites are open Thursday – Saturday the week before Election Day for local elections, or Tuesday – Saturday for large county-wide elections.
Who is eligible for advance voting?
Any registered voter who wishes to vote in advance of election day is eligible and may apply for an advanced voting ballot. Advance voting begins 20 days before an election. Ballots will be issued until noon the day before elections; however, advance by mail ballots MUST be turned in before polls close on Election Day at 7 pm.
What do I need in order to vote in advance?
A signed application is required before an advance ballot can be issued.
Applications for elections can be mailed to the Sedgwick County Election Office, 510 N. Main, Suite 101, Wichita, KS 67203 beginning with these dates:
| | |
| --- | --- |
| City and School District Elections: | January 1 of year election is held |
| August Primary Election: | April 1 of year election is held |
| November General Election: | 90 days before election |
| Question Submitted Election held with a Primary or General Election | Same as Primary or General Election |
| Special Question Election | Date of first election publication |
Where can I get an advance voting application?
Download an advance voting application or call the Sedgwick County Election Office at 660-7100 to request one. Voters can vote in person in advance 15 days before the scheduled election date at the Sedgwick County Election Office or during Early voting hours at a Satellite Early Vote Center the Thursday-Saturday prior to the scheduled election date (Tuesday-Saturday prior to November General Elections).
Where do I send my advance voting application?
Signed applications should be mailed to the Election Office at 510 N. Main Street, Suite 101, Wichita, KS 67203.
Where can I get my advance ballot?
Beginning 20 days before the election, an advance ballot will be mailed to one of three locations, specified by the voter:
Voter's residential address or mailing address
Voter's temporary residential address
Medical care facility, psychiatric hospital, hospice or adult care home where the voter resides
A voter can also apply and can vote in advance 15 days before the scheduled election in designated locations.
Is there a number I can call with questions?
For 24-hour voter information call 660-7120.
*Note: For additional information regarding Advance Voting for individuals who live abroad, visit http://www.fvap.gov
[TOP]
Provisional Voting
As part of the certification of the election, the Board of County Canvassers makes all decisions regarding provisional ballots They are guided by state statute in determining which ballots should count.
In the following situations, a person voter will be required to vote provisionally. The voter will complete a voter registration application, and then be given a provisional (paper) ballot instead of voting on a machine. The voter will receive information on how to find out whether their ballot was counted, and the time and date provisional ballots will be considered at the County Canvass. Reasons for provisional ballots include:
Voter's name different from registered name
Voter's address different from registered address
Voter's name not in registration book
Person listed in registration book as an Advance Voter
In primary elections, party affiliation different from that announced by the voter
Voter is unable to show a government issued photo identification at the time of voting. If voting provisionally for this reason, you must provide a copy of your government issued photo ID to the election office prior to the beginning of the Official County Canvass in person or by fax, email or postal mail.
A person voting a provisional ballot will also be handed an envelope to fill out and then seal the ballot inside. The sealed envelope will be held by election officials pending a determination, as provided by law, of the voter's qualifications to vote.
Change of Name or Address
If a registered voter changes his or her name or moves, the voter must re-register. The two options available are:
Re-register when voter registration is open
Fill out a voter registration application on Election Day before voting at the precinct of the voter's new address. With this option the voter votes a provisional ballot, instead of voting on a machine, for this election.
[TOP]
Vote at Your Polling Place on Election Day
To find your assigned Polling Place check your voter card, call us at (316) 660-7100, or use this VoterView link.
Polling Places are open for voting on Election Day from 6 a.m. to 7 p.m. Both machine voting and paper ballot voting options are available.
[TOP]
How To Videos
Submit a Write-In on the Touch Screen
Navigate Long Ballot Questions
Use the ADA Features of the Voting Machine
Find Results on Election Night
[TOP]
Assistance in Voting:
A voter may request assistance in voting for any reason, including but not limited to:
Physical disability
Visual handicap
Lack of proficiency in reading the English language
* Note: All voting machines in Sedgwick County are equipped with an audio ballot feature for accessibility. If you require an audio ballot, please ask an election worker.
[TOP]
Voters with Illnesses, Disabilities, or lacking proficiency in the English Language
Special voting procedures are available for any voter having a permanent or temporary illness or disability which would make it difficult or impossible for that voter to vote at a voting place.
All registration and voting procedures may be handled by mail.
To vote by mail, a voter must complete an Application for an Advance Voting Ballot and mail or fax it to the Election Office.
Voters who are unable to mark or transmit an advance ballot due to illness, disability, or lack of proficiency in the English language, may receive assistance from another person. The person rendering assistance must sign a statement and return both the statement and the advance ballot to the Sedgwick County Election Office by the time the polls close election day.
Registered voters having permanent physical disabilities or illnesses are permitted to automatically receive advance ballots before every election. Applications for this special permanent advance ballot status are available from the Sedgwick County Election Office.
If a voter who is elderly or disabled goes to the voting place, but finds it inaccessible, such voter may request that his or her ballot be brought to the entrance of the voting place.
[TOP]