RSVP Volunteer Program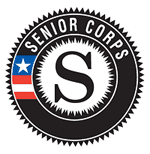 RSVP is part of Senior Corps, along with Foster Grandparents and Senior Companions. Senior Corps is administered by the Corporation for National and Community Service, the federal agency that supports service and volunteering programs to improve lives, strengthen communities, and foster civic engagement
Work Wonders with Your Experience
Now is the time to put your skills and talents to good use by volunteering through RSVP.
RSVP is America's largest volunteer network for people age 55 and older. Join RSVP and join nearly 296,000 volunteers across the country who are tackling tough issues in their communities. In 2013, RSVP volunteers assisted more than 675,000 older adults to age in place.
With RSVP, you choose how and where you want to serve. You choose the amount of time you want to give. And, you choose whether you want to draw on your skills or develop new ones.
A Range of Opportunities
RSVP offers a full range of volunteer opportunities with thousands of local and national organizations. In Sedgwick County, RSVP works with more than 90 different non-profit agencies. For example, you may:
Mobilize other volunteers
Assist others to age in place
Share legal or financial expertise
Assist Veterans and Military Families
Assist victims of natural disasters
Plan and participate in special events
And much, much more!
RSVP = Results
Whatever you choose to do, you'll be making a real difference, stronger families, and safer communities. With RSVP, you'll see tangible outcomes and learn first-hand how your contributions can change your community.
Find the opportunity that's right for you.
To learn more, review volunteer opportunities and schedule an appointment with a staff member please call 316-660-5134
Lead With Experience Join RSVP Today!