About Fire District 1
Sedgwick County Fire District 1, under the direction of Fire Chief Douglas Williams, provides fire protection and emergency medical service response for approximately 631 square miles of Sedgwick County, primarily the unincorporated areas of the county and the following cities: Bel Aire, Kechi, Park City, Maize, Bentley, Andale, Garden Plain, Goddard, Viola, Haysville and Furley.
View a complete organizational chart for the fire district.
Employment
Sedgwick County Entry-Level Firefighter Minimum Qualifications
Kansas or National Emergency Medical Technician Certification
Valid Drivers' License
High School Diploma or GED Equivalent
Firefighter I Certification
Current CPAT Certification
For more information and to apply, visit:
Employee Benefits
Sedgwick County's Healthy Benefits offers comprehensive health, dental and vision plans.
Specialized Response Teams
Hazardous Materials Team
The Hazardous Materials Team is part of a larger local task force comprised of members from Sedgwick County Fire District 1, the Wichita Fire Department, Sedgwick County Emergency Management, and the Sedgwick County Health Department.
Personnel from all four agencies may respond in the event of a large-scale incident. Currently the HazMat Task Force operates under four levels of response known as incident leveling. Depending on the severity of the alarm, anywhere from a single unit up to 10 units may be dispatched on an alarm.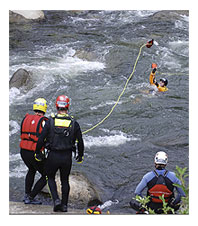 Sedgwick County Fire District 1 also serves as part of the Kansas State Fire Marshal's Office Hazardous Materials Regional Response Team. The team's primary responsibility is to assist in South Central Kansas counties; however, the team may work throughout the state.
Technical Rescue Team
The Technical Rescue Team is a specialized group of firefighters that responds to emergency calls involving confined spaces, high-angle, swift-water, trench cave-ins, building collapses, and SCUBA rescues. The team responds jointly with its counterpart from the Wichita Fire Department.