Fallen Members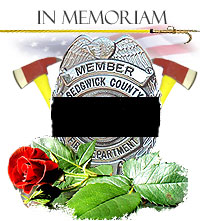 This page is dedicated to the members of Sedgwick County Fire District 1 in the state of Kansas, U.S.A. who died providing service to others.
Firefighter Gerald Lee Lloyd
Final Alarm: June 13, 1973
On June 13, 1973 Gerald Lee "Gube" Lloyd was responding to a house fire call in the Oaklawn area when his tender rolled at the intersection of 47th South and Broadway. He was taken to St. Francis hospital in serious condition and died later that evening. Cause of death was massive head and chest injuries. His funeral was on June 15th, 1973 and was buried at Fairview Cemetery, Niotaze, KS. FF Lloyd was born on August 21, 1952 and became a SCFD firefighter on July 9, 1972 assigned to Station 4 on South Broadway.
Gerald was a graduate of Campus High School, where he was a leader in many fields. He was vice president of the Fellowship of Christian Athletes, president of the Letterman's Club, and captain of the Campus football and baseball teams. He lettered in football and baseball in his junior and senior years. He was chosen for the second defense team in the "All Ark Valley" league. He attended Friends University and was a member of the Falcons football team.
Firefighter Todd David Colton
Final Alarm: September 6, 1990
Firefighter Todd David Colton was a young member of the Sedgwick County Fire District 1 when he lost his life to heat stroke on the scene of a brush fire September 6, 1990. Numerous firefighter safety and health initiatives, including fire ground rehabilitation, personnel accountability, personal alert safety systems, wild land firefighting gear, and many others were instituted as a result of this untimely and unfortunate event. The review of this tragic incident by SCFD and national organizations has saved countless firefighter lives nationwide. The best way we can honor Todd Colton and the Colton Families sacrifice is to take every possible step to keep the same accident from happening again.
Lieutenant Bryon Wayne Johnson
Final Alarm: September 24, 2007
Monday, September 24, 2007, was marked as one of the saddest days in the history of Sedgwick County Fire District 1. One of the District's finest, 32-year-old Lieutenant Bryon Johnson was electrocuted and killed while fighting a grass fire in the 9400 Block of South Broadway. Lieutenant Johnson will be remembered as a dedicated family man, exceptional firefighter and all-around good guy. On the job, Bryon strove for excellence in all aspects of his career and someday hoped to become a member of the District's Fire Prevention Division and eventually fire marshal. In pursuit of this goal, Lieutenant Johnson had just been accepted into the prestigious Executive Fire Officer program conducted by the National Fire Academy in Emmetsburg, Maryland. He was one of the youngest applicants ever accepted into the academy's program. Bryon Johnson left behind a wife, two sons, ages 10 and 12, and many friends and family members.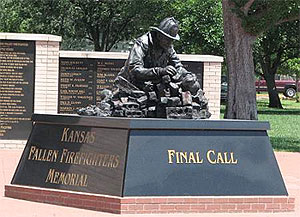 Kansas Fallen Firefighters Memorial - Wichita, Kansas
The Gentle Heroes
Within the realm of mankind there are those that exceed the expectations of the human soul,
For they are the epitome of good will, and the extended hand of God,
They come when called no questions asked,
giving of themselves and their time.
Neither for money nor fame, but only to serve their fellow man,
They believe themselves neither as heroes nor as gods,
But as simply doing their job.
Their answer to the call of need is, "How can I help?"
Their answer to danger is, "It needs to be done."
Their answer to their death is, "Please take care of my family."
For there is no greater sacrifice then to give your life for another,
Yet they do so without thought.
Willing to leave behind their families for a stranger,
Offering to give their life for someone not known,
And once gone, their gentle souls committed to the ages
Never again to be replaced.
Let us never forget these perished men and women,
Take one moment to honor their passing,
For ours is the greatest loss of all. They lived to serve us,
And in death they are the gentle heroes we have loved and lost.
Let their memory shine forever, a monument to humanity.