About Fire District 1
132 Operations personnel deploy out of 9 Fire Stations on a 3-shift rotation - 24/7, 365 days a year.
Performs rescue operations during emergencies and disasters - Member Regional USAR Rescue Team - Kansas Task Force 5
Responds to hazardous material spills - Regional Hazardous Materials Response Team for South Central Kansas.
Provides medical first response - Medical first response with opportunities for Advanced Medical Providers
Qualifications | Benefits | Apply | Ride Out Program | Specialized Response Teams
---
Minimum Qualifications for a Sedgwick County Entry-Level Firefighter
Current certification as Kansas Emergency Medical Technician (EMT) or above OR Current National and other state certification as EMT or above
Valid Kansas Drivers' License
High School Diploma or GED Equivalent
Current

Candidate Physical Ability Test (

CPAT) Certification available locally through Hutchinson Community College
Sedgwick County offers the following:
Competitive Wages
Starting at $53,464.32 with step levels up to $80,869.58 for firefighters.
Lots of opportunities for professional development
and career growth

Kansas, Police & Fire (KPF) Retirement Plan

Eight Weeks Paid Parental leave

Vacation - Starting at five 24-hour shifts off, with more added for years of service

Medical, Vision and Dental Insurance

Sick Leave - 144 hours annually

Prescription Drug Plan

Tuition Reimbursement - Up to six credit hours per semester (passing grade of C or better)

Life Insurance

Eleven Paid Legal Holidays

Flexible Spending Accounts

 
What does a day in the life of a SCFD 1 Firefighter look like?
SCFD1 Ride Out Program
Ride along with a fire crew, and get hands on experience with some of the job duties of a firefighter.
Open to everyone ages 16+. Participants under the age of 18 will need to have a release of liability signed by a parent or guardian.
Time commitment can range from a couple of hours to a full shift.
Specialized Response Teams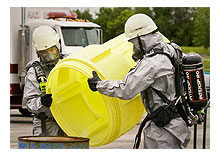 Hazardous Materials Team
The Hazardous Materials Team is part of a larger local task force comprised of members from Sedgwick County Fire District 1, the Wichita Fire Department, Sedgwick County Emergency Management, and the Sedgwick County Health Department. Personnel from all four agencies may respond in the event of a large-scale incident. Currently the HazMat Task Force operates under four levels of response known as incident leveling. Depending on the severity of the alarm, anywhere from a single unit up to 10 units may be dispatched on an alarm.  Sedgwick County Fire District 1 also serves as part of the Kansas State Fire Marshal's Office Hazardous Materials Regional Response Team. The team's primary responsibility is to assist in South Central Kansas counties; however, the team may work throughout the state.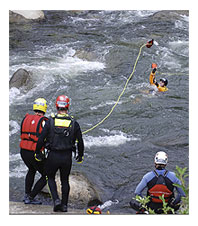 Technical Rescue Team
The Technical Rescue Team is a specialized group of firefighters that responds to emergency calls involving confined spaces, high-angle, standing/swift water, trench cave-ins, and building collapses. The team responds jointly on a larger scale with other technical rescue teams in the area as a part of Kansas Task Force 5.  Kansas Task Force 5 is a regional response team that can be deployed throughout the state of Kansas to assist in the event of natural and/or man-made disasters.