Smoke Alarms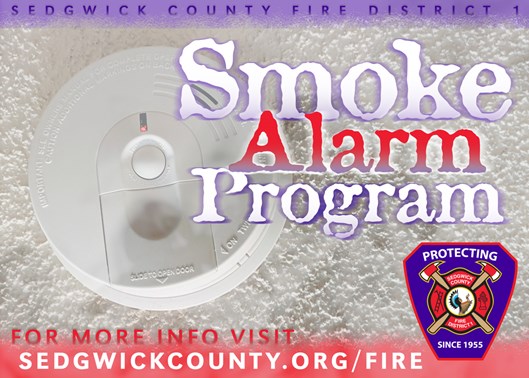 State law requires all residences to have smoke alarms. You must have a smoke alarm installed within 15 feet of the sleeping area in your home. The Sedgwick County Fire District also suggests additional smoke alarms for each level of your home. Smoke alarm installation for seniors is available.
How Old Are Your Smoke Alarms?
Do you remember when you installed your smoke alarms? How old were the smoke alarms already installed when you moved in? If you are not sure how old they are, it's best to replace them.
Install Smoke Alarms
Install smoke alarms on each level of your home.
In every bedroom
In corridors outside the bedrooms
Above stairwells
Every home should have at least two smoke alarms. The larger your home, the more smoke alarms you must install for adequate protection. For best performance, follow these installation guidelines:
Mount smoke alarms in the middle of the ceiling if possible. If not, mount them on a wall at least three feet from any corner, and four to six inches from the ceiling.
Do not install smoke alarms where drafts from fans or air ducts can reach them. The moving air can blow smoke away from the alarm's sensor.
To avoid nuisance alarms (like those caused by cooking smoke), keep smoke alarms at least 10 feet from stoves and steamy showers.
Still a Major Problem
While 13 of every 14 homes have at least one smoke alarm, almost half of home fires and three-fifths of fire deaths occur in the share of homes with no alarms. Thousands of people still die each year in home fires where smoke alarms aren't present.
In addition, there are now more homes with smoke alarms that don't work than homes without alarms at all. These poorly maintained units create a false sense of security among occupants. Approximately one-third of homes with smoke alarms that experience fires have smoke alarms that aren't working, and hundreds of people die each year in these fires.
Tragically, the grave importance of installing and maintaining smoke alarms has not yet been fully realized. Most people who die in home fires are not in the room where the fire starts; working smoke alarms alert people to fire and give them time to escape in a situation where minutes can mean the difference between life and death.
Caring for Smoke Alarms is Fast and Easy!
Test smoke alarms at least once a month.
Replace batteries twice a year. It is recommended that you do this in the spring and fall to coincide with the changing of the clocks for daylight savings time.
Vacuum the outside cover regularly to remove dust and dirt particles.
Remember, smoke alarms that are 10 or more years old should be replaced.
The best type of smoke alarm is an electrical unit with a battery back-up.