About Sedgwick County EMS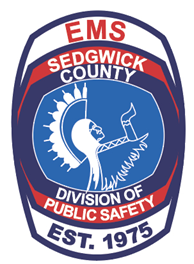 Mission
Sedgwick County EMS (SCEMS) is committed to providing quality out-of-hospital health care.
Serving Sedgwick County Since 1975
SCEMS is the primary agency responsible for the out-of-hospital care and transportation of persons who become acutely ill or injured, and are in need of ambulance transport to a hospital using advanced life support (ALS) ambulances. Additionally, SCEMS provides scheduled ambulance transportation services for persons who require routine transfer due to a medical necessity.
Locations
SCEMS crews are stationed at 20 posts throughout Sedgwick County.
EMS Administration, 1015 Stillwell, Wichita
Post 1 – 2622 W. Central, Wichita
Post 2 – 1903 W. Pawnee, Wichita
Post 3 – 3002 E. Central, Wichita
Post 4 – 1100 S. Clifton, Wichita
Post 5 – 698 Caddy Lane, Wichita
Post 6 – 6401 Mabel, Haysville
Post 7 – 1535 S. 199th St. W., Goddard
Post 8 – 501 E. 53rd St. N., Wichita
Post 9 – 1218 S. Webb Rd., Wichita
Post 10 – 636 N. St. Francis, Wichita
Post 11 – 1401 N. Rock Rd., Derby
Post 12 – 3320 N. Hillside, Wichita
Post 14 – 4030 N. Reed, Maize
Post 15 – 3537 N. Webb Rd.
Post 16 – 5055 S. Oliver
Post 17 – 3610 S. 263rd. St. West
Post 20 – 1015 Stillwell 
Post 45 – 616 E. 5th St., Valley Center
Post 81 – 319 W. Ross, Clearwater
Post 82 – 525 N. Main, Cheney
What's the difference between paramedics and EMTs?
Paramedic
A paramedic is the highest level of pre-hospital emergency care provider in the state of Kansas. Paramedics provide advanced emergency pre-hospital life support. Procedures that paramedics deliver include the following in addition to the EMT skills listed above:
Administering medications
Advanced airway management
Intravenous infusions
EKG monitoring
Cardiac defibrillation
Advanced trauma care
Management of critical medical emergencies
Chest decompression
Blood glucose monitoring
Emergency Medical Technician (EMT)
Emergency Medical Technician (EMT) is a basic-level, pre-hospital health care provider. EMTs perform the following basic life support skills:
Taking vital signs
Patient assessment
Administration of oxygen
Airway management
Cardio-Pulmonary Resuscitation (CPR)
External semi-automatic defibrillation
Blood glucose monitoring
Splinting
Wound care
Employment
The men and women of Sedgwick County EMS provide service with respect, integrity, and compassion 24 hours a day, 365 days a year. Sedgwick County EMS responds to an average of 155 requests for service per day and more than 56,000 responses per year.
If you are interested in advancing your EMS career with Sedgwick County, visit:
Bike Team
Implemented in the spring of 2010, the Sedgwick County EMS Bike Medic Team is designed for deployment at various special events. The primary objective of the Bike Medic Team is to provide rapid response through congested areas, allowing paramedics to arrive at the patient's side faster than a traditional ambulance might. Sedgwick County EMS currently uses four mountain bikes and has fourteen members.
Honor Guard
The Sedgwick County EMS Honor Guard ensures that the spirit of honor, reverence and respect is not an afterthought of our organization. The honor guard pays respect to those who died on or off duty to honor their contributions to our community.
Volunteer – EMS Reserves
Sedgwick County EMS Reserves is a volunteer group that supports SCEMS by providing additional help in the form of Kansas Certified EMTs. These volunteers respond and act in a manner that is safe to the provider and to the patient, and receive hands-on experience in preparation for a career in EMS.
If you are interested in serving as a Reserve for Sedgwick County EMS please email the director of the reserves Malachi Winters at Malachi.Winters@sedgwick.gov or apply at:
EMS Explorer Program:
The Sedgwick County EMS Explorers are a voluntary post organized under the Learning for Life Explorer program, sponsored by the Sedgwick County EMS and under the direction of full time EMS Paramedics.
Exploring is the young adult career education program of Learning for Life for both young men and women who are 14 and graduates of the eighth grade or 15 through 20 years of age.
The focus of Explorer Post 911 is Emergency Medical Services. Post members who are 16 years of age, after completing some initial requirements, may ride on Sedgwick County EMS units for a 12-hour shift once or twice a month. All Post members have opportunities to participate in other EMS-related events, such as River Festival standbys and some public relations events. The Post also manages first aid stations for large Scouting events involving hundreds or even thousands of participants on a regular basis. These are good experiences for the development of leadership skills and a chance to use your first aid knowledge. Training and learning opportunities are provided on a regular basis at Post meetings. The majority of the adults who work with our members are paramedics, EMTs, and other health professionals with a background in the emergency field.
Post meetings are usually held twice a month, on the second and fourth Sunday afternoons, if possible. Our meeting days sometimes vary however, because of the events we participate in and because the health professionals who work with the Post have work schedules that change frequently. We usually meet at the Sedgwick County E.M.S. Training Center which is located at 1015 W. Stillwell. It's always best to contact someone associated with the Post before attending your first meeting to be sure of schedules and locations – a phone number is provided below for that information.
For more information about the EMS Explorer Post contact the Post Coordinator Robert Haig at 316-992-3411
EMS Feedback
At Sedgwick County EMS, we believe that the service and care we deliver should be the same that we would all want for our own families – compassionate, competent, and safe. 
We invite you to provide us feedback about our services, and ask that you do so in the space provided below. 
If you would like someone from our staff to reach out to you, please provide your phone number and/or email along with your comments.  Please allow 48 hours for someone from our staff to contact you.