EMS File of Life
What is a File of Life?
File of Life is a magnet with a sleeve that holds a patient's medical information. The magnet is then placed on the refrigerator at your home. First responders are trained to look for these magnets during emergencies to obtain pertinent health information. Sedgwick County EMS is offering this magnet at no cost to you. If you are interested in getting one, please fill out the File of Life Magnet form below.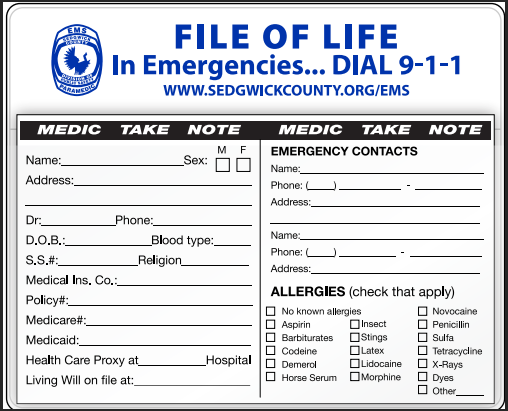 In addition to the magnets, patients can download and complete a File of Life form which can be placed with the magnet. In addition to offering more space to write your information, this form has questions about primary care physician, your preferred hospital, medical history and prescription medication(s) you may be taking. Click Here to download the File of Life form.
File of Life Magnet form