Pneumococcal Disease
What is pneumococcal disease?
Pneumococcal disease is a name for any infection caused by bacteria called Streptococcus pneumoniae, or pneumococcus. Pneumococcal infections range from ear and sinus infections to pneumonia. Although pneumococcal disease can affect people of all ages, younger children and older adults are most at risk.
What is Invasive Pneumococcal Disease?
Invasive Pneumococcal Disease, or IPD, refers to severe infections in which the pneumococcus bacteria are present in areas of the body that are normally free from germs. These include the blood, bones, and membranes that protect the brain and spinal cord.
IPD requires urgent antibiotic treatment and can cause serious health consequences, including deafness, brain damage, amputation and death. IPD cases are increasing in Sedgwick County.
Can I get vaccinated for pneumococcal disease?
Several vaccines, sometimes called pneumonia vaccines, protect against pneumococcal disease. The CDC recommends these vaccines for children under 5 years old and adults who are at least 65 years old.
In June 2021, the FDA approved PCV20 (PREVNAR 20) for all adults ages 65 and over and for adults 19-64 who smoke or who have weakened immune systems or other risk factors (see list below).
Adults may be eligible to receive the updated vaccine even if they previously received a different pneumococcal vaccine. To check eligibility, visit the Centers for Disease Control and Prevention's website here, speak with your healthcare provider, or call SCHD at (316) 660-7300.
How much does the vaccine cost?
SCHD provides the PCV20 pneumococcal vaccine at no charge to eligible adults who are uninsured. SCHD will bill insurance for insured adults. Most insurance plans, including Medicare and Medicaid, fully cover the cost of the vaccine. Check your individual plan for coverage.
How effective is the updated vaccine?
The pneumococcal pneumonia vaccine called PCV13 protects against IPD in 3 in 4 adults. The updated PCV20 vaccine protects against seven more types of bacteria than PCV13. These types of bacteria caused 28% of IPD cases in 19- to 64-year-olds during the 2018-2019 reporting period.
How common is IPD?
In 2022, there were 12 confirmed IPD cases out of every 100,000 people in Sedgwick County.
The 2022 rate increased after several years of declining rates.
Sedgwick County rates of IPD have been higher than in the state of Kansas since 2015.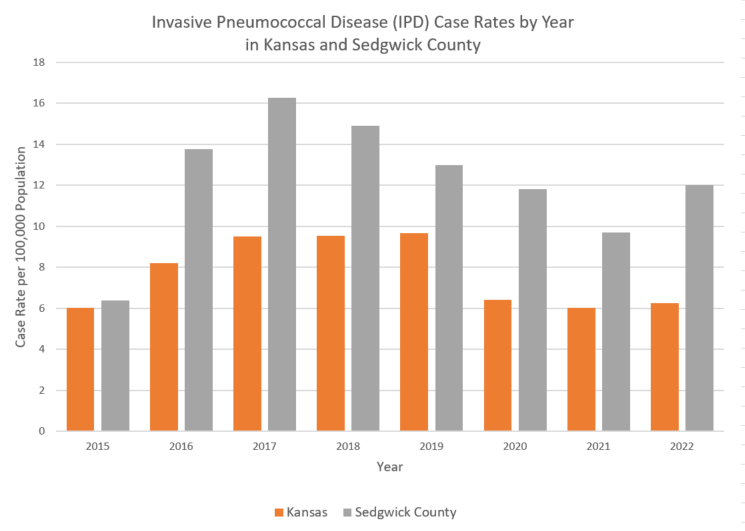 What pneumonia vaccines are recommended by age group?
Several vaccines are effective at preventing pneumococcal disease. The CDC recommends:
PCV13 or PCV15

•   Babies and children under 5

•   Children 5 through 18 years with certain medical conditions

PCV15 or PCV20

•  Adults 65 years or older

•  Adults 19 through 64 years old with certain medical conditions or risk factors

PPSV23

•    Children 2 through 18 years old with certain medical conditions

•    Adults 19 years or older who received PCV15
Which adults are at higher risk of IPD?
Adults 65+ and under age 65 with the following medical conditions or risk factors are eligible to receive PCV20 vaccine:
Alcoholism
Cerebrospinal fluid leak
Chronic heart disease, including congestive heart failure and cardiomyopathies
Chronic liver disease
Chronic lung disease, including chronic obstructive pulmonary disease, emphysema, and asthma
Chronic renal failure*
Cigarette smoking
Cochlear implant
Congenital or acquired asplenia*
Congenital or acquired immunodeficiency*

B- (humoral) or T-lymphocyte deficiency
Complement deficiency, particularly C1, C2, C3, or C4 deficiency
Phagocytic disorder, excluding chronic granulomatous disease

Diabetes mellitus
Generalized malignancy*
HIV infection*
Hodgkin disease*
Iatrogenic immunosuppression, including long-term systemic corticosteroids and radiation therapy*
Leukemia*
Lymphoma*
Multiple myeloma*
Nephrotic syndrome*
Sickle cell disease or other hemoglobinopathies*
Solid organ transplant*
*An immunocompromising condition