DD214
DD214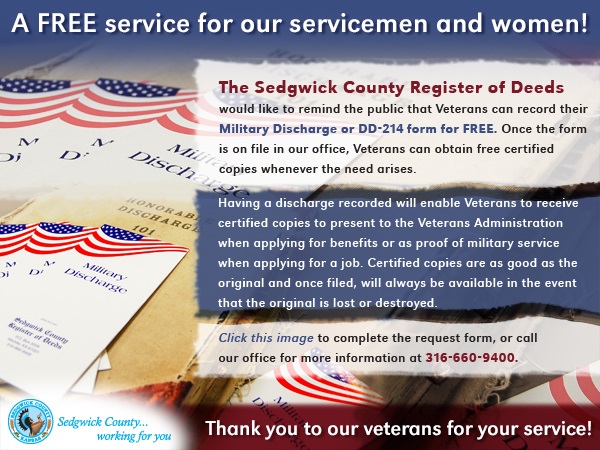 A FREE service for our servicemen and women!
The Sedgwick County Register of Deeds would like to remind the public that Veterans can record their Military Discharge or DD214 form for FREE. Once the form is on file in our office, Veterans can obtain free certified copies whenever the need arises.
Having a discharge recorded will enable Veterans to receive certified copies to present to the Veterans Administration when applying for benefits or as proof of military services when applying for a job. Certified copies are as good as the original and once filed, will always be available in the event that the original is lost or destroyed. To request certified copies, please print and complete the request form and bring in to our office. If you wish to mail us the request form, please include a copy of your driver's license.
Feel free call our office for more information at 316-660-9400
KSA 73-210 requires the Register of Deeds to only file original or certified copies of Military Discharges.
If you have lost your original DD214, you can request a duplicate from the National Personnel Records Center.
Thank you to our veterans for your service!