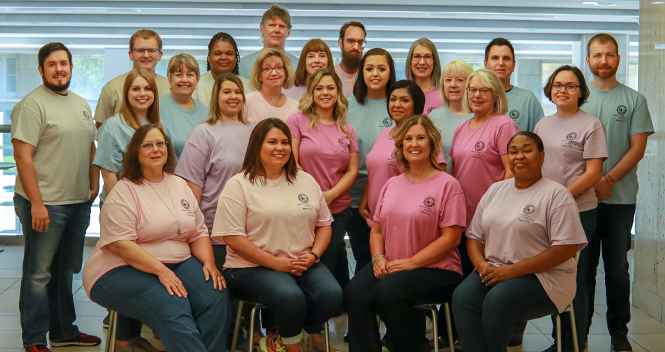 Frequently Asked Questions
What is the Register of Deeds Office?
The register of deeds office is where almost all transactions pertaining to real estate are recorded and maintained. Many of these records are publicly accessible under the Kansas Open Records Act.
Who is the Register of Deeds?
The register of deeds is elected countywide for a four-year term. The elected official is legally responsible for keeping and preserving all records in a permanent manner.  The current Register of Deeds is Tonya Buckingham.
Where is the Register of Deeds Office?
The Register of Deeds office is located at:
Sedgwick County Courthouse
525 N Main Ste. 227
Wichita, KS 67203-3733
Phone: 316-660-9400
Fax: 316-383-8066
Hours: Monday- Friday, 8 a.m. – 5 p.m.
What is a deed?
A deed is simply a legal document that contains information about who owns a particular piece of property. It contains both the previous owner's name and the current owner's name. When property is sold, the deed is the legal document that transfers the ownership of property from one person to another.
What if I lose my deed?
Once recorded, if your deed is misplaced or lost, a copy may be obtained from the Register of Deeds Office for a charge of $1 per page and may be certified by the of deeds for an additional $13 per document.
Does a deed have to be recorded?
The importance of recording real estate documents cannot be emphasized enough. A deed should be recorded for two main purposes: title searches and certainty of title. Failure to record a deed could render the transfer or mortgage of the property impossible and create numerous legal difficulties.
What is a lien? Do I have any on my property?
A lien on property prevents that property from being sold or mortgaged until the debt is paid.  Liens can be filed in many departments and offices throughout the state. Because of this, the register of deeds cannot provide a guarantee that your title is free and clear of liens.
What happens to my document when it arrives at your office?
There are a number of steps that each document goes through before it is returned to the filer. It must first be determined whether the document is recordable and if fees are correct. The document is given an instrument number, scanned into computer system, entered into the computer, indexed, information verified, and returned to the customer.
Click here for a complete schedule of fees.
Click here to obtain index information or view a document.
What is an index?
An index is a location system that allows us to search for your document by recorded document number, party name, or legal description.  Before 1988, indexes were kept in books, organized by grantor and grantee.
When will I get my document back in the mail?
Please allow for 7 to 10 business days to receive your original recorded instrument back in the mail.
How do I find the deed to my house or other records?
Our office has an online document search that will show instruments recorded after January 1, 1969. You can search by your name or real estate legal description and choose document types to search for.
What if the deed or other document was recorded before 1969?
To find the document, you must contact the county clerk and ask for the last transfer date of the property and who the parties were on that transfer.  We can use that information to use our grantor/grantee indexes to locate the book and page of the recorded deed. For documents other than deeds, you will need to contact a title company.
What is a title company?
A title company, sometimes called a title abstract company, is a business that searches for all records in any department, whether local, state, or even federal, that might affect the title to a parcel of land.  They produce an abstract, which is a of the transaction and other history of the parcel, and this provides real estate buyers with a form of insurance against defects in title.
Can you tell me if I have any liens in your office?
We are not authorized and licensed to perform title work.  We can tell you what records we may have in our office but we cannot make any statement or guarantee about how those records affect the title to your property.
What other records do you have?
In addition to deeds and mortgages, we also record oil and gas documents, plats of additions, powers of attorney, military discharges, some types of tax liens, uniform commercial code filings, and other instruments that affect real estate in Sedgwick County.
How far back do your records go?
Our first recorded deed was filed on September 20, 1870, in which Amos A. Lawrence purchased real estate from the United States Government, and the deed was signed on behalf of President Andrew Johnson.
Can I draft my own deed or other document?
It is vital that deeds are prepared accurately. You can draw up your own deed but to prevent mistakes that could be costly, we always recommend that you retain an attorney or title company to help ensure that the deed is prepared correctly. Our staff are not licensed attorneys and cannot legally tell you if your document will do what you want.
What is the Uniform Commercial Code (UCC)?
The Uniform Commercial Code, more commonly known as UCC, became effective in Kansas in 1966. The filing of a UCC is what perfects or secures the loan on consumer goods or personal property. Also filed in the UCC files are state and federal tax liens and mechanic liens (on personal property only).
What is eRecording?
E-Recording, or electronic document recording, is a method of delivering documents electronically from a business to the Register of Deeds office. The process is similar to traditional recording methods except that documents are submitted without leaving your office, and recorded documents are returned electronically immediately after recording.
What is microfilm?
Microfilming, or micro-photography, is the gold standard of archival preservation.  All recorded instruments are preserved on microfilms that can be accessed by members of the public during normal business hours.  Newer microfilms can contain up to 8,500 images and accommodate several days of recordings.
Does the Register of Deeds Office keep records forever?
Yes. Once an instrument is recorded, it is a permanent public record.
We recently paid off the mortgage on our home. When will we get a new deed showing that we no longer owe the bank anything?
In Kansas, a real estate deed is not like a vehicle registration. You do not receive a real estate title from a governmental agency.
If you recorded the deed in our office, you would have received the recorded original deed in the mail. If you recorded it via a title company, lender, or attorney, and have not received your recorded deed from them, please contact them.
When you signed a mortgage, you did not deed the property to the bank and make the bank a legal owner. You promised to pay the bank for the mortgage, which is a document stating the lender can take you to court if you default on payments. After you have paid your mortgage, your bank sends us a satisfaction of mortgage (they may call it a payoff letter) which we record and return to the bank.
If you need a record of your mortgage satisfaction, contact us for a complimentary copy.