The Billy the Kid Connection
Catherine McCarty and the Beginnings of Wichita
The Outlaw's Mother: Catherine McCarty and the Beginnings of Wichita
Joshua Payne
 Billy the Kid was a notorious outlaw that terrorized communities in the Old West for years before meeting an untimely end at the young age of 21 on July 14, 1881, in Fort Sumner, New Mexico.
His mother Catherine McCarty and stepfather William Antrim briefly resided in Wichita from 1870 to 1871 and took part in founding the city. 
Historians do not entirely agree on many of the particulars of Catherine and William's lives; what follows is derived from historical public records and research conducted over the years by many writers and biographers.  Speculation still exists regarding some of the details.
Catherine Devine, at the age of 17, immigrated to New York during the Irish Great Famine of 1845, arriving on the HMS Devonshire out of Liverpool.  Records indicate that she may have been married to a Patrick McCarty during her time in New York.  It is not known how her marriage to Patrick ended.  In 1867 she moved with her children, 11-year-old William (Billy the Kid) and his younger brother Joseph to Indianapolis, Indiana, where she met William Henry Harrison Antrim and began a relationship with the 23-year-old laborer and Union Army veteran.
Like many Americans at the time, they were captivated by the possibility of riches and a better life in the West and moved to Wichita in 1870. With her own funds, the source of which is in dispute, Catherine purchased real estate in her own name and established a hand laundry business in town, while William lived in a small cabin outside of town and farmed.
On July 21, 1870, Catherine McCarty signed the petition to Judge Reuben Riggs of Sedgwick County to incorporate the town of Wichita. Of 124 signers, she was the only woman. William Antrim signed below her.  Judge Riggs granted the petition and the town of Wichita was born.
In 1871, both William and Catherine purchased lots in town on what are now Market and Main Streets and quarter sections of land near what is now Wichita State University.
At some point in time, whether in New York, Indianapolis, or here in Wichita, Catherine contracted tuberculosis.  The family sold their properties in Wichita to prepare for a move to New Mexico, where William believed he could strike it rich prospecting and the climate would be beneficial for Catherine's health.  William and Catherine married in 1873.
Catherine Devine McCarty Antrim passed away at the age of 45 on September 16, 1874, in Silver City, New Mexico.  William Antrim sold his property and placed Billy and Joseph with guardians.  Orphaned at 13, Billy turned to a life of crime.
William Henry Harrison Antrim was 80 when he died on December 10, 1922, at his home in California.
Billy the Kid was remembered after his death at 21 as a "gamin" (an archaic word for mischievous street kid) in the Wichita Weekly Eagle of 1881.
McCarthy Laundry 3.15.1871 Wichita Tribune
McCarty-Antrim Documents
Catherine McCarty and William Antrim Real Estate Records in Sedgwick County, Kansas
| | | | | | | |
| --- | --- | --- | --- | --- | --- | --- |
| Date Recorded | Book | Page | Doc Type | Grantor | Grantee | Property Description |
| 11/1/1870 | Deed A | 219 | Deed | A.F. and Maria Horner | Catherine McCarty | Lot 48, Chisholm Street, Town of Wichita |
| 11/1/1870 | Deed A | 220 | Deed | D.S. and Julia Munger | Catherine McCarty | Lot 50, Chisholm Street, Town of Wichita |
| 02/23/1871 | Deed A | 369 | Deed | James R. Mead | William H. Antrim | Lot 54, Chisholm Street, Town of Wichita |
| 02/23/1871 | Deed A | 370 | Deed | D.S. and Julia Munger | William H. Antrim | Lot 70, Chisholm Street, Town of Wichita |
| 03/27/1871 | Deed A | 414 | Receipt | United States | Catherine McCarty | NW/4 Section 12, Township 27S, Range 1E (160 acres) |
| 06/24/1871 | Deed A | 478 | Receipt | United States | William H. Antrim | SE/4 Section 1, Township 27S, Range 1E (160 acres) |
| 06/28/1871 | Deed B | 165 | Deed | Catherine McCarty | David S. Orr | NW/4 Section 12, Township 27S, Range 1E (160 acres) |
| 07/12/1894 | Misc B | 141 | Affidavit | James Minnis | Public | NW/4 Section 12, Township 27S, Range 1E (160 acres) |
| 09/23/1894 | Misc B | 143 | Affidavit | James Minnis | Public | NW/4 Section 12, Township 27S, Range 1E (160 acres) |
| 06/28/1871 | Deed B | 168 | Deed | William H. Antrim | Catherine McCarty | Lot 54, 70, Chisholm St,  bldg lot 75, Court St, Town of Wichita |
| 08/23/1871 | Deed C | 421 | Deed | A.F and Maria Horner | Catherine McCarty | Lot 75, Court, Town of Wichita |
| 08/25/1871 | Deed C | 33 | Deed | Catherine McCarty | Henry J. Cook | Lots 48, 50, 54, 70, Chisholm St, lot 75, Court St, Town of Wichita |
| 08/25/1871 | Mtg A | 129 | Mortgage | Henry J. Cook | Catherine McCarty | Lots 48, 50, 54, 70, Chisholm St, lot 75, Court St, Town of Wichita |
| 08/05/1892 | Deed 127 | 402 | Affidavit | Henry J. Cook | Public |   |
| 5/13/1919 | Deed 316 | 597 | Deed | William H. Antrim | Anson Scott | SE/4 Section 1, Township 27S, Range 1E (160 acres) |
Deed Book 127 Page 402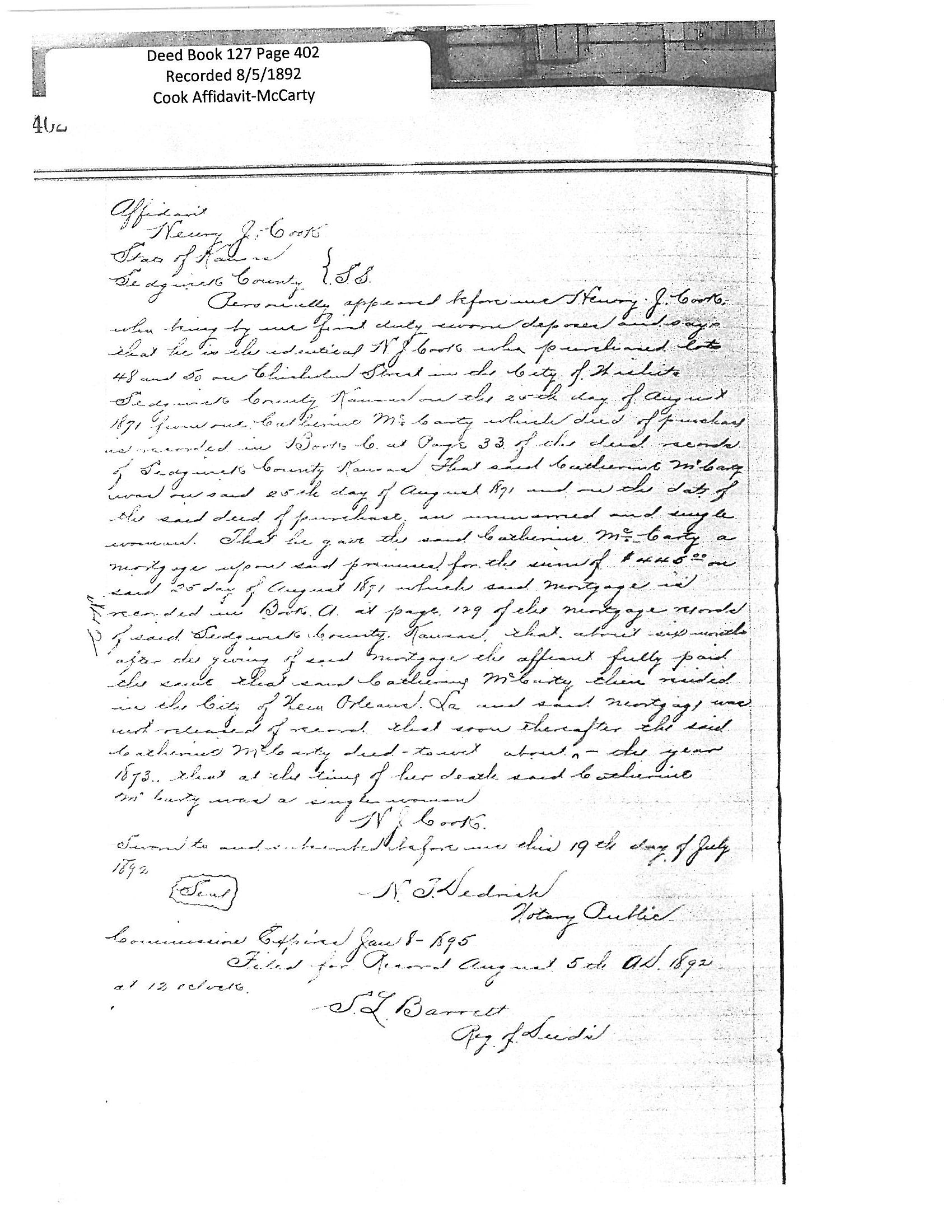 Deed Book 316  Page 597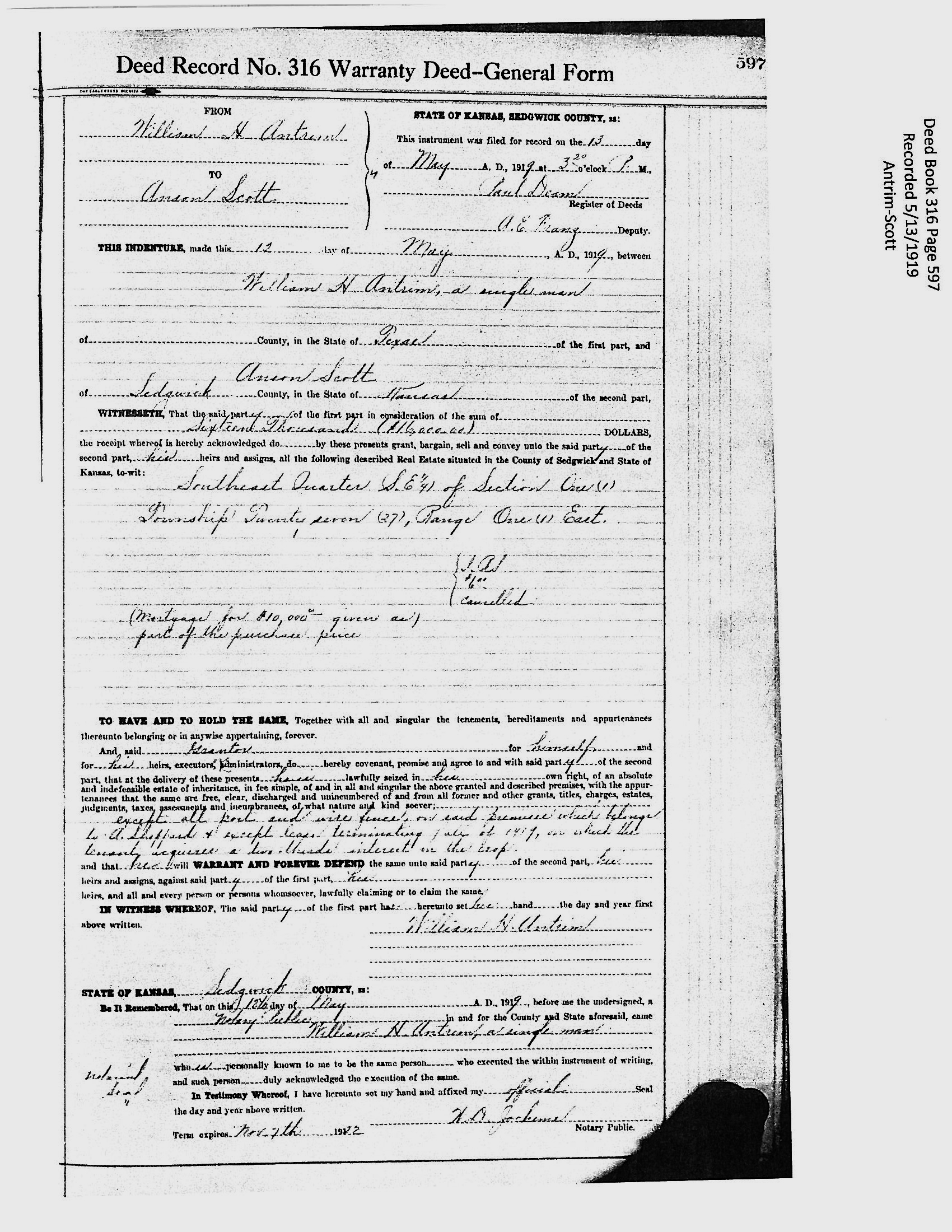 Deed Book A Page 219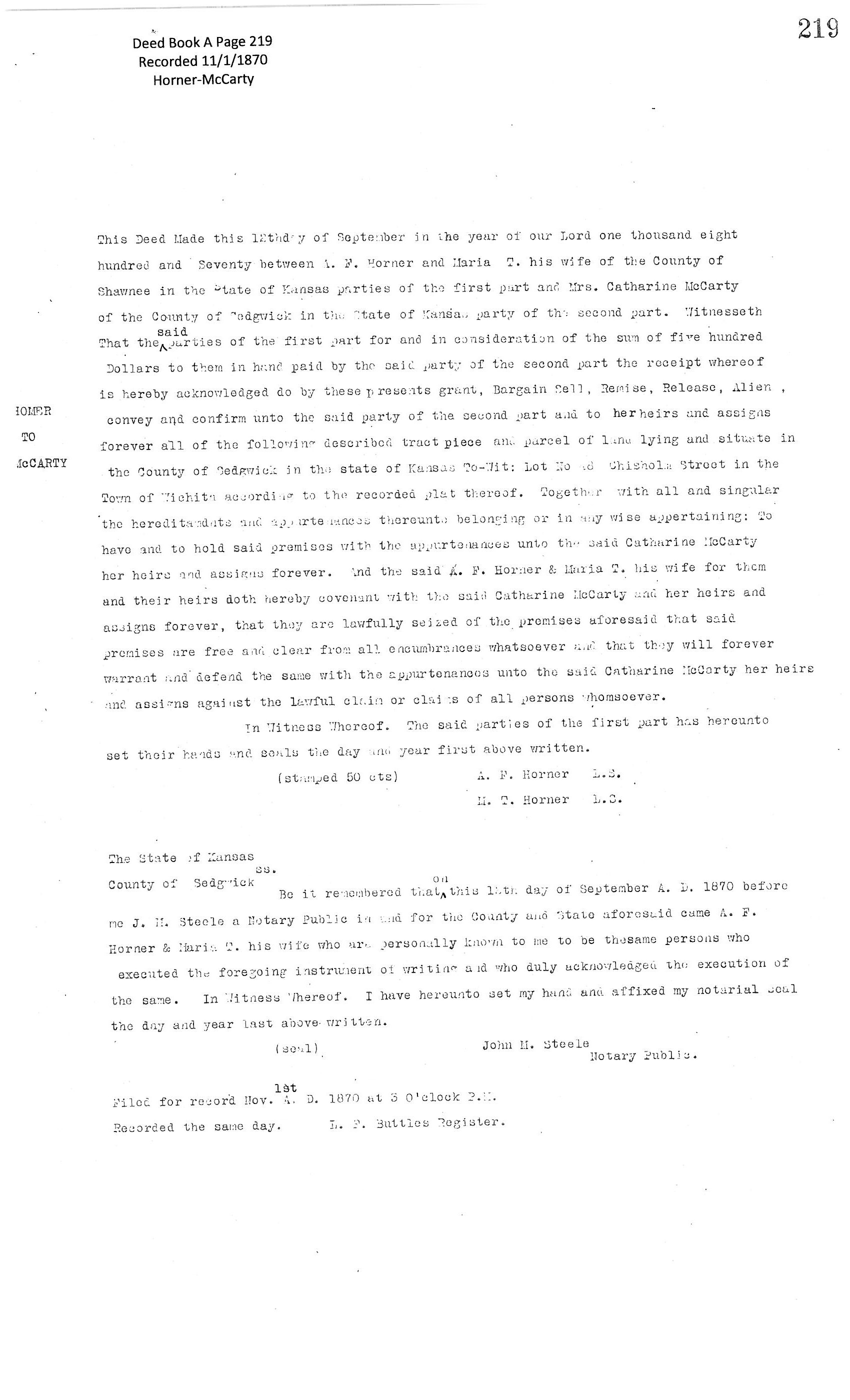 Deed Book A Page 220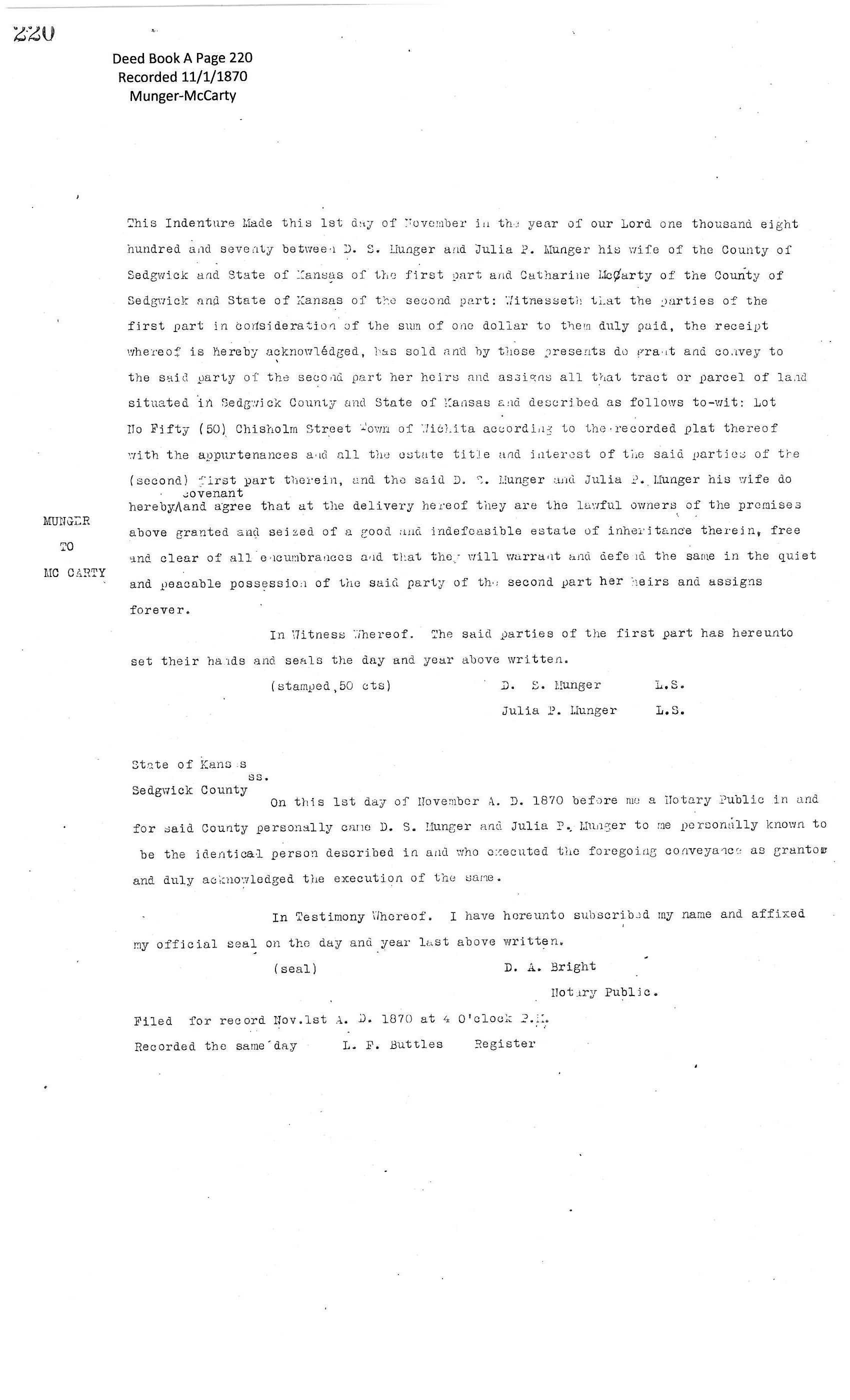 Deed Book A Page 369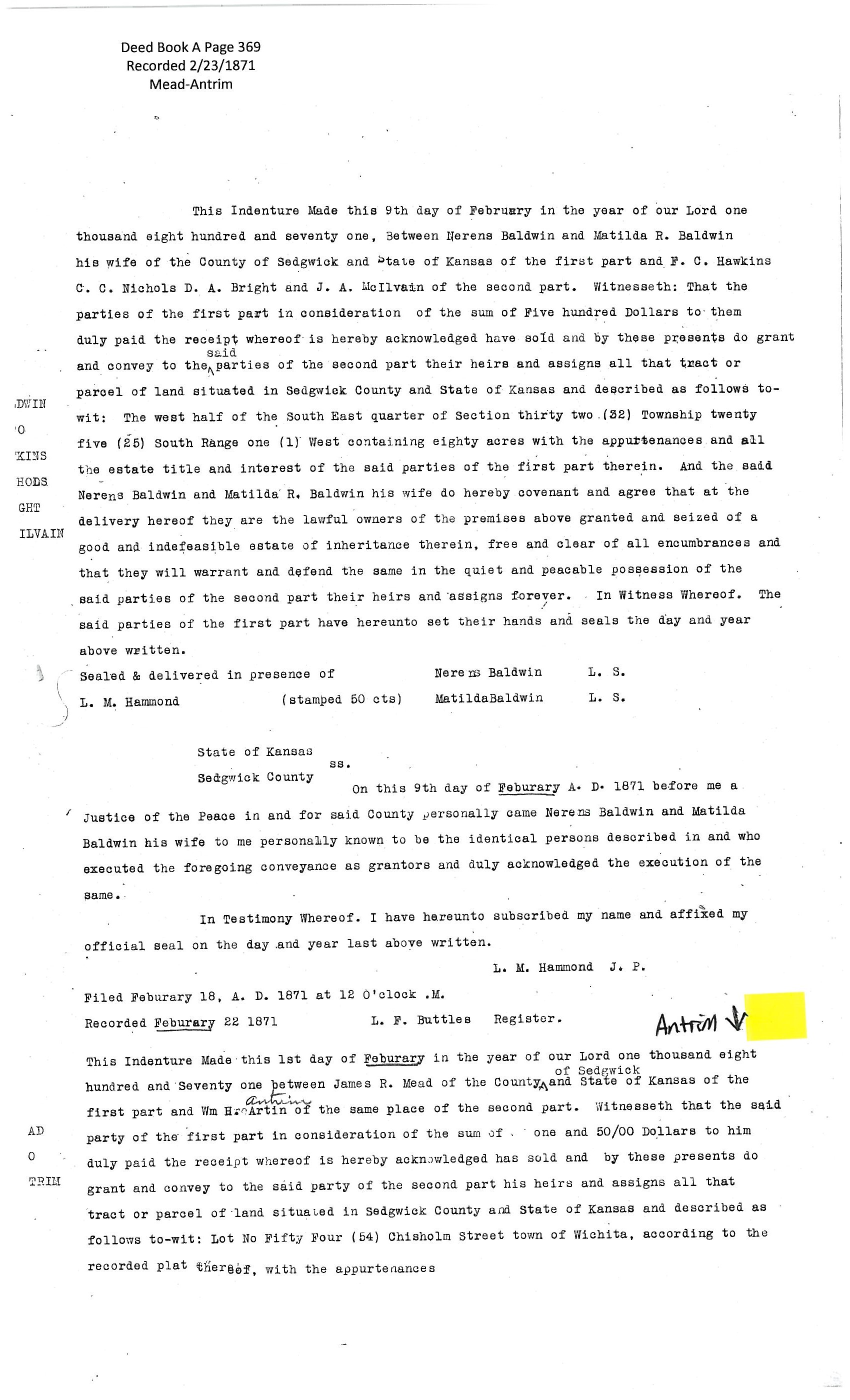 Deed Book A Page 370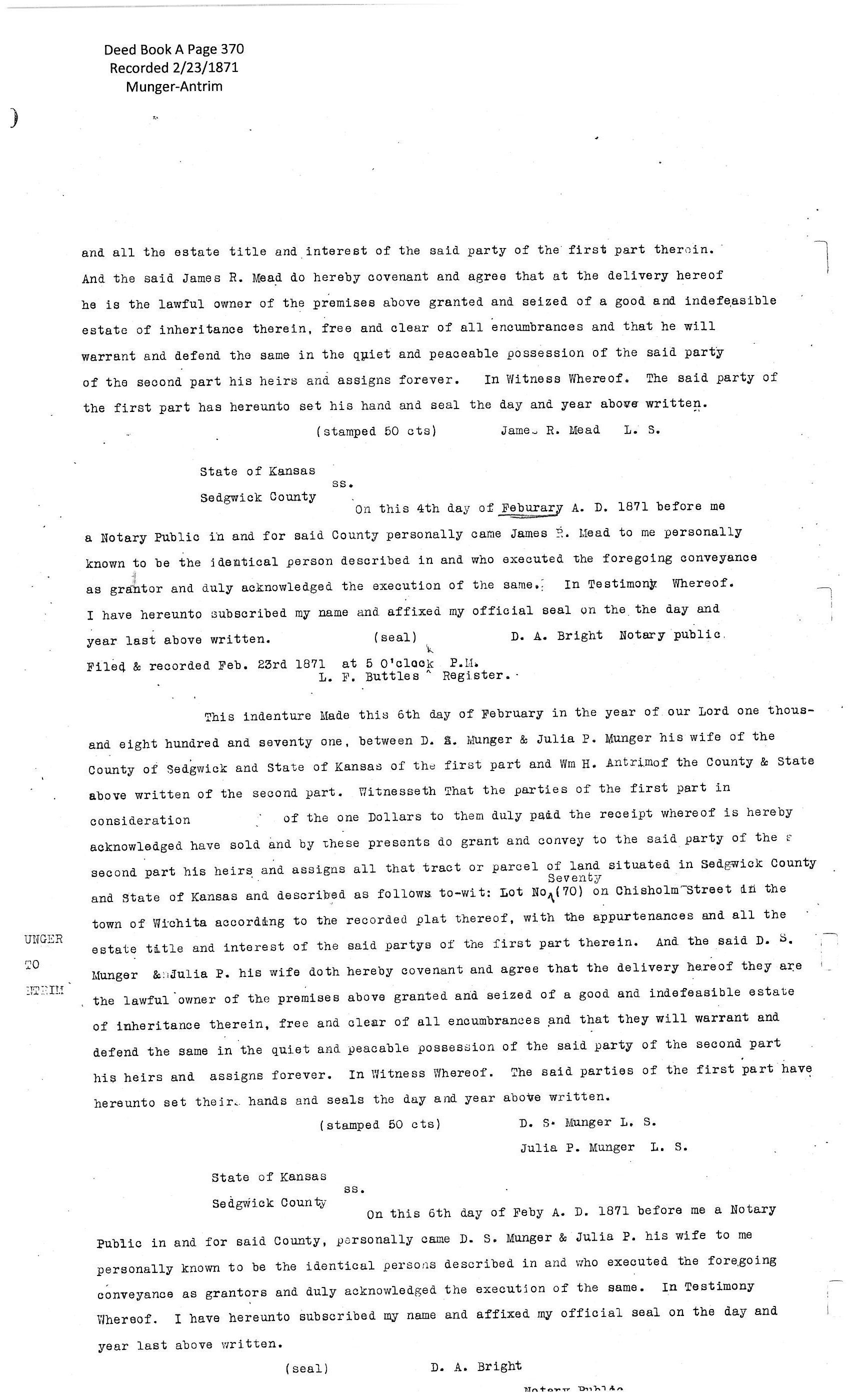 Deed Book A Page 414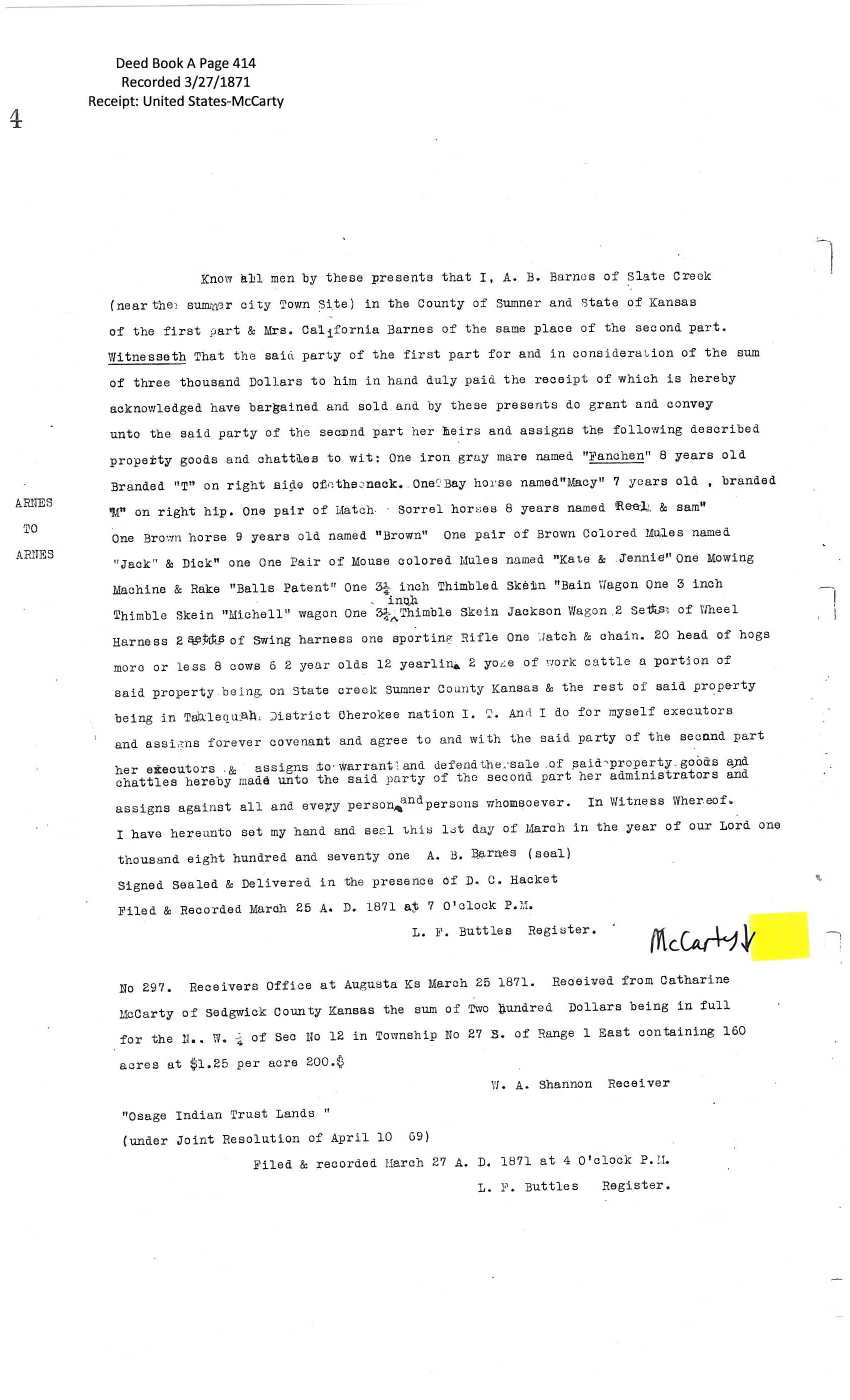 Deed Book A Page 478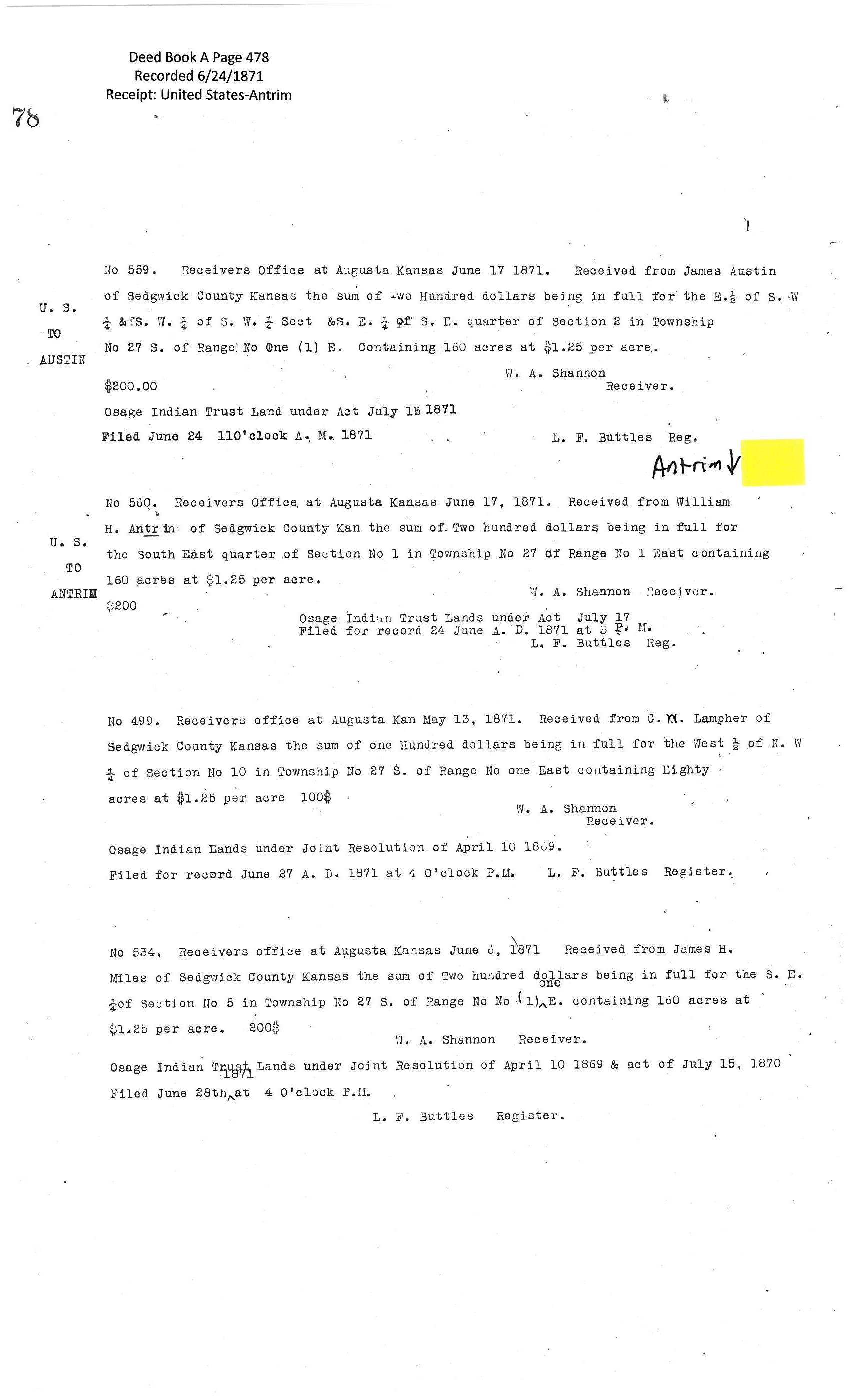 Deed Book B Page 165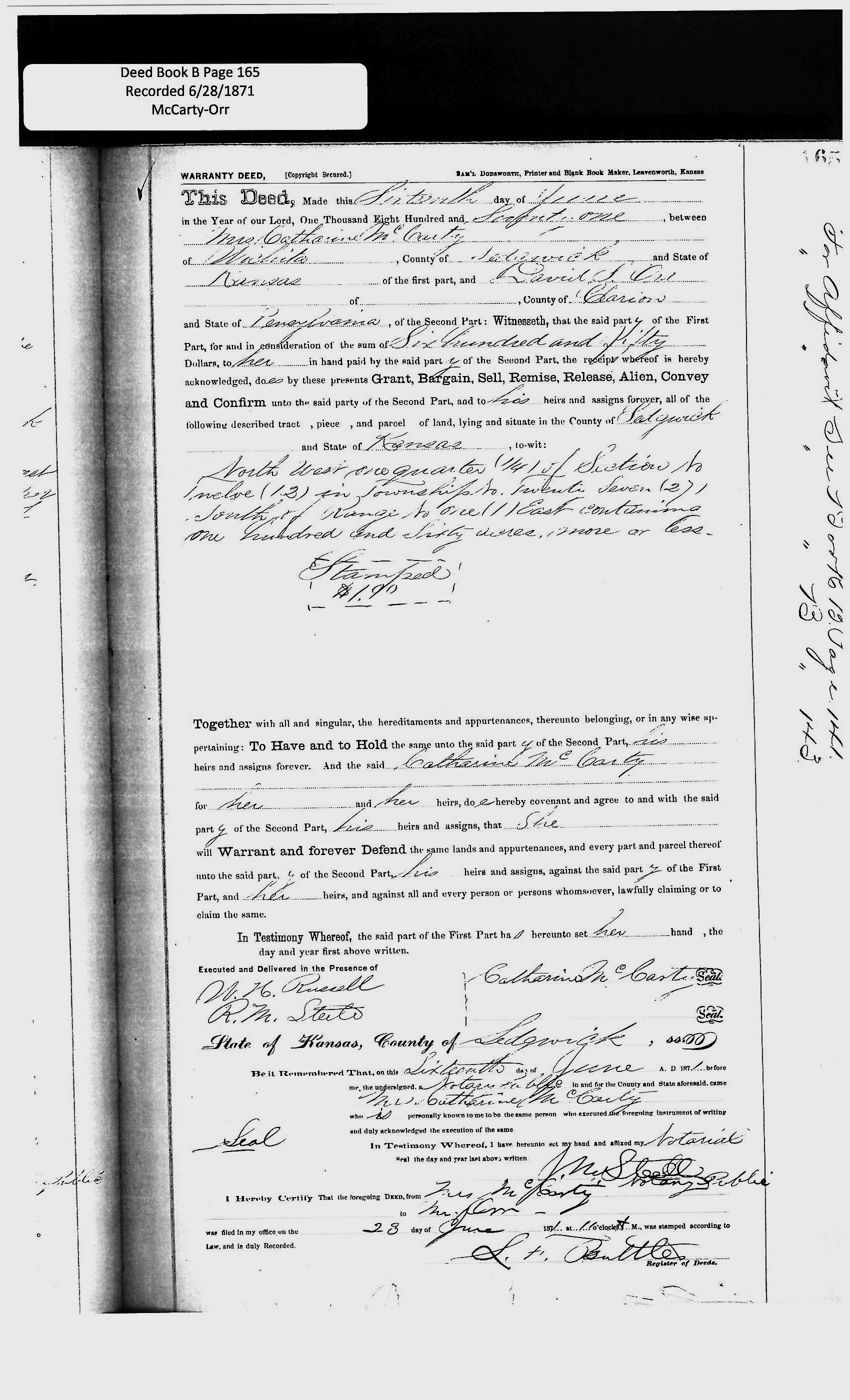 Deed Book B Page 168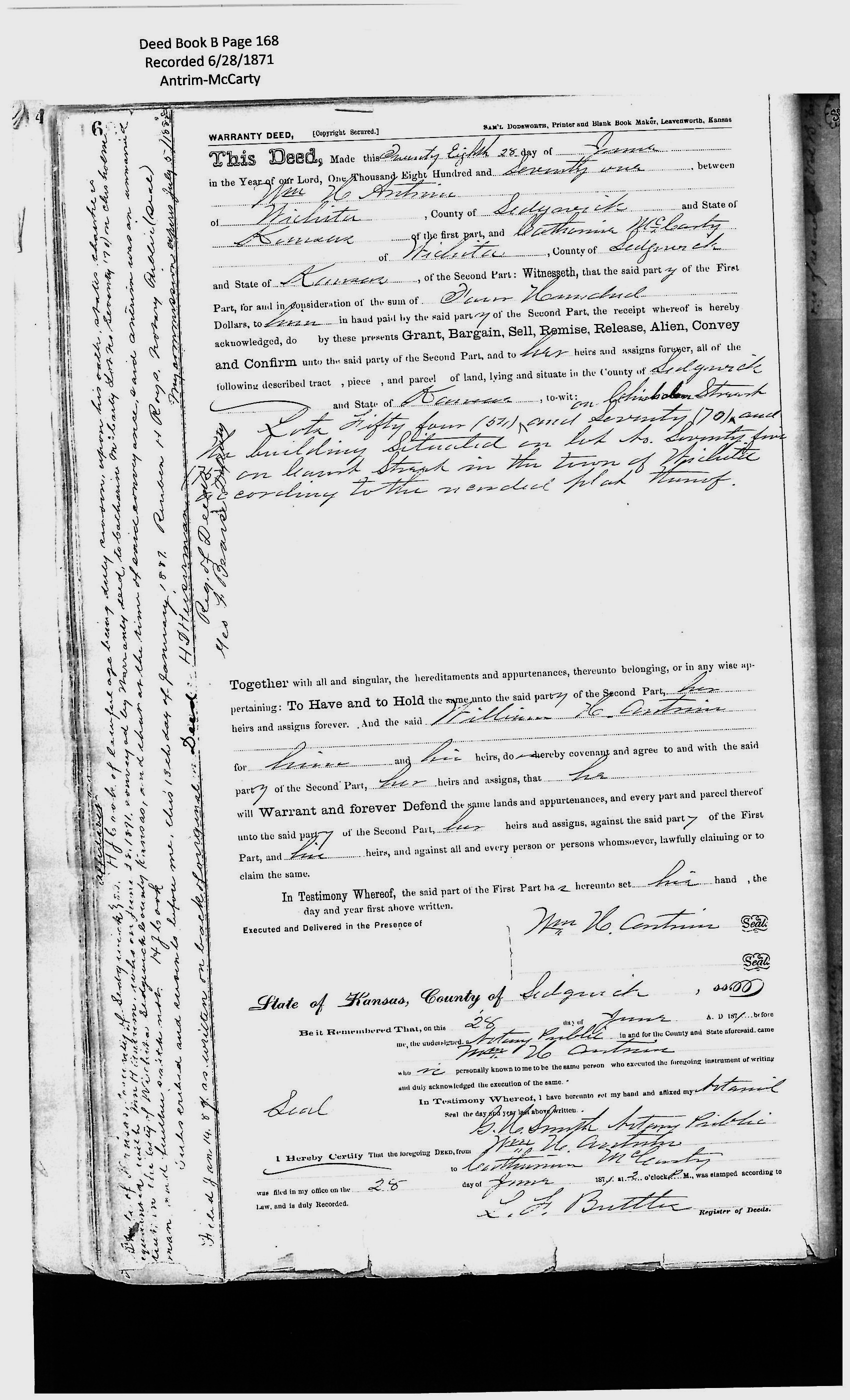 Deed Book C Page 33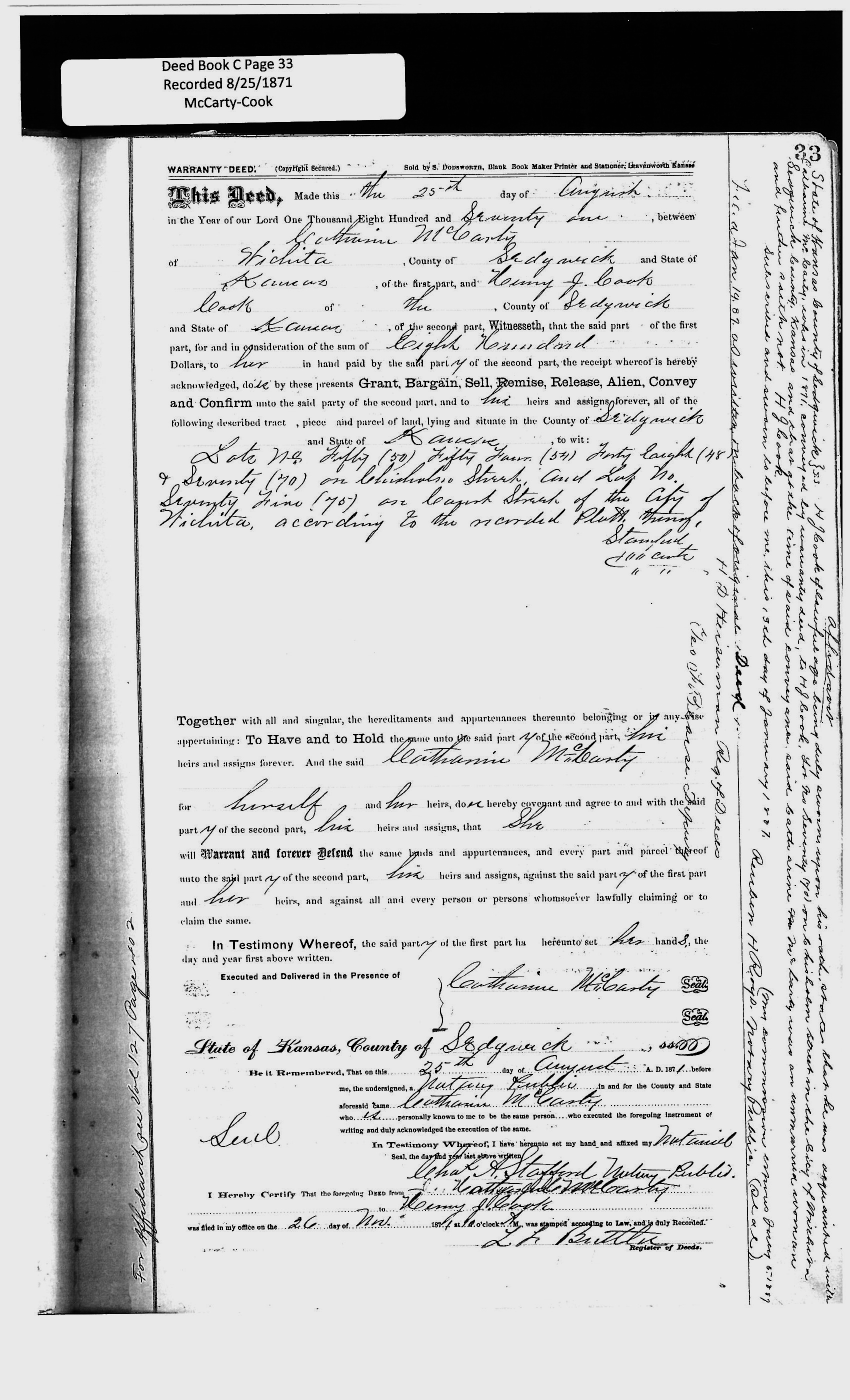 Deed book B page 168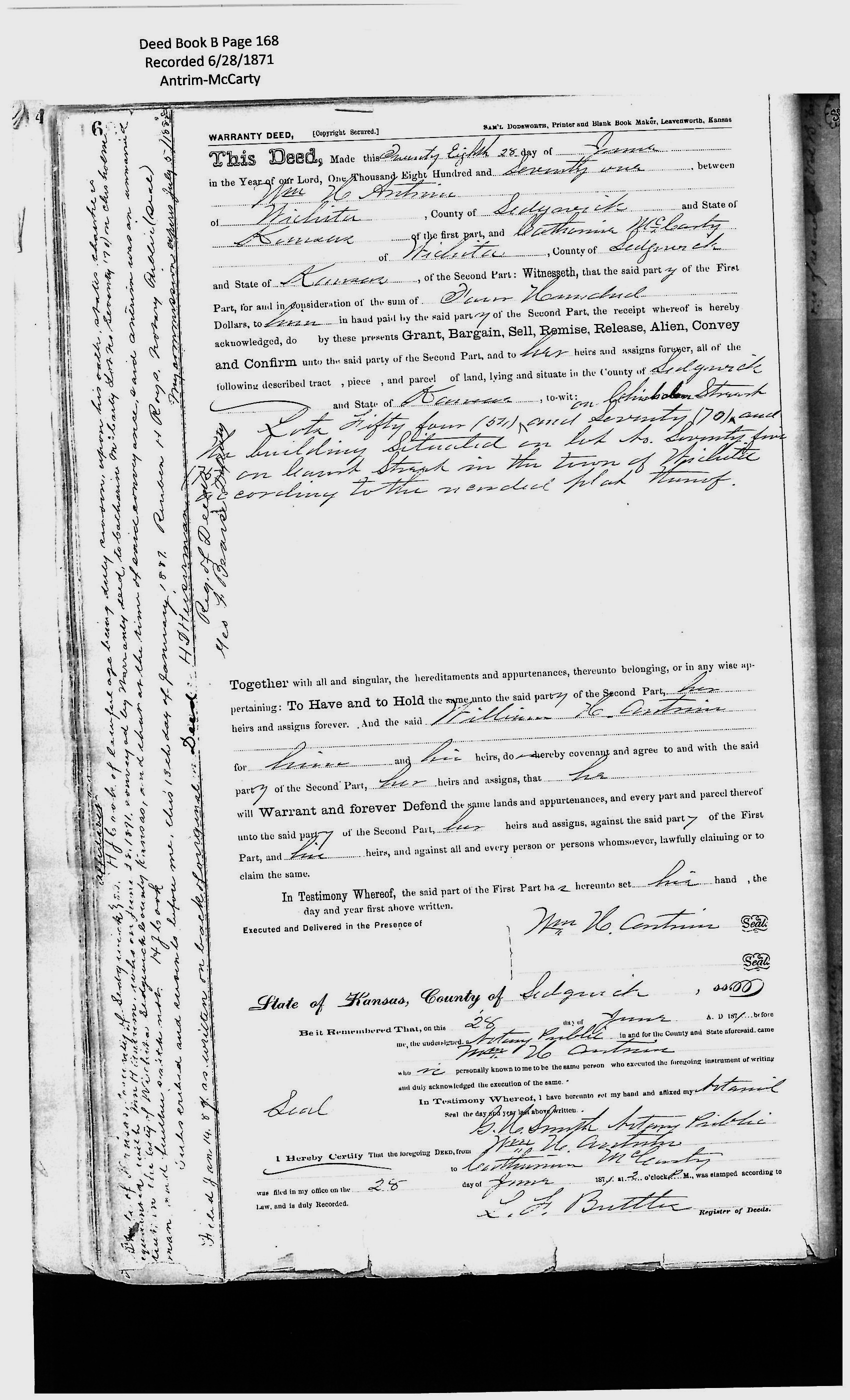 Deed Book C Page 33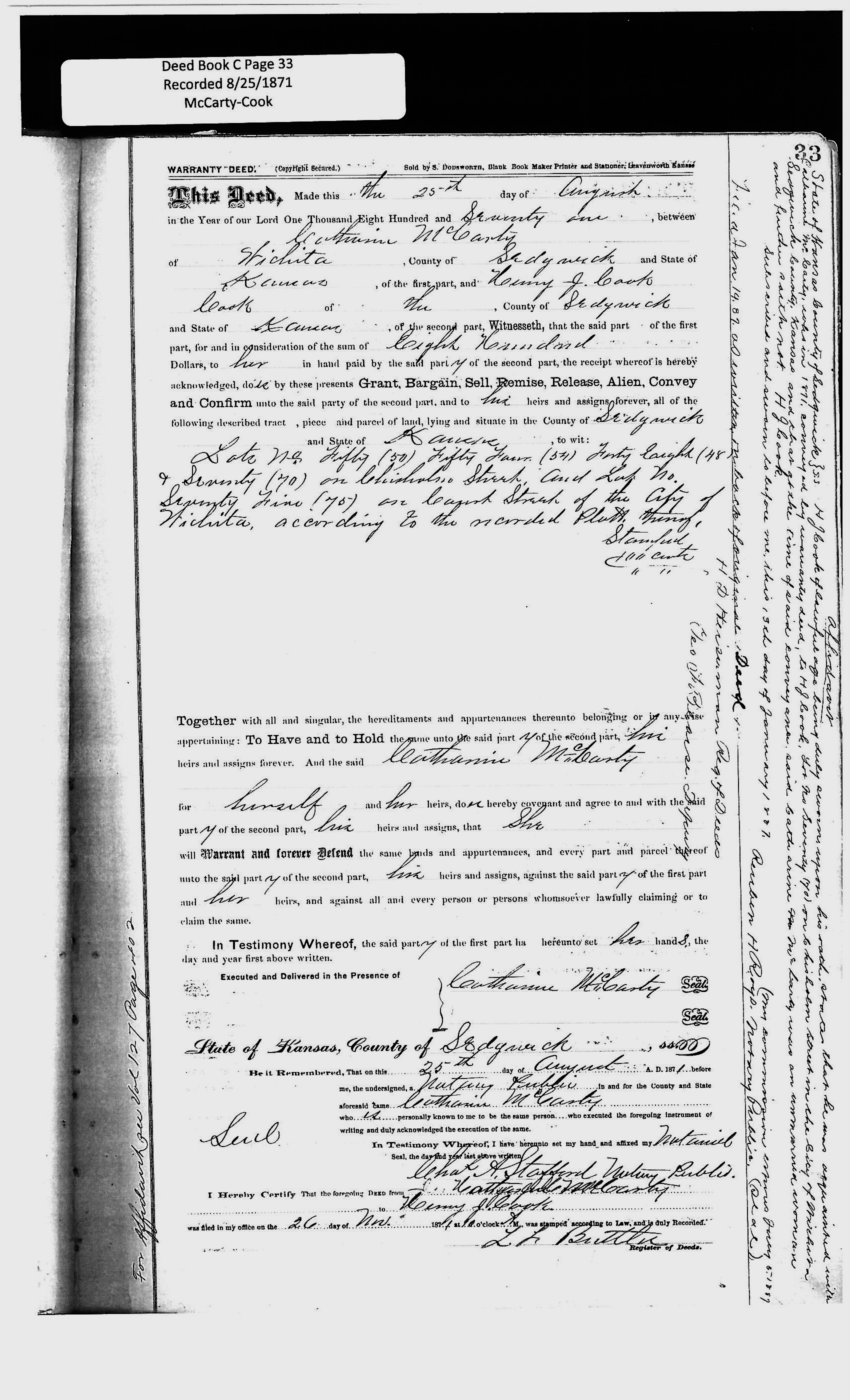 Deed Book C Page 421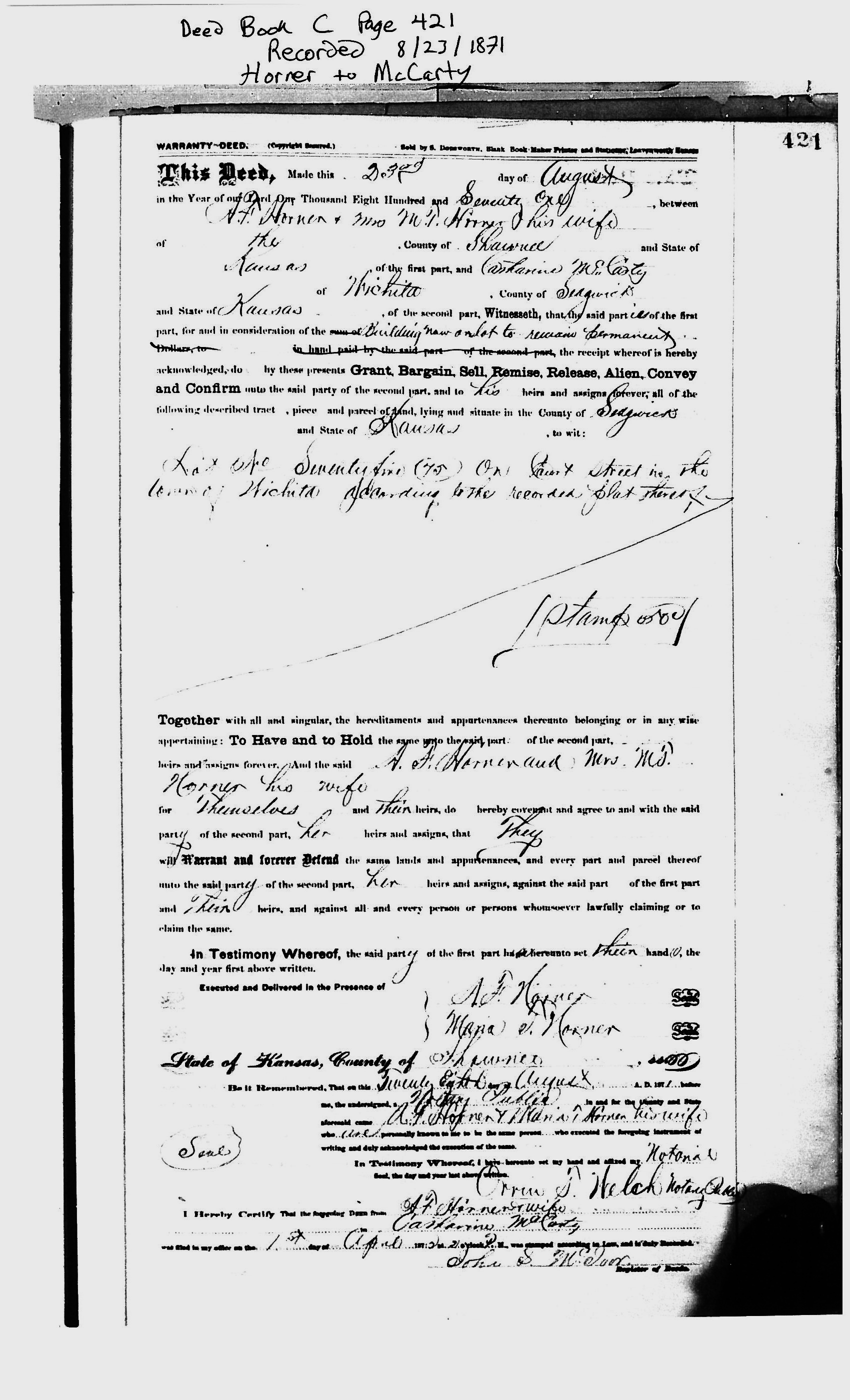 Misc Book B Page 141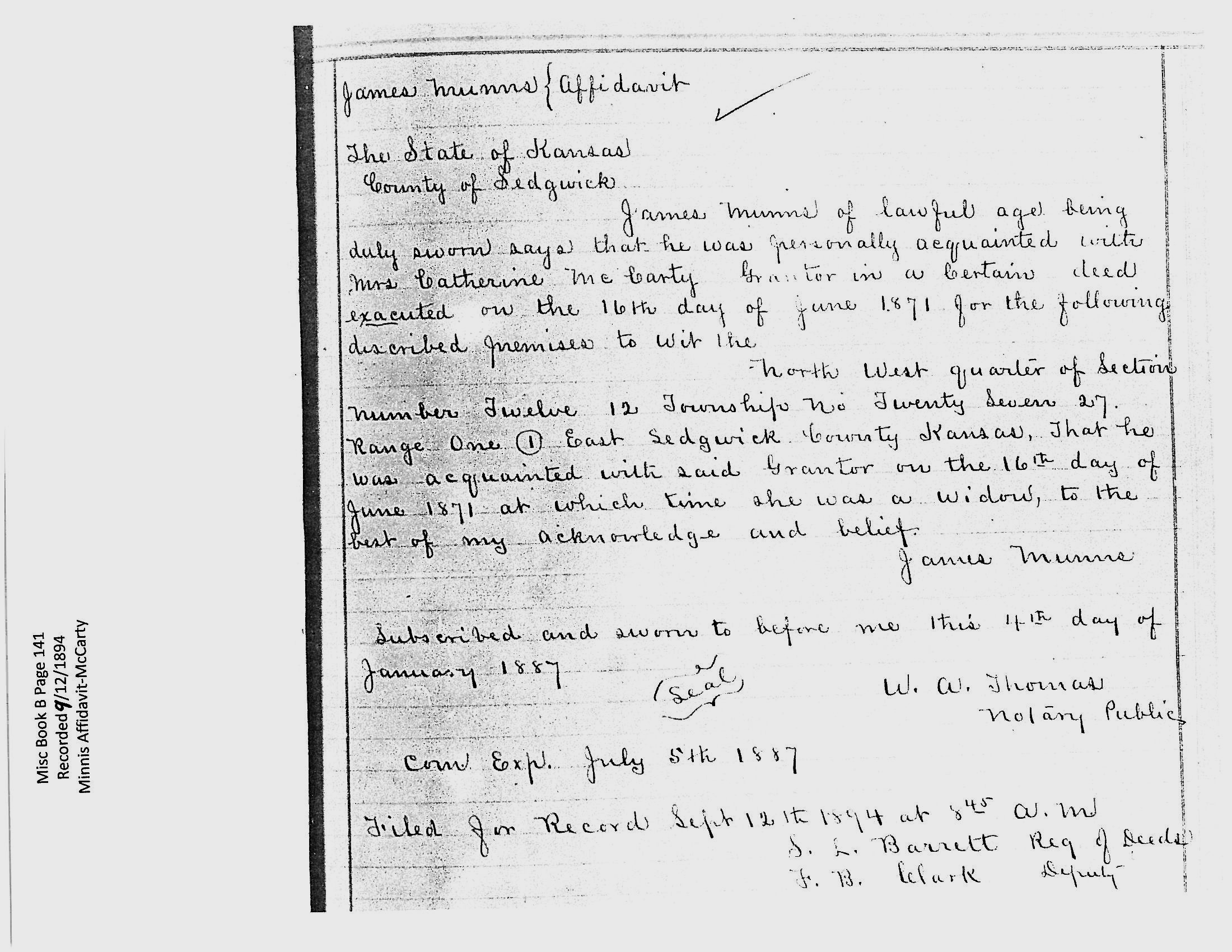 Misc Book B page 143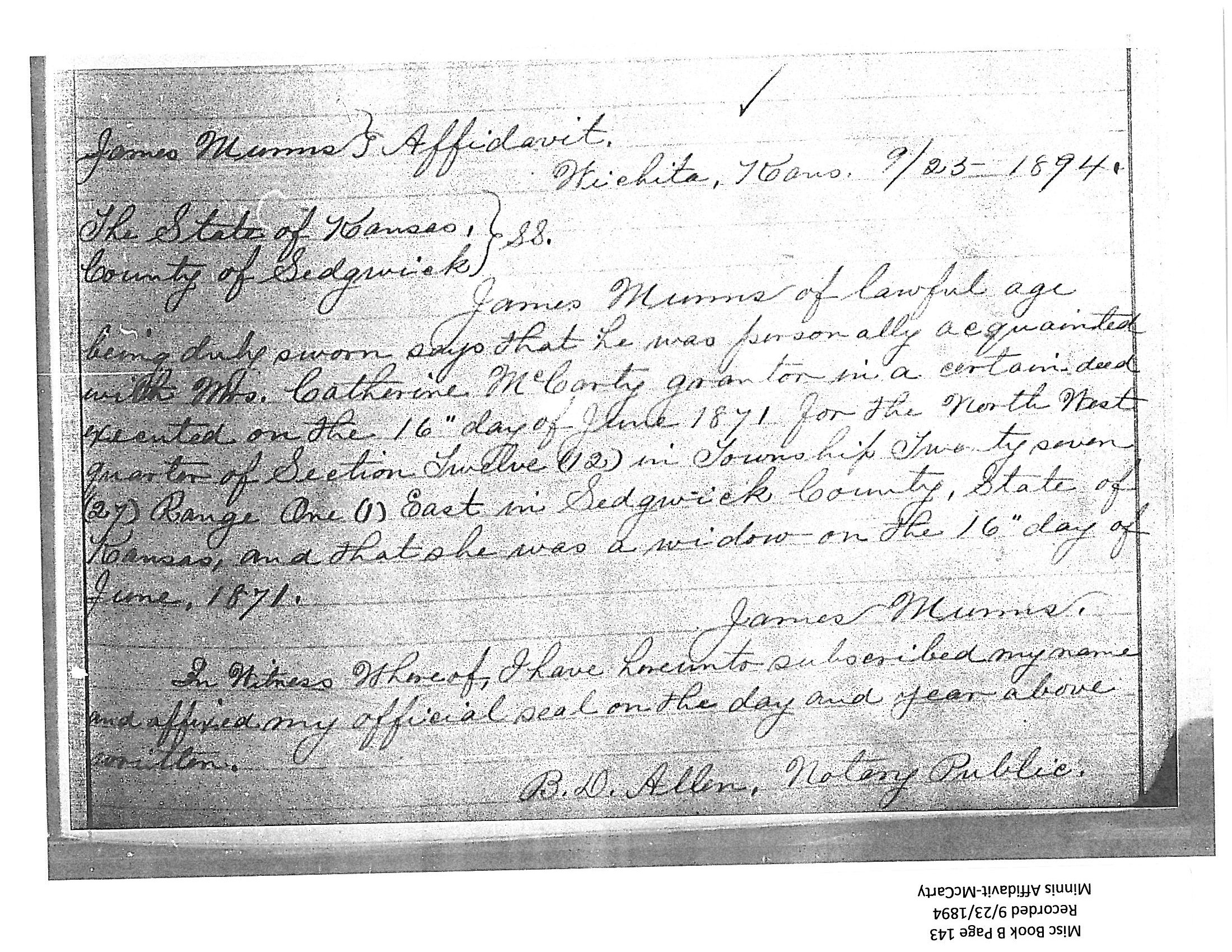 Mortgage Book A Page 129